WORSHIP THE KING 7.0: AMAZING GRACE YOUTH FELLOWSHIP CELEBRATES 21YEARS OF GOD'S FAITHFULNESS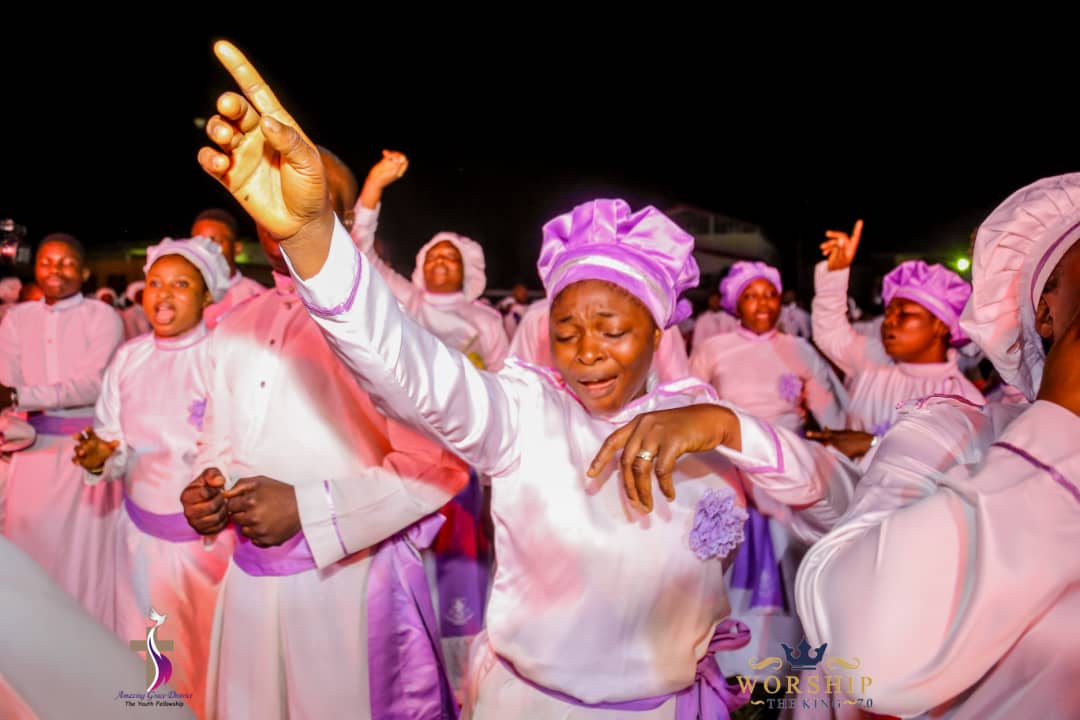 It was an indwelling time in God's presence as the Amazing Grace Youth Fellowship celebrates 21years of God's faithfulness with the yearly event tagged: "WORSHIP THE KING". This year's edition happened to be their seventh-year celebration with the theme: ALLELUIA (Revelation19:6). 
"And I heard as it were the voice of a great multitude, and as the voice of many waters, and as the voice of mighty thunderings, saying, Alleluia: for the Lord God omnipotent reigneth"
As the scripture implies, the event experienced an outpour and fullness of God's presence in a new dimension as the multitude praised and worshipped one King (God) in one voice as a nation. Without mouth saying, it was an awesome time in God's presence from the opening charge to grace in fellowship.
Speaking at the event, the president of the fellowship in the person of Apostle Olufemi Olusesi says it is not just an ordinary gathering but the communion of saints, we have come to mount zion the city of the living God that we may seek and find a perfect pattern of worship. He implored everyone to seek diligently with their heart and would find Jesus the maker of men and lover of our souls.
Apostle Olusesi also encouraged the congregation to render their hearts as they show praises and stay connected with him.
The King's Praise and worship night also experienced a special exhortation by Prophet Gandonu Gabriel of the Cherubim and Seraphim Movement Church, New Covenant Model Parish, Ikorodu. He took us through an expository session of the theme "Alleluia". The man of God gave cogent points on the theme, he said Alleluia means victory before the battle according to the book of Rev.9:16 and buttressed it with our hymn " IJA DOPIN OGUN SI TAN". The clergyman said Alleluia is an unchallenged language over the world and expression of worship to the creator. Without further ado, he said the greatest way to access anything from heaven is to sing praises of Jesus Christ because only him, deserves the praise.
It was an all-round encounter at Worship the King 7.0 with spirit-filled worship hymns from the amazing voices which were the drive for prayers and other happenings at the event. The invited gospel ministers were awesome, as BigBolaji and others brought men into the overwhelming presence of God. 
The congregation was filled with unspeakable joy in his presence as they departed to their various abode.
Leave Comments