WE CAN ONLY GROW BY BEING UNITED IN PURPOSE - Apostle Olarinde Ogunkunle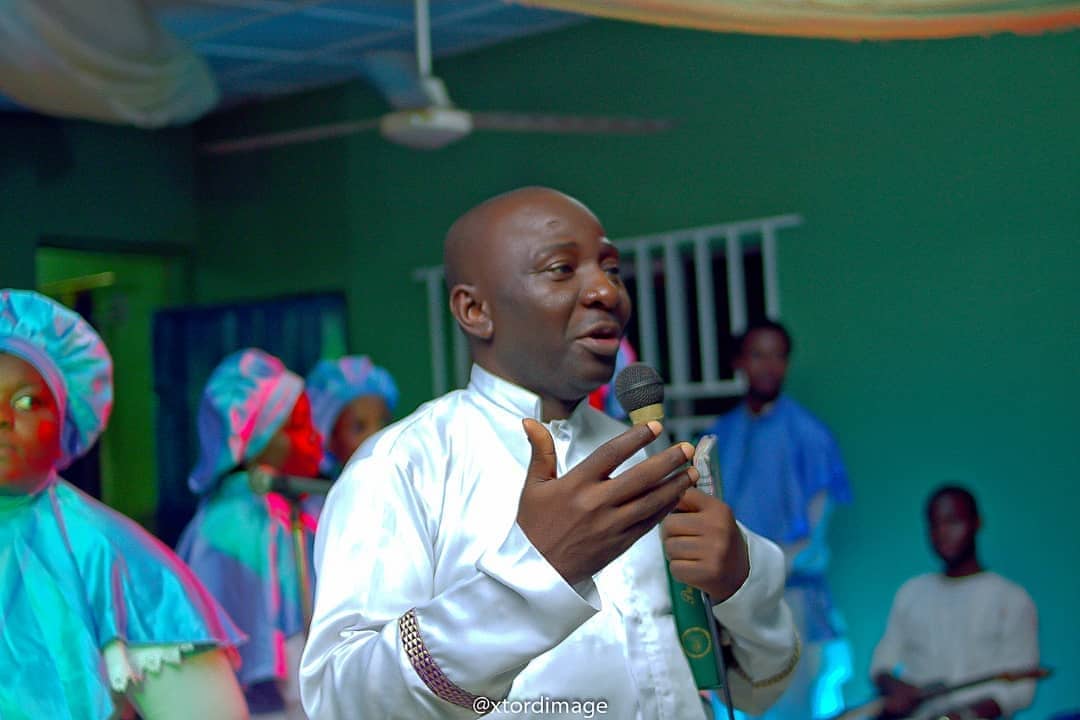 Apostle Olarinde Gabriel Ogunkunle, the pioneer President of the National Youth Fellowship of C&S Unification Church of Nigeria and the National Co-ordinator of the Eternal Youth Fellowship Hotonu Mother Church in an interview with Oluseyi Oluyemi and Bolaji spoke about the future of the church and leadership insights for youths.
Can we meet you, sir?
My name is Olarinde Gabriel Ogunkunle, a graduate of Banking and Finance from Ogun state university (1993/94 graduate set), the third son to the Late Baba Aladura Amos Afolabi Ogunkunle of The Eternal Sacred Order of C&S, who later became the next Baba Olori of C&S Unification Church of Nigeria and died 27th of April 2004. I was lucky that my Dad is a seraph, not even an ordinary seraph but a Baba Aladura, if not, I might have left C&S for other denominations. I am the National Co-ordinator of the Eternal Youth Fellowship Hotonu Mother Church. I was the third Chairman of the Lagos state C&S youth fellowship before becoming the pioneer President of the National Youth Fellowship of C&S Unification Church.
As a Seraph from childhood, can you tell us about the journey so far, your experiences, and plans for the future?
The reason for all that the world is saying about seraphs, that they are fetish etc could have easily made me leave the church, not only because I was born seraph but my father was the Baba Aladura, so if any rituals are being performed as people say then one's father can not hide that from his son. I will surely know all the fetish practices, but to God be the glory I never saw or witnessed such throughout my Dad's existence. He taught us how to use Psalms to pray and how to fast. Although there are some herbalists out there claiming to be Seraph, there are even some fake pastors out there too. So that makes me not to leave Seraph even when many juicy offers came calling, I stood my ground. When we were growing up, you could count the number of graduates in Seraph because of the so-called Woli or spiritualist known then as Ogun Orun, who was in the habit of impregnating young girls in the fold, which made the average people coming to or attending C&S illiterate or semi-illiterate. So immediately any Seraph youth finished university, he or she stopped coming to C&S until God listened to the prayer of our fathers. Then C&S Movement Ayo Ni came on board with C&S campus fellowship for institutions of higher learning and also provided a youth church for the youths to continue to be relevant and avoid some adults who don't even want to give youth members chance in church activities. This continued till each Mother Churches began to set up their Youth fellowship. This explains the drastic increase in youth members in C&S. The present has indicated how the future of C&S will look like.
What do I mean? Before hardly will you see other denominations that want to identify with us, even some of our members can not wear their garments on the street, they will rather put it in a bag and wear it when they get to church and remove it immediately after church. But now the story is different because not only are our members proud to wear their garment, so many that have left are rushing back because other denominations that are preaching against us are now identifying with us. This explains that the future of C&S will be brighter and better. Write it down 'the prophecy about the Church is about to be manifested'.
As a visionary leader and an accomplished businessman. What inspires you, sir?
Once you don't limit your potential(s) then you can live your dreams. I do tell people that 'you are what God says you are only if you live it'. God always speaks to everyone only if you listen and act. Using myself as a case study, whenever people approach me for any business offer I never say I don't know or I can't do it because I believe it is a direction and message from God that I should explore that line of business. All the businesses I venture into all happen through that approach, be it car business, supplies, etc. The last one I'm doing presently began when my boss in one of the ministries I have worked with before came to me to seek an engineer that will help in designing and building a project that she was in charge of. I quickly recognized that God wants me to go into the construction business. So immediately my boss left I just called one of the engineers in my former office that I have a job and that I will need him and an architect to help me out. That was the beginning of my registered construction company in which I use to collect jobs from Government, NNPC, etc. So I'm inspired by unlimited ability in a little potential deposited in individual. So no matter how little or small your strength or potential is, it can be harnessed to bring out greater prosperity for yourself and mankind.
Sir, I discovered you are one of the few who believe in the Unification Church, can it work? and give us your reason.
It's not a matter of whether it will work. It is already working and nothing can break it because it has been ordained by God. The Church of God is marching forward, nothing can stop or hinder its progress. 
With your service in different capacities in the youth ministry of the church, share some of your experiences and advice for members in Leadership. 
It has not been so easy to lead any youth organization especially the formation stage, but God has been faithful in every capacity I found myself to serve. Different situation requires a different approach, so if you are in the position of leadership now, please apply a servant leading approach in which leadership by example becomes the priority and always make sure you treat all equally. You mustn't rush to conclusions on any issue, let others give input, and whenever you believe in a course stand your ground on it. You must lead in the implementation of a task, your followers will join in full force when they see you doing it by yourself, not just by giving instructions. You must bridge the gap between the elders and youths by obeying before complaining to elders instructions and also making the youths understand that even if the elders are wrong on issues they shouldn't oppose them radically but appeal to the elders' sense of reasoning to support youths ideas. There's a lot to say, which is why I said different situations require different approaches, but all in all approach is God's guidance to know what to do at the right time.
What's your favourite hymn? Why?
Jesu Agbara mi, Iwo laniyan mi, Emi nfi igbagbo woke, Iwo lo n gbadura. The reason is not far-fetched, from the beginning to the end, it is prayer-filled, spiritual, and restores one soul to God.
Kindly tell us something about the Era of Rev. Mother Esther Abimbola Ajayi? 
Hmm, Iya Adura Esther Abimbola Ajayi is a God sent. I thank God that I am privileged to be available and useful to her. Immediately she came on board she changed the face of the church, she touched every sector of the Church such as Moses Orimolade University, Seraphim Land in Maba, Youth fellowship both state and national, Army of salvation and Good woman society. Each Mother Church be it Eternal, Ayo ni o, Praying band,  Sacred society, etc felt her presence. Through her, many that can not associate with Seraph now seek to belong to us. One day I was with her on a visit to former President Obasanjo and she said 'Bro Ola let all the youth on this trip write down their names I want to make every one of them a millionaire', right there more than 60 youths became millionaires. If I continue I will not stop. Just take a trip to Seraphim land and Moses Orimolade University then you will see her signature in all the activities.
Where do you see the church in the next 10 years?
In the next 10 years the church will take its rightful position in the Christian organization. I am very positive, judging by the level of the growth rate now, the future will be brighter. Now we have more intellectuals in the fold than since inception which slowed down the development of the church. But with God's intervention a lot is going on in the church, so in the next 10 years we will be close to our target.
 What are some of the most important ideas and practices that will enhance the growth of a C&S church?
The only thing that will enhance the growth is for us to be in true unity of purpose. We must dissolve each mother church and have one true body where no one can claim ownership to a section, through which each spiritual leader is rotated among churches. This will usher in uniformity in all programs and services. Members can worship in any C&S church closer to them.
What is your advice to the C&S youths?
Let all the youths get inspired by unlimited ability in the little potential deposited in individuals. And note that no matter how little or small your strength or potential is, it can be harnessed to bring out greater prosperity for yourself and mankind. No matter your present situation you are destined to be great, let these insights guide your steps in life. You are not in this church by error, it is to fulfill prophecy. 
Leave Comments