WE ARE MAKING STATEMENTS RIGHT NOW, EITHER THE DEVIL LIKES IT OR NOT SAYS ESTHER AJAYI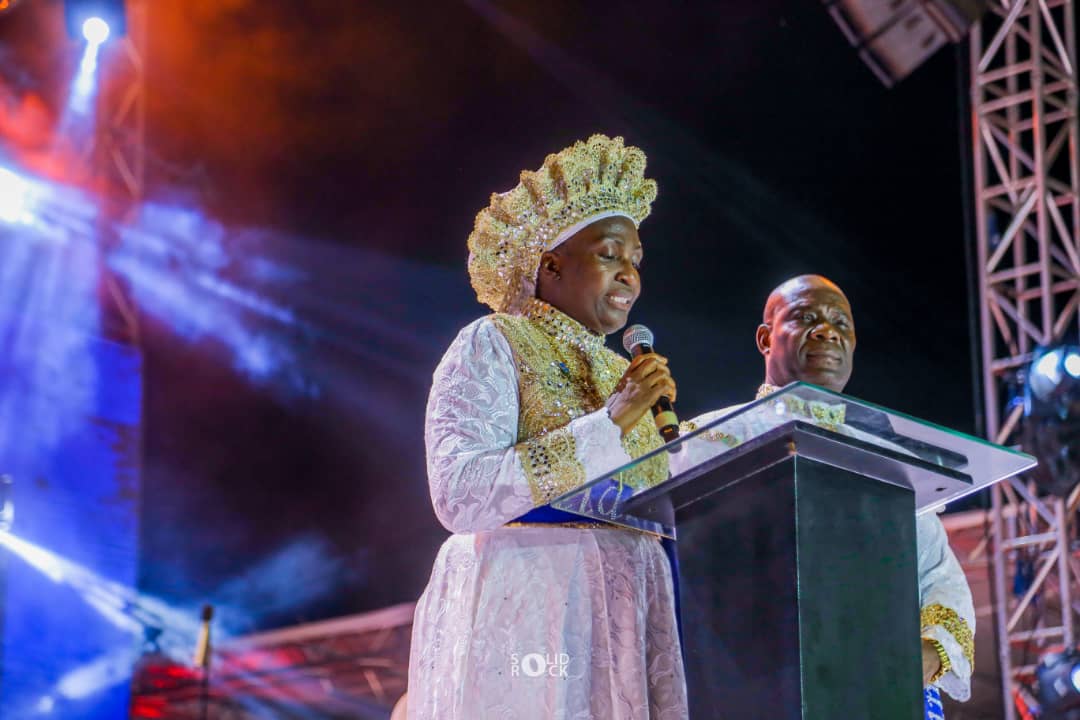 Reverend Mother Esther Abimbola Ajayi during her short exhortation at Celebrate the comforter event said that it's a glorious and powerful day for the white garment churches. She said, 'We are making statements right now, either the devil likes it or not, the white garment church is making statements and the statement is loud and clear. For anyone who cares to listen and those who do not care, our statement is the word of God which no man can change.'
She explained the word of God from the book of John 16:7 that we can celebrate the comforter because Jesus promised to send us the comforter which is the Holy Spirit.
"But I am telling you the truth: it is better that I go away because if I do not go, the helper will not come to you. But if I do go away, then I will send him to you … "
The comforter said I should ask how we are celebrating him! How are you celebrating the comforter? Are you celebrating the comforter in fornication and adultery? Are you celebrating him in everything you're doing? Are you celebrating in gossiping and backbiting? Are we celebrating in segregation, is it that some are for Apollo and some for Paul?
How are you celebrating the comforter? 1 John 4:8, John 3:16. The passage talks about love, do you love your neighbor as yourself? If Jesus comes today, what would He meet you doing? You must take note of how you live your life, be careful of how you speak because people are looking at you, She admonished.
As you are celebrating, be watchful, you have to know that whatever it is that you do, the creator of the universe is watching and records are being made'.
It's the promise of God to send to us the comforter because He has gone and He's still coming back. If the comforter makes a promise, He will make sure it come to pass. You have to worship Him in spirit and in truth because God is spirit and those that worship Him must worship in spirit and in truth.
She further encouraged the people to read their bible daily and as they do so, the word of God will come alive in their heart. 'Let your bible be your friend, it is the sword of the spirit. If you build your confidence in God, you will never be afraid of anything. The comforter himself will comfort and heal you'.
Iya Adura says, "It wouldn't be appropriate if I fail to mention those who supported the program with their substance(s) financially", she acknowledged, celebrated and prayed for them.
She further emphasized that 'A lot of things are being said about men of God and I don't want you to be part of them. As we are trying to wash the Celestial and the C&S churches, please don't go back into your mud, don't let people speak evil of the church through you. You have to mind the way you live your life; be mindful of what you say. You have to be a good ambassador of the white garment church, whatever is not of God and cannot be found in the bible, kindly do away with it'
She concluded that 'The fruit of the spirit from the book of Gal 5:22-24, is what everyone must possess and hold on to. And as you go, celebrate the comforter daily. Celebrating the comforter is not just for a day but what should be done every day of one's life. she prayed that the lord will uphold and keep everyone. And as we celebrate this year, we will celebrate next year.
Leave Comments