The Pulpit Is Not The Place For Opinion, Philosophy, And Secular Thought But A Place To Preach The Word Of God Empowered By The Holy Spirit - Rev S.A.O Adeoye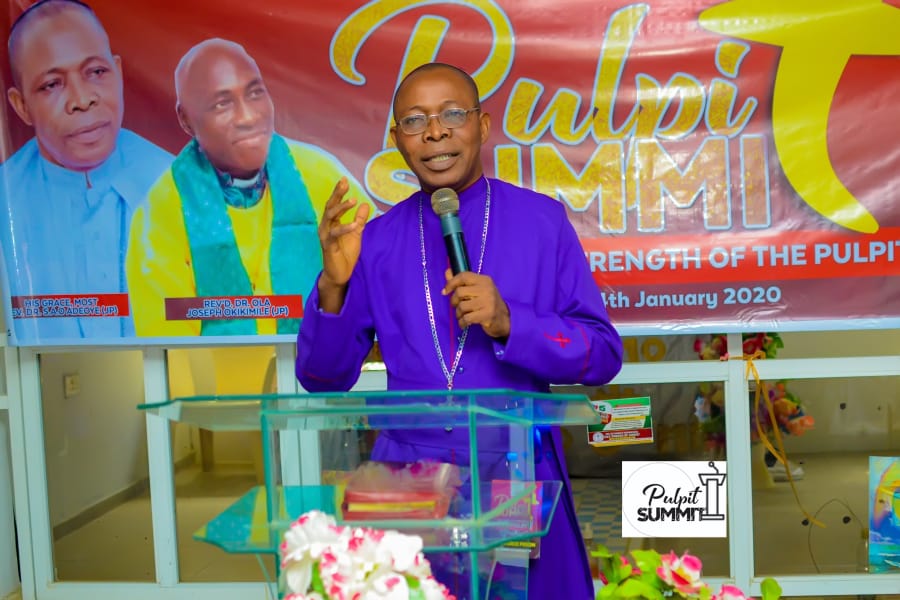 The Pulpit Summit, an event packaged by the Alabaster Youth International Ministry to eradicate the misuse and abuse of the pulpit, was held on the 4th of January, 2020. His Grace Most Rev Dr. S.A.O Adeoye delivered a lecture and spoke on the topic: "ETHICS AND APPROACH OF THE PULPIT" . He explained what a pulpit entailed and most importantly the do's and don't of the pulpit.
The Clergyman in his lecture said, "The pulpit is considered to be the most important piece of furniture in the church auditorium. It is located centrally in relation to the congregation and elevated to show its importance. It stands squarely to symbolize the proclamation of the word of God and the central focus of our worship.
"The pulpit is NOT the place for opinion, philosophy, secular thought, debate, business or any none biblical event. The pulpit is to be dedicated for the presentation of the word of GOD"
He further stated two reasons why a pulpit is needed in church:  To promote centrally the authority of the word of God and; To preach the precepts of the word of God.
The Pulpit must preach into every aspect of life to equip the church to impact Christ and reveal the truth of God's word. In his lecture these are some of do's and don't of the pulpit listed below: 
-Don't tell your listeners how you weren't sure what you were going to talk about. Or you really don't want to be here today.
-Know your audience if possible.
-Preach by the Spirit.
-You might not need to recite every scripture you studied in preparation.
-Don't waste time or words.
-Remember, you represent Jesus Christ as His appointed emissary.
- A preacher cannot rebuke anyone publicly from the pulpit, mention names or slander someone no matter how strongly he feels.
- A preacher is not to preach or share his heart with the people but to preach the word" 1 Tim. 4:2.
Finally, he asserted that the use of pulpit without preaching Christ is a violation thereof. The pulpit are for people who preach Christ not for people who preaches for jamboree.
Leave Comments