The mission of the church is to recruit, train, teach and to send out - Pastor Moses Labade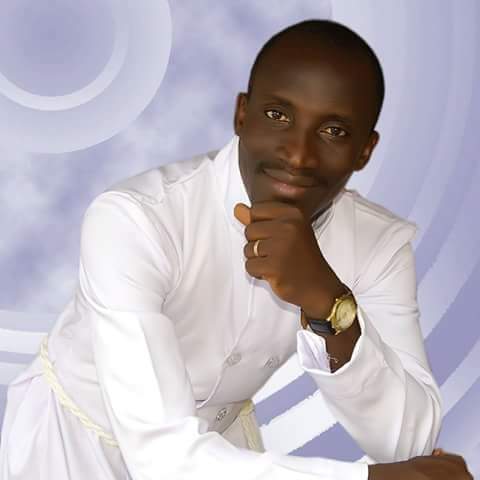 Can we meet you sir?
By the grace of God, my name is Pastor Labade Moses Oluwasegun. To the glory of God, I am the senior pastor of Cherubim and Seraphim Pentecostal Church, Fountain of Praise Ministry (FOPEM), Obadare, Ogbomosho. I studied Quantity survey at Federal Polytechnic, Offa before I received fully the call of God into ministry. 
Can you give us a brief about how you became born again?
Glory to God! Precisely, I became born again in 1997 while I was about leaving secondary school.
  I came across some deeper life members that came for outreach in our school then, they preached Jesus to me that faithful afternoon and I surrendered my life to Jesus. I have been in the church for so long, but I didn't have encounter or fellowship with Jesus, i was just a religionist then and that marks the beginning of the great things the Lord has been doing in my life.
Were you born in the C&S church or you became a member as time went by?
No! I was not born Seraph; I was born a Muslim. I was born into the family of a chronic Muslim cleric. I got into Christianity through my mum because God called her to be a prophetess even in my father's house. She passed through a lot of humiliations because she chose to follow another religion in the midst of Muslims. Through the dealings and help of the Holy Spirit, we (my siblings and I) were all converted to Christianity and although we still have our Muslims names, God used her for us before we began to have encounters of salvation. 
Can you tell us about your ministry? How you started and the journey so far?
Well, all glory to Jesus! The bible says 'nobody can receive anything except it is given to him from above'. When I got saved, I was trained by deeper life members and the SU (scripture union) fellowship and although my mum's church was C&S church, it was purely traditional- there was no Bible study, Sunday school; all we did then was to do the ARIYA stuff and listen to those in trance because that's what we were conversant with.
But when the lord saved me, with my exposure to the word of God, I started to grow and later came the call of God upon my life. I nagged for a long time because I wanted to be a chattered Quantity surveyor but after the completion of my studies at Federal Polytechnic, Offa, I had a serious encounter with God the night I had my final paper and that was how I surrendered all to God.
Since that time, I've been an itinerary evangelist, travelling from places to places, preaching the good news, impacting lives in the seraph fold though, I was in Pentecostal denomination for about 30 years before coming back because after I came back from school; with all the struggling and hatred from the C&S churches in Ogbomosho, I left the C&S forum and our church was taken away from the C&S platform to the Pentecostal platform. But right away from the lifetime of my mum, the Lord continued to speak to me that I have to go back to the assignment I abandoned in the C&S body but I still said no. After the demise of my mother, the Lord appeared to me three times and I told Him that I needed external confirmations if it was the right time for that exploit. Later, people from far and near started coming for confirmations. Since I now believed that it was God, I told him to help me out on how to tell all the board of trustees and the elders of the church that we were now moving back to the C&S forum because it would be a bone of contention for them to hear that we are going to become a white garment church again but God told me that 'you will see my hand and no single member of that church would leave' and after prayers and meetings, the people got the conviction that it was God and that was how we fully became a C&S church.
Can you briefly tell us what you know about the C&S church?
The C&S church is an order divinely ordained by God to put an end to the works of darkness in Africa and the whole world. God raised our father; St. Moses Orimolade Tunolase (Oke-Ijebu) with a great sign and divine power. C&S are called to show forth the light and power of God but it's so pathetic now, God raised us to be voice in the time that the whole thing in Africa is in total darkness, He raised St. Moses Orimolade Tunolase in the time where darkness has taken over the whole atmosphere in Africa. He was the first African evangelist/ Pentecostal minister. God raised him with power of the Holy ghost, even after his departure, no one has fit in his shoes. So whoever read the story of St. Moses Orimolade Tunolase will weep with C&S present state, because what our father cherish and devoted their lives to, is not what we are pursuing in C&S today. C&S is a church loved by God, other denomination might receive their name somewhere but C&S fold receive their name divinely, called according to the names of the Angels "SERAPHS and CHERUBS". You will wonder, how a stark illiterate will receive such great deep mysteries from the throne of God. His upbringing indeed shows that God sent him. In my own comprehension about St. Moses Orimolade Tunolase's lifestyle and ministry convinced me enough to say he is not a mere man, he is an angel in human form that was sent for a great task. He indeed passed the baton to us but many are not following his path, they are following their own self ways.
What is your favourite hymn?
The hymn I love so much is: 
Gba ti mo joko sile mi
Esu nwa da eru bo'kan mi
Sugbon Jesu da mi ni nde
Chr: Alawo ko, Olorun ni
       Onisegun ko, Olorun ni
       Eniyan ko, Olorun ni
The lyrics do stir my spirit up even when there are challenges, there is an anchor and there is someone that is able to see us through the challenges (the once that is easy to share and the once difficult to share). We are walking in the midst of haters and people who don't want our success in this assignment of reformation.
What are the things you love about C&S church? 
I love C&S with the uniqueness of being a spirit filled Church, hardly will you see a true C&S member going into a problem without been told by God, it's our heritage. The bible says 'as many that are led by the spirit of God, they are the sons of God'. C&S church don't lack instruction and direction. God reveal to us what is about to happen even to a nation. We are his voice! In those era, he will reveal to our fathers even if it won't rain. He will inform our fathers of problem ahead. They became solution giver to the kings in their time. I indeed cherish the spiritual inclination. A true seraph possesses the spirit of revelation. This is what we should be proud of because the grace our fathers carry is very much available to us.
How can a church grow, according to the bible?
Any church that place less value to the word of God cannot grow. This is one of the things that cause a setback for us in C&S fold because we fail to do it according to the biblical patterns. It's only a going church that will be a growing church. These are people who are passionate and committed to evangelism. So if any C&S church will grow, they must commit themselves to evangelism, outreaches and discipleship training. The mission of the church is to recruit, train, teach and to send out. It is a recycle process that births more soldiers and ambassadors that will go out to preach the same gospel that brought them into the body of Christ. A praying church is a prevailing church. A growing church needs to pray, value the word of God and must be dynamic. What I mean by dynamic is that, they are not stuck with traditions. They should value the truth above traditions. Most of our churches did not grow because they placed value on traditions rather than the truth. 
What are some of the important ideas and practices that will enhance the growth of a C&S church?
Any church that must grow must educate their unit leaders, empower the youth by exposing them to what lies ahead. It takes a visionary leader to foresee the future. Most of our churches don't invest in their youths, irrespective of their numbers in the church. Many of them have been snatched away by other denominations because the orientation they have about the church is shallow. We don't support them; we don't embrace their ideas. As I've said earlier, when we commit ourselves to evangelism, the whole tasks of church growth will be so easy on us. The bible says in the book of Act "The Lord added to the church and some people were added to the Lord" this was after Peter preached the gospel. These are two categories, the first just want to be in the congregation level while the other are passionate to learn of God, so they enlist themselves in the armies of God. It's not enough to add people to the band without vision and objectives that can empower them. Glory to God for want is happening because some bands are committed to empower their members and are organising seminars. If this has been happening from the beginning, we won't be where we are now and we know! We are not where we use to be, and we are not going to be where we are now. God is raising more Nehemiahs and Ezras in this age, people that know what the church is supposed to be and are doing it in that pattern.
How do we cultivate a sense of biblical, godly community in C&S church?
Two things will help us achieve this, 
Number one: Placing the word of God where it must be.
How can you say you are spirit filled and you are keeping malice? 
More emphasis of the word! We have loads of talented people in our churches but are not broken or saved. They showcase gift but in nature wise, the don't display God kind of life. A saved or circumcised man will follow peace with all men (Heb 12:14). A man that is not a student of the word cannot live a holy life in this corrupt world.
Number two: We must be a prayerful church.
The devil is looking to and fro in the surface of the earth, wherever he sees the people of God in one accord, he plans to plant seed of discord in their midst. And how can he achieve this? He achieves it through people that are weak in faith. Giving attention to the word of God, praying well and encouraging people to live in love, because God is love.
I pray God will help us to appreciate the ministry of the word as never before, so that the church of God will be without blame and blemish.
Can you shed more light on why we have factions in C&S and is it possible for us to come together and have only one church? 
The main thing behind it is carnality. Many carnal men are people that tore apart the existing order. Even since the time of St. Moses Orimolade Tunolase. Since then we have been one of the segregated churches. Jesus came to give us one church, but we tore it into pieces. Some of the church leader we have now are supposed to be a floor member of the church. They don't know anything and are not ready to know and that causes problem in the leadership of the church. Even an attempt to correct them in love leads to hatred, many intercessor or reformers in C&S church have been wounded through these people. Let me shock you, this generation thought they will stop it but our problem is more difficult than that of our fathers. We are scholastic, and the more we read, the more harden our heart is to submit to other people's leadership. Unification are trying their best to bring us together with series of programs and seminar. 
Is/are there anything(s) you don't like about C&S church as a whole? If yes, what solution can be proffered?
There's nothing I don't like about C&S except traditions and doctrines. There are some traditions and doctrines that is not biblical anymore. In fact, some of those doctrines, our fathers cannot defend it or give a biblical reference to support it. We need to allow the truth to transform us.
Is there any advice you have for the church that would make the fold better?
My little advice as a young minister is that we should allow the spirit of God to give us leaders. We believe in taking turn, and most time it has cause serious havoc. It is only a leader that knows where God is carrying his people to, and also mobilise and encourage them. A leader that believe in team work. The kind of leaders Jesus wants his church to have is servant leaders. Most of our leaders lord over sheep and nobody can talk and in such a case we pray. We thank God for the kind for leaders he is giving us now, they are more of Christ-like mind. They understand time and seasons.
My word to all labourers that have received mission in C&S, is that they should show them (our fathers) love and also correct them in love. If things are going to change it will be gradual and we should understand the thin line between revolution and reformation. Revolution says whatever it takes we will give them but if its reformation, you pet them, and show them how sweet eternal life is, and with our intercession we will see that God that have their mind will shine the light of gospel into their heart, and one day they will acknowledge the truth. I'm a witness because most elders love me because I let them understand it not their fault. Most of all we have now such as bible schools, seminary, concordance, different bible versions that we can read and understand, they didn't have them during their time. But now God is raising us (the sons and daughters) to reform the fold. I beseech us, to show love to our fathers and let them understand that we are ready to be the Nehemiah and Ezra of this age. When they know and arevsure that we are not going to run away or tear their church apart, they will support us. Many of them have living covenant that is working.
What is your advice for C&S youths?
My advice for them is that they should rise to the challenge of their era, they should not run away from this fold again, they should try their best and to pray and rise and show the world that God has raised them to be a reformer in this fold. Many of our fathers and mothers are ready to support and empower us. If it continues like this, I'm very sure, I'm very sure, the "isoji ike iyin aiye" that the Lord promised our fathers in our hymn "kini yio kehin aye, kerubu pelu serafu" is happening now. And God is raising us as a mighty giant though we have slept before but now! God has risen us up.
God bless you!!!
Leave Comments