The Eternal to celebrate Moses Orimolade Tunolase's day on Oct 18 ...Top members to attend vigil @ Ojokoro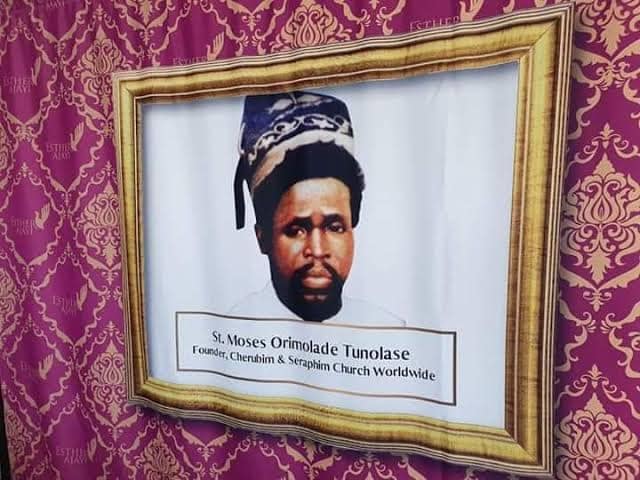 Only top officers of The Eternal Sacred Order of the Cherubim & Seraphim will be allowed to attend this year's memorial service of the Founder of the church, St Moses Orimolade Tunolase on October 18 at Ojokoro, Ijaiye Bus Stop, Lagos/ Abeokuta road.
This decision was taken at the statutory meeting of the Board of Eternal presided over by the Baba Aladura of the Church, His Eminence, Dr Prophet M. I. O. Ebahor-Erebi JP.
The restriction became necessary because of the massive construction work which has reached an advance stage at Ojokoro burial site of the Baba Orimolade and social distancing order of the government to prevent against the spread of covid-19 pandemic.
Officers approved to attend the spiritual service are, Superintendent Apostles, Snr Supt Apostles and Supt General Apostles while female ranking officers from Apostolic Mothers to the three highest ranking mothers are also expected at the vigil.
The Conference executive members of the two mother churches are also approved to attend the vigil.
Besides, the Eternal Central Choir will be represented by 40 members while 30 officers are expected from the Army of Salvation.
But provisions have been made for all Seraphs anywhere they are in the world to join the service via social media and sites of the social media approved to cover the event will soon be made known by the Public Relations Officers of the church.
The Secretary-General of the Church, Supt General Apostle Iyiomo Oyetakin said all sons and daughters of Orimolade are expected to obey this decision because of the prevailing circumstances. He said the church would not want to contravene the order of the government on covid-19 while there are regulations that guide the number of people that can assemble at a construction site at a time.
Elder Oyetakin said everybody will soon be invited to the dedication ceremony of the building which will attract religious tourists from all over the world.
St Moses Orimolade Tunolase died on October 19, 1933, at Ojokoro where he asked his followers to bury him and since then members of The Eternal Sacred C & S have been holding the memorial service which attracts members from Benin Republic, Ivory Coast, Europe, and America.
Leave Comments