SAVE A SOUL! SAVE AYOMIDE WITH AS LOW AS A THOUSAND NAIRA OR MORE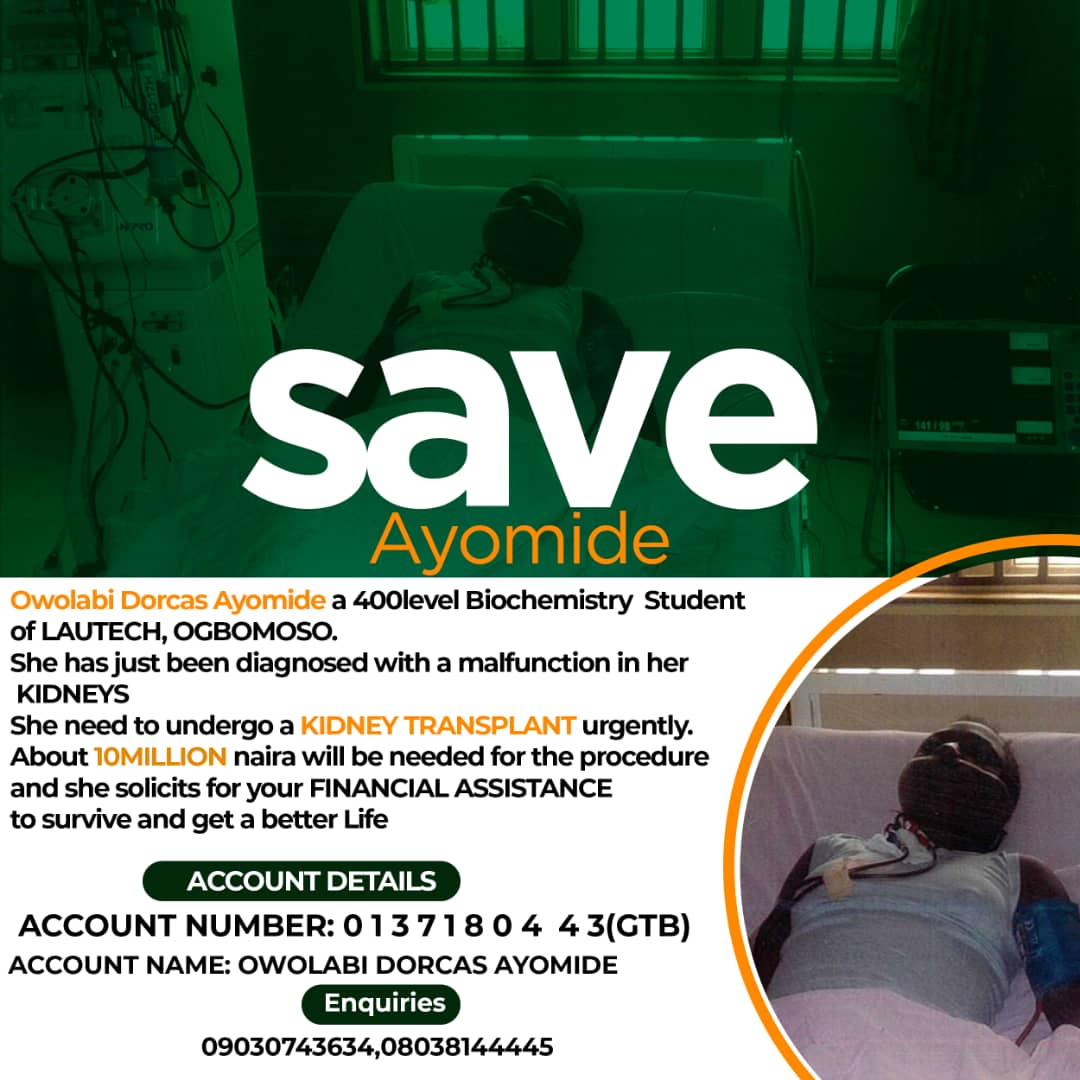 There is a saying that says "little drops of water, makes the mighty ocean" and "little grains of sand, makes the pleasant land". No amount is too small to help our sister/daughter/friend to stay alive.
Do you know your ₦1,000 can save this person... 
₦1,000 × 10
₦1000 × 100
₦1000× 100,000
₦1000 × 1,000,000
If we all can donate our token we can save a life. A thousand Naira or more is not too much to save Ayomide.
     Owolabi Dorcas Ayomide is helpless, She's gradually dying with serious pain. She need money to get up from the place she's being laid.
      Ayomide is a member of the Cherubim and Seraphim church Unification, Campus fellowship, Lautech Chapter, a 400 level student of biochemistry, Ladoke Akintola University of Technology. Ogbomoso. Oyo state. She was diagnosed with a malfunction in her kidneys and needs to undergo a Kidney transplant urgently.
     The sum of 10million naira is needed for the procedure and she solicits for your financial assistance to survive and get a better life. 
      We hereby seek your support with a thousand naira or more to help keep Owolabi Dorcas Ayomide dream alive.
 
ACCOUNT DETAILS
Account Number: 0137180443(GTB)
Account Name: Owolabi Dorcas Ayomide 
ENQUIRIES: 09030743634,08038144445
Leave Comments