PROPHETHOOD IS BY CALLING, NOT BY SEEING VISION AND GOING INTO TRANCE - Prophet Solomon Aiyegbusi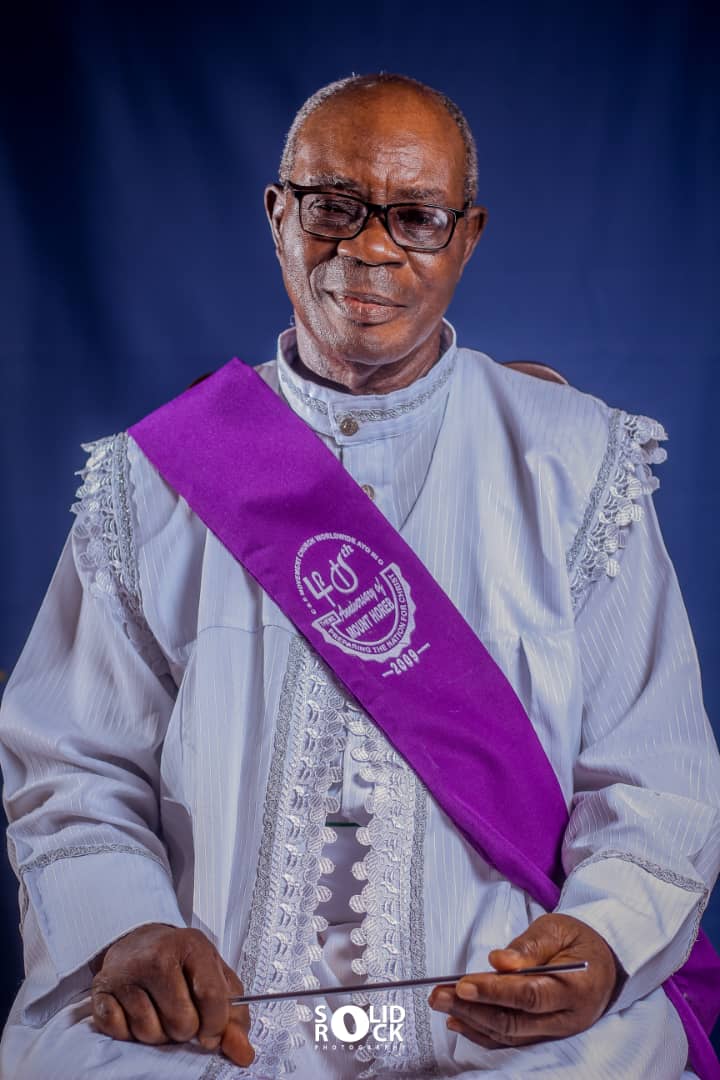 The general leader of the Cherubim and Seraphim Movement Church, Amazing Grace  District, Special Apos. Pro. Dr. Solomon Olanrewaju Aiyegbusi recently celebrated his 50th year anniversary in the prophetic ministry and his 85th birthday in a grand style. The clergy man in an interview with our correspondents shared how it all started with Jesus and enlightened us on what it takes to be a prophet.
Can we meet you sir?
My Name is Sp Apos. Pro. Dr. Solomon Olanrewaju Aiyegbusi. The Chairman and General Leader of Amazing Grace District, Cherubim and Seraphim Movement Church, Amazing Grace, Lagos.
We heard this is your 50th year anniversary of being a prophet. Please tell us about your journey with Christ?
I'll explain briefly because it's a long story. I was born into a Christian home in Ikenne, Ogun State in the early '30s, precisely 1934. I was a worker in Saint Saviours Anglican Church, Ikenne, as a choir member until I left after completing my elementary education. I came to Lagos and lived in 71, Oluwole street, which is not far from Ita Balogun, Mushin, where the Praying Band Cherubim and Seraphim Church resides. I worship with them once in a while.
The name of my church then was Saint John's Church, Aroloya, Lagos. God gave me the gift of dream from my childhood and my dreams would always come to pass. I later travelled to Zaria, Oke Oya to be precise where the Lord spoke to me thrice in my dream that I should go and take care of his sheep. I really didn't understand what the Lord was saying, so the Lord came to me again in the dream the second time and still didn't get what it meant so I just diligently worked in the vineyard. The third time God spoke to me in my dream, He said I should observe 7days fasting so as not to die untimely. I woke up and it was exactly 3 am. The second day of the fast, I went to a C&S Movement church in Zaria, 6&8 club street, Sabo in Zaria. They were having their Shiloh service, so a prophetess called Prophetess Adegbite came to me, she prayed for me and told me the different visions she saw. She said I'm a king but I must not ascend a throne because I'm a king for Christ. She said I'm a man of God, an Apostle, a Prophet and a Founder. I asked her what she meant and she said I'm to found a church, that the Lord said if I sincerely serve him, all my family members will be Christians. The most astonishing thing she said was I'd travel abroad, meanwhile, I was already processing it. I was so glad and confirmed what she said. I had to narrate my dream to her and she replied "God has called me into His vineyard to work for Him".
Immediately I left the place, I went directly to the market to get a white material for my garment and started worshipping with them on Sunday. Not long after, I started going on trance 1958/59 and I continued my service to God.
 In 1962, I was told to receive the anointing for prophetic ministry but I declined, I just love to work for God. I had a good-paying job and I was doing very well. We travelled to London in 1965, I was part of those that founded the church there with the likes of Baba Aladura Abidoye, Late Special Apostle G.O Fakeye, Late Special Apostle Peter Korode to mention a few. In 1966, I was told again about the anointing of the prophetic post the second time and I declined again. I already had a dream that I was anointed by a man wearing white and he said to me that I've been anointed as a prophet. I told no one but continued serving God. All this happened while I was in London.
 In 1970, I was ordained as a prophet officially. I continued serving God till we came back to Nigeria in 1973 and joined C&S Movement Church Surulere District. I was appointed the captain of Aaron band which is now known as Daniel band. I and Late Special Apostle G.O Fakeye changed the name from Aaron to Daniel because Aaron is a priest but Daniel is a prophet. In 1982, I went to Bible college and got my PhD(Hons) in Theology. We were told to start house fellowships in our different locations but I refused because I'm the fourth in rank then in Surulere district and also the head of the prophet and prophetess but because of what people will say that I'm about to start a church, I refused to establish the house fellowship.
 In 1990, I started facing challenges because I refused to establish a house fellowship. In 1995, we started a fellowship at my house. I had various challenges before then but when I heeded to the voice of God, things changed for me. Within 2 years of starting the fellowship, we grew greatly. My friend who is now late (Elias), told me during the second year that this space won't contain us by the third year. Late Special Apostle G.O fakeye told me the same year in 1997 that we should go in search of Land that God isn't talking of a fellowship but I should establish a church. We searched for lands but none was approved by God until we got to our current location. The land has been there for like 50 years, those that have been coming were not given but God gave us. We started the process and built the church on it. In 2005 we became a district, we were just about 8years old then, it has never happened before in the history of C&S. We thank God that his glory was evident.
You've spent 50 years in the prophetic ministry, how can you describe the journey of a prophet?
The journey of a prophet as the Lord has made me understand, anyone God doesn't call to the ministry can't be a prophet but in this present century those who  either see vision or go into trance claim to be prophets. There are three types of prophets: The first is a person God calls to be a prophet because of his/her family, to rescue them from a problem. The second type is called for the salvation of the people while the third is a divine chosen person (Divine Calling). They don't get tired, He calls them himself not like nowadays that everybody wants to be a prophet because of money.
How can the church curb false prophets?
Except God redeems his church I know there is nothing a man can do to curb false prophets because some of the leaders we have now are very corrupt. Corruption has so much entered into the church and except the Lord intervenes, I'm not sure anything can be done about it. Some false prophets have tarnished the image of the C&S church.

During "Worship The King 7.0", you were addressed as an Engineer, how were you able to manage your career and the prophetic ministry?
I said earlier that the call of God is in diverse dimensions. God said I should go and take care of his sheep. It was a divine call. I didn't come into the C& S Church because of challenges. The day I ended my 7days fast, I went home from work and I found that the wall of my room directly towards my bed had fallen on my bed and a whole block on my pillow. I have a degree both in telecommunication and electrical engineering . God said if I do his work, He'll do mine. I ended up as a contractor, letter of appointment was being brought to me in church, anytime I decide to use my wisdom to secure a contract, it fails but God brought contracts for me in His vineyard.
What can you say about the C&S Church?
There's no church like the C&S Church which was founded by Saint Moses Orimolade Tunolase. If you serve truly without adding any other contrary thing, you'll see the power of God, though there's been treason from the onset. If people had not stood against Captain Abiodun Emmanuel, she wouldn't have gone to establish a church which caused disagreement between her and Saint Moses Orimolade and it's still going on in the C&S Church till now. But I can assure there's no church like the C&S Church, God resides in her, there's salvation, mercy, joy, grace and more. If you go deep to know the root of those modern churches, they emanated from C&S. I love C&S because it is where God dwells. 
Which hymn do you love most and why?
T'igbala loju
T'igbala loju
Aiye le so oun to wun won
Emi mo pe t'igbala loju
I remember when God called me, God really wanted me to see his salvation. If I had forsaken his voice and disobeyed, I would have died. None of my generation is a pagan today, His promises were fulfilled that all my family members will be converted and that He'll be with me.
What can you term as success?
Success is when God stands by you and He is your pillar, if you do His work wholeheartedly and trust Him, He will prosper you. If God is backing you up, any work you do, you will find grace. That's what is called success.
What can we do to improve the C&S Church?
 We have to organize enlightening programmes and publications that ranges wide beyond our church, and also focus more on evangelism. Amazing grace district is known for the salvation of souls.
We can see how richly amazing grace has grown, how does a church grow?
Firstly, Amazing Grace is a church established by God not man. Whatever God establishes, He'll see to its success. I was at a corner of the house when God told me specifically two weeks after it was conceived that He himself established the church and no one should boast of anything. Amazing Grace is very vast in prayer and evangelism. We don't embezzle money, the people in the church know what we do with their money, we love the people and care about them.
What advice do you have for C&S Youths?
They are the future of C&S, they should move closer to the elders in order to receive from them, to know what is meant to be done at all times. They really need to learn fatherly education, administration and be grounded in the word of God. If they don't get closer to the elders, they can't be knowledgeable or wise. The youth of the C&S church should be patient, humble, learn of Christ and evangelize the Gospel of  Jesus Christ.
​
Leave Comments