PROPHECY WITHOUT THE SCRIPTURE IS VOID - Pastor Bola Oyediran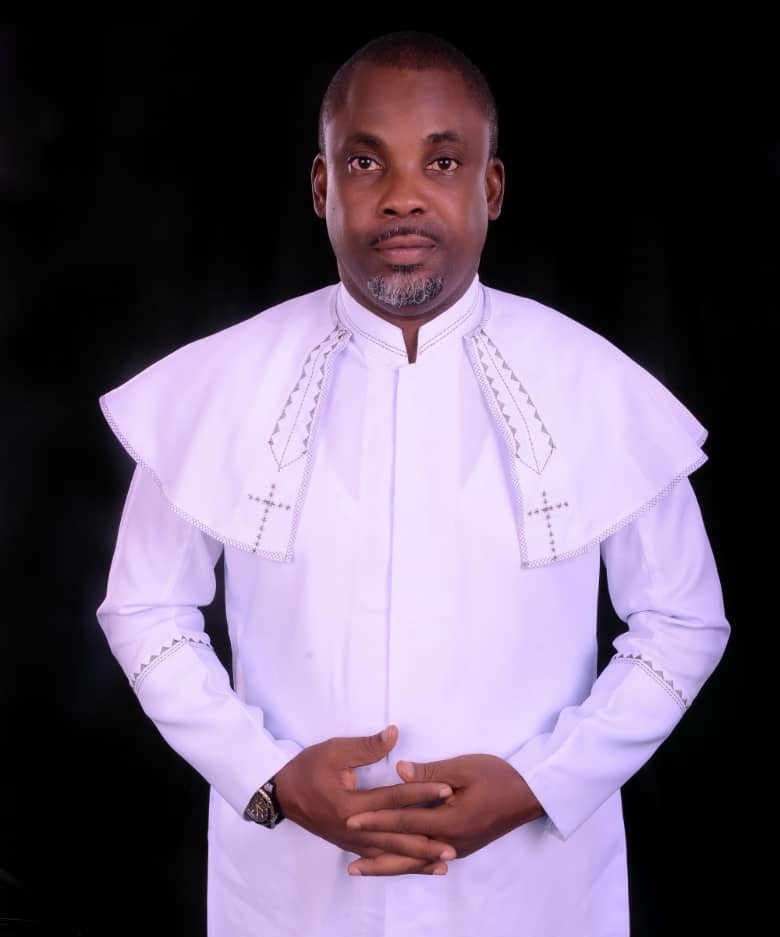 Can we meet you?
I'm Oyebola Oyediran Tunji. I was born on July 24th, 1975 in the city of Ibadan to Mr. & Rev Mother Adebola Oyediran both of blessed memories. I'm from Ile-Ife, Osun State; married to Oluwakemi Oyediran fondly called Kemi Rehoboth. We are blessed with children. After my primary and secondary education, I attended Osun State College of Technology, Esa Oke for my OND in Quantity Surveying between 1994 to 1996. I was the founding choir master of C&S Unification of Esa Oke. I proceeded to The Polytechnic Ibadan for my HND in Quantity Surveying 1998-1999. I did my NYSC Primary assignment in Abuja with Federal Housing Authority (FHA) Asokoro and Gwarinpa Housing Estate as Quantity Surveyor and later joined Lento Aluminum Plc., Jabi Abuja. I worked with Lento Aluminium Plc. for 3 years before I started my own company in 2005. I'm the last born of the family and I'm the Senior Pastor of The Holy Church of En-Hakkore Aladura a Church of 42 years old. I've been called into full pastoral ministry. I just concluded my 4 years Theological training in Bachelors of Theology with Baptist College of Theology Isolo, Lagos.
Can you give us a brief of how you became born again?
It was in the year 1995 when the CEC Chairman of C&S Unification Higher Learning in person of Apostle Seyi Coker came to Esa Oke for our annual convention. His sermon was titled ''A Vessel unto Honor''. He made emphasis on types of vessels in God's vineyard and the ones that are honorable. The sermon really touched me and I promised God to be an instrument in His hand because I was once a keggite. After that encounter, I gave life to Christ in wholeness and ever since that time I have been following Him and working in His House without looking back. 
Were you born into the C&S fold or as time went by, you joined the C&S church?
I was born into C&S fold and I'm one of her ambassadors. My mother was the founder of the The Holy Church of En-Hakkore Aladura. Ever since the departure of my mother into eternal home, God has ordained me to be the lead pastor of the Church and  I have made up my mind to be in this  fold till I go back to my creator in my old age. My testimony today is that many of my pastors' friends outside this fold are sowing garment now. It is a great testimony to me.
Tell us about your ministry. How you started and the journey so far?
Before my birth, there was a revelation given to my mother in 1974 immediately she came back from 3 days trance that she will give birth to a baby boy and that the child shall be a servant of God whom will work together with her (my mother) in Church ministry. So there had been kind of prophecy before my birth that I will be a pastor. It was predestined. . At the age of 10 years old, I went in trance for three days and all prophecies given came to pass to the glory of God. While growing up, I was fully involved in Church activities most especially in the choir department because I love singing and playing of instruments. I was one of the founding members of C&S unification, Esa Oke Chapter, this gave me the privilege of been the first choir master of the Chapter. During my youth service in Abuja, I was also very active in the choir unit and building committee of Cherubim & Seraphim Movement Church, Abuja District Sub Headquarters, Garki now Durumi. So, I have been actively involved in Church things couple with the fact that I was raised and brought up in Church but never wanted to be an ordained or full time minister. If I must be honest, many times I have been told of the prophecy behind my birth that I will become a pastor but I never wanted to be.  As I said earlier, I was into construction business, and two other businesses printing and fish grilling (Barbeque) respectively. As time went by, I began to hear prophesy about my pastoral ministry but I did not agree to be ordained because of these two reasons. Firstly, I was afraid of pastoral/prophetic ministry due to what my mother went through both physically and spiritually. If I must confess, being a pastor or prophet is not a thing one would jump at easily. Secondly, I love money and my business was doing very well. I knew that immediately I got into pastoral ministry, my business would be affected. So I ignored every call to start the work. But suddenly, I began to experience series of challenges, life became very difficult and my business was running down. I got another revelation from a prophet that God is not happy with me. He said nothing will change or get improved no matter how I prayed unless I accept the calling of becoming a pastor. Thereafter, I made up my mind and I was ordained as the Church pastor in April 2015. So in August 2015, I was admitted into the Baptist College of Theology for a 4 years course to undergo pastoral/Theological training and God has being faithful to my ministry. 
 What is your favorite hymn? Why?
I have many favorite hymns but I love "Aigbagbo Bila Temi l'oluwa." Anytime I sang the song I have this assurance in me that with Christ by my side there's no problem.
What can you say about C&S Church and what is/are the thing(s) you love about the C&S church?
I have personal conviction that God really established Cherubim and Seraphim Church and that we are endowed with spiritual gifts. What do I mean? If you are looking for dreamers, visioneer, prophets, men of intuition, song ministers, dancers and what have you, come to Cherubim & Seraphim. This fold is one of the indigenous Churches that considered traditions and cultural beliefs and values in their mode of worship. Unlike the foreign Churches that were brought to Nigeria by the missionaries, C&S has helped us to make use of our own traditional drums, language and way of life in worshiping God. This fold was established by God, if not, it would have gone to extinction. God has been the sustainer of the Church and I believe in the calling of Baba MOSES ORIMOLADE who God graced to found this fold. I love the aspect of the prophecy; we are graced to hear and see from God though the gift of prophecy and revelation. We are gifted in singing and drumming unlike other denominations where majority of their instrumentalist and vocal singers evolved from C&S. Another thing I love is our garment which brings us to uniformity and equity in the presence of God. You don't have to bother yourself of what to wear on Sundays in as much as you have your garment sown even if its one. I love our hymns too. Cherubim & Seraphim is blessed beyond measure.
Can you shed more light on why we have different factions in C&S and is it possible for us to come together and have only one church?
According to Church history, the first Church was Roman Catholic and it existed for so many years. Catholic been the first Church monopolized Christianity and it was centralized in Rome. In those days people were in the dark. Bible was not in circulation and it was written in Greek and Hebrew languages. The Bishops only have access to the Bible; interpretation is required before one can understand its content. More so, people can't lay their hands on it either. This was what our early fathers faced before the arrival of the Reformers and Protestants. The likes of Martin Luther, John Calvin, John Wesley to mention but a few fought against the monopolistic nature of Christianity. They fought against infant baptism, selling of salvation, the unavailability of Scriptures to all and made sure that the Bible was interpreted to languages people could understand and read. They also fought against the statement that is attributed to the Pope that he is infallible and the way he enriched himself. They had a good fight and Christianity was liberated. Since then, there had been division in Christianity. The likes of the Methodist, Anglican and Baptist came out of Catholics before it got extended to Africa and we begin to have indigenous Churches such as CAC, C&S, CCC and the Pentecostal. What I'm saying in essence is that Cherubim & Seraphim is even a product of division.
Division in Church today is not about C&S only but Church herself. Even the Bible 1 Corinthians 1:12-13 warned about being of Paul or Apollos but that we should be in one accord as one body seeing Christ as the Head of the Church. So the Bible has already revealed that there will be division. According to the founding history of C&S, we saw how baba Moses Orimolade was badly treated, denied of gaining access to what God started through him. According to what we heard and read, while he was living he placed a curse that there shall be division in this fold though I believe in the name of Jesus Christ that every curse has been removed through the blood of Jesus. That is the beginning of division in Cherubim & Seraphim. Division is not only in C&S but Christendom has been battling with this since the early Church by the first Apostles. I tell you emphatically, until C&S Church become a New Testament Church, division will not stop. I know some will query this statement but if I must be honest, many C&S Churches aren't Christian in nature but Judaist because they worship God in Old Testament ways. The curtain has been divided, the altar has been exposed and there is no need for earthly priest again because we have our High Priest that is mediating for us day and night before God Almighty and He is the New Altar we have. Let us wake up.
Is there anything you don't like about the fold? If yes, kindly share with us and what solution can be proffered?
Number one thing I don't like is prophecy without the scripture. There have been cases where we hear prophecy that negate or never align with the Word of God. It's quite unfortunate that some of these prophecies and revelations have destroyed many homes and lives because we have given much value to prophecy than the Word of God. We find it easy to ordain any man into ministry without looking into his deep knowledge about the Scripture as long as he is gifted or graced enough to go in spiritual trance. When one goes in trance in C&S, he or she is seen as a prophet they are given staff of prophet immediately. Let me say this clearly with all respect and humility, having the gift of prophesies or dream does not authenticate you as a called minister of God. Call is different from gift. The contributing factor to the problems we have in C&S is that we exhort call over training. Irrespective of your calling, you must undergo training and discipleship. Even in the Old Testament, there is school of the prophets established by prophet Elijah, Elisha and Co. Many a men had jeopardized what God has implanted in them due to lack of training which result to error. For us in C&S to rise above measure, we must put first the word of God and long to raise men who will have unquenched thirst for God's word. The Bible says ''My people are destroyed for lack knowledge'' (Hosea 4:6).
Number two is the use of objects. Some believe if they don't use different kinds of objects they won't see the manifestation of God. It sadden my heart when in today's Christianity pastors and prophet in C&S fold still ask people to bring goat, ram, objects, and many other things the pagans uses. I do ask myself; in what way are we different from herbalists? If today you don't have the power of God in you to move mountain, you really need to check yourself. There's a need for us to be mindful of the word of God, discipleship and righteousness. And not building or founding of Churches only. For the fact that you are gifted does not mean you are called into a ministry, you might be called to enhance another person's ministry. We should stop being moved by gifts but to be moved by the directive of God according to His Words and Revelation. Our leaders should be epitome of righteousness, dignity and real Disciples of Christ.
 What advice do you have for the C&S youths?
I implore the youths to be Christ- centered. Let's study him. Being Christ-centered means knowing Him as your personal savior, having a good relationship with Him, filled with the Word of God and following his foot print. By doing all these, we will grow globally; soar higher amongst our associates and around the world. It is important to know that God remains the same across all generations.
Leave Comments