Police IG Thanks Mother Ajayi For Rebuilding SPU Hqtrs in Lagos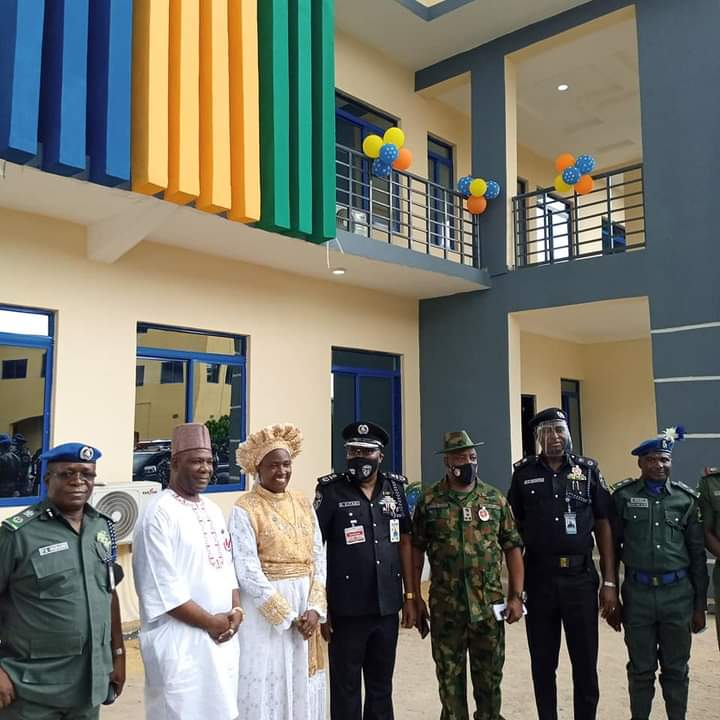 By Muyiwa Adeyemi
The Inspector General of Police Mohammed Haruna on Tuesday described the renowned Evangelist, Reverend Mother Esther Abimbola Ajayi as a philanthropist with a kind heart to make the society better.
The Police boss spoke at the commissioning of the Ultra modern Headquarters of Special Protection Unit (SPU) of the Nigerian Police, built by Mother Ajayi at Oduduwa Street, Ikeja, Lagos.
Haruna who wrote a personal letter of appreciation to Mama Ajayi was also represented at the colourful ceremony by the Assistant Inspector General of Police Ahmed Iliyasu.
He said it took a heart of magnanimity to pull down the dilapidated building and rebuild it to international standard. He, however, advised wealthy Nigerians to emulate her kind gesture.
For the Lagos State Commissioner of Police, Akeem Odumosu who thanked Mama Ajayi and her husband Dr Ademuyiwa Ajayi for providing a conducive environment for the members of SPU to operate, he said Nigerians should join hands with the Police to secure lives and property.
According to him, "I want everybody to know that security is not an easy task. Security is not a one man business, it is everybody's business and whoever provides security for human beings protects lives. We sincerely thank Mama Ajayi for this rare gesture and I promise that we will make good use of the building".
Speaking on how SPU contacted Mama Ajayi for the project, CSP Abdulahi Igah noted that the abandoned and dilapidated building was the first office of Lagos Commissioner of Police before its relocation, but when SPU had office constraints, he approached the CP who graciously released the building to SPU.
He disclosed that the unit wrote letters to some of their friends to assist in rehabilitating the building, he said it was Mama Ajayi that came forward and physically visited the unit and promised to single handedly rebuild the building and it was delivered in record time.
He said the society would forever be grateful to her and her husband for supporting the police to perform their responsibilities.
Speaking at the event, Mother Ajayi who was supported by her husband said when she received the request from the police to rebuild the building, she prayed to God and God asked her to go ahead and execute the project. She disclosed that she was happy to have done it because of her belief that government alone cannot provide all that is needed to make Nigeria better.
The Ambassador Plenipotentiary of White Garment Churches said, "I lived in the United Kingdom for about 15 years and I have been exposed to many countries, I can tell you government cannot do it alone, we must contribute whatever we have to make Nigeria great.
"I believe that Police is our friend. I eat from the same pot with my Police men. I know there is no perfect human being and there is no perfect police anywhere in the world. But they need our supports to be more efficient and effective.
"I love Nigeria and I love my church, Cherubim & Seraphim. We should start saying something positive about our country. As a Pastor, I believe in the power of giving and blessings that follow. I plead to all Nigerians to come into the assistance of the Nigerian Police in whatever capacity to have a better security in Nigeria.
"This is the time we should all come to the aide of this country. No matter our level of condemnation, it will never solve the problem but we should assist them to do their best. If about 40 wealthy Nigerians should do something good to assist the police, I am sure the effect will see them performing better.
The Chairman of the National Executive Council (NEC) of the Cherubim & Seraphim Unification Church of Nigeria, Snr Supt Apostle Owomoyela who said the opening prayer at the event led other members of the Exco to the ceremony.
Other C & S officers present are the Secretary General of the Church, Apostle Olatunde Ogunkunle, the Chief PRO, Snr Supt Apostle Muyiwa Adeyemi, Supt General Apostle Iyiomo Oyetakin, Chairman, Lagos State Unification, Snr Supt Ap. J. O Adagba and his wife, National Youth President Dr Ayegbusi, his Secretary, Brother Oluwaseun Sodunke, Brother Muyiwa Odedina and Brother O'Michael Olajuwon.
Leave Comments