Our dominion in life lies in the word of God - Pst. Damilola Karounwi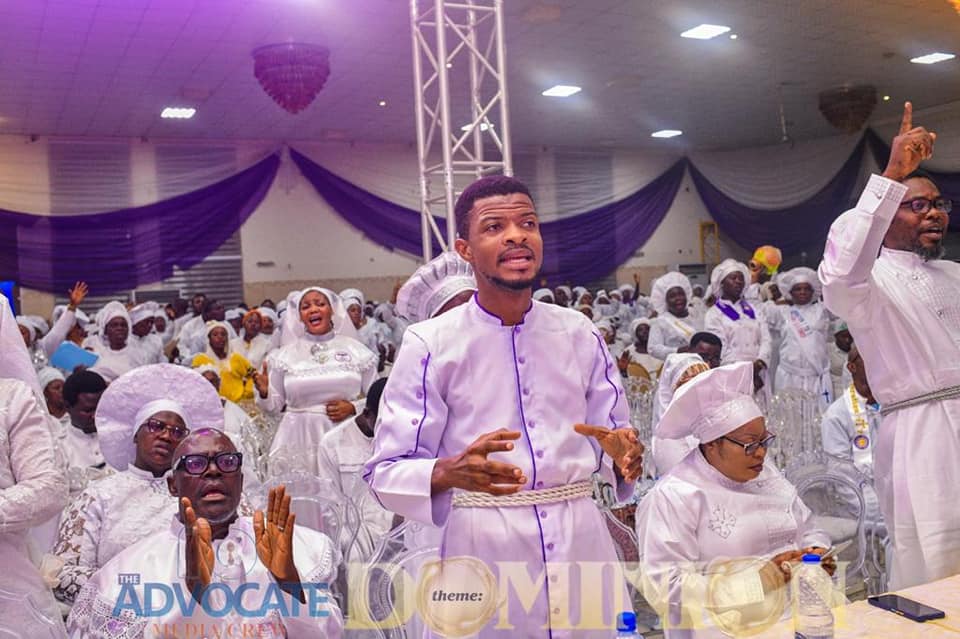 The founder of Menorah school of the spirit, Pastor Damilola Karounnwi, has said no one exerts dominance in life without the word of God which guarantees victory and sufficient to cure all problems.
He said this while ministering at the recently held power-packed operation 7-7 crusade themed, "Dominion".
The vibrant preacher said the primary purpose for which God created man was to have dominion over everything He created.
He said, "Nobody experiences dominion without the word of God. Jesus came to the earth to show dominance over everything God created. The word of God is the completion of God. The word of God is the perfection of God. If there is any situation you want to speak to in your life, you must use the word of God.
"There are times we are unaware of our position towards things around us, but the moment we become conscious, that is when we know the level of dominance we have over them. Until enlightenment comes, you will still be perpetually kept in ignorance. Some of you, your deliverance is in the word of God."
Pastor Karounwi also revealed how he constantly felt cobwebs sprawling over his face whenever he set out to minister.
He, however, disclosed that God gave him dominion over it while studying the scriptures.
He said, "As a preacher about 10 years ago, whenever I go out to preach, I encounter cobwebs and that becomes a normal thing for me anytime I am going to minister. So, one day I was studying Genesis chapter one, two and three. When I got to a point where God told Adam to give names to all the animals and whatever name he gave any of them stands.
"God told me at that point that whatever name I call the cobweb is what he would answer for me. And that was when I got delivered from it. Since then, anytime I encounter cobwebs, I prophesy good things would come my way that day. And since then, anytime it happens, I will receive a credit alert. So what turned out to be a problem for some people became a blessing to me. Since then I pray for more cobwebs because God has taught me dominion over it."
Lady Prophet Funmi Arojah of C&S Mountain of Goodness and Mercy on her part said some people sit on their potentials because they do not know who they are.
The clergywoman, who made a series of prophetic declarations during the programme, said beyond participating in various church programmes, God's given wisdom is needed to dominate in life as a Christian.
The convener, Pastor Seyi Bakare, told the congregation that the glory God had given everyone of them has a role to play in their quest for dominion in life. She also described dominion as a new life and a point of self-realisation.
In her usual style, Pastor Bakare raised powerful prayer points at intervals while the programme lasted.
The crusade which is powered by Gboromiro Prayer Ministry, Men and Women of Prayer Mission and the Sacred C&S, Oluwamayomikun Parish; all headed by the female cleric, had in attendance worshippers drawn from different denominations.
The 3500-capacity Daylan Events and Conference Center was filled up as there was also a spill in the premises. This is as the congregants were immersed in the teachings, prayers and prophetic sessions of the programme.
Other firebrand men of God who took turns to minister include, Prophet Akinwale Abodunde, Prophet Claudius Olaiya, Prophet Michael Fakile, Prophet Sam Ojo, and Rev. Edward Alabi.
The guest artists include Prophetess Taiwo Sewenje, Lady Evangelist Bukola Akinade, Oluwalonibisi, Harmony Brass, Kenny Ologoara, Dare POP, Elizavocat and the choir of Sacred C&S, Oluwamayomikun Parish.
Scores of new converts also filed out in their numbers as they gave their lives to Christ during an altar call.
Follow us for more news and updates.
Click the link below to subscribe to our YouTube Channel
Leave Comments