OCCUPY2020: C&S UNIFICATION YOUTH FELLOWSHIP PRESENTS A SKIT CHALLENGE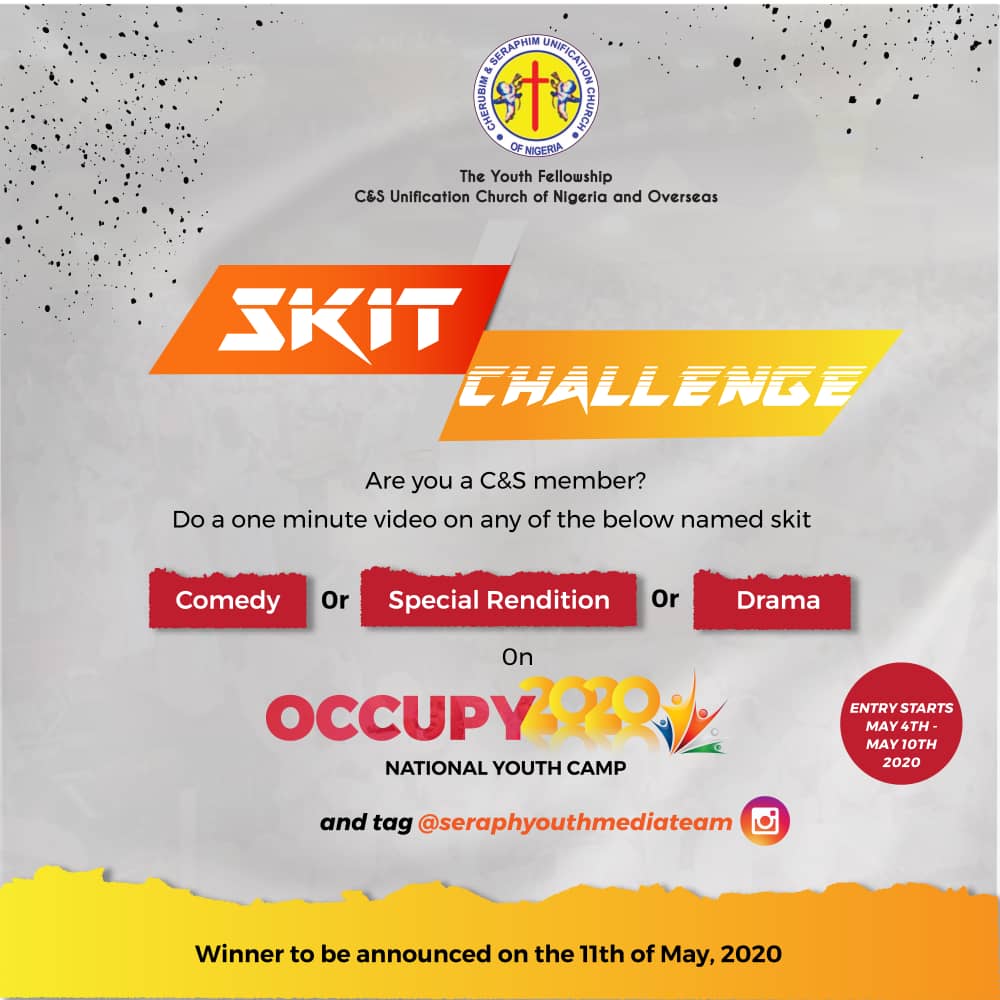 Despite slow activities and shutdown of major events nationwide, the fellowship has continued to ensure necessary plannings for the 2020 edition of her annual camp are not affected.
Recently, the official hashtags for the camp – "#OCCUPY2020'' and "#CANDSNYC2020" – were unveiled to ensure unified and global publicity.
Hence, the Media team in conjunction with Music and Drama teams of the fellowship are set to organize a Skit Challenge. 
As known, one of the exciting moments making up the annual camp is the talent hunt/variety night. Hence, this year's edition is set to experience another unique modality in the selection of new and raw talents for promotion.
While giving a detailed analysis of the challenge, the media director explained that the challenge is aimed to bring talented Seraph Youths to limelight and also to give prospective campers a glorious experience.
On the requirements, Bro. Babayemi Samuel said,
"The Challenge is opened to every talented Seraph Youth and will require (interested) members to produce a skit, publish on their individual Instagram account or page,  tag the media team's official handle (@seraphyouthmediateam) and as well make use of the official #tags unveiled (#occupy2020 and #candsnyc2020)".
He added that the challenge is scheduled to hold within a week from *Monday 4th – 10th May 2020.* The Media Director noted that this is an ample time for participants to put up their best foot forward in showcasing their gifts and talents in the categories such as song ministration, drama group, comedy (spiritually inclined), special rendition, etc. 
Seraph youths are hereby called to look out for graphics on the team's official pages and be ready to make use of this avenue in selling their talents to the world and publicize to other members to ensure no one misses this great opportunity.
Leave Comments