NUJ Lagos commends Rev. Esther Ajayi for Support on their remodeled secretariat.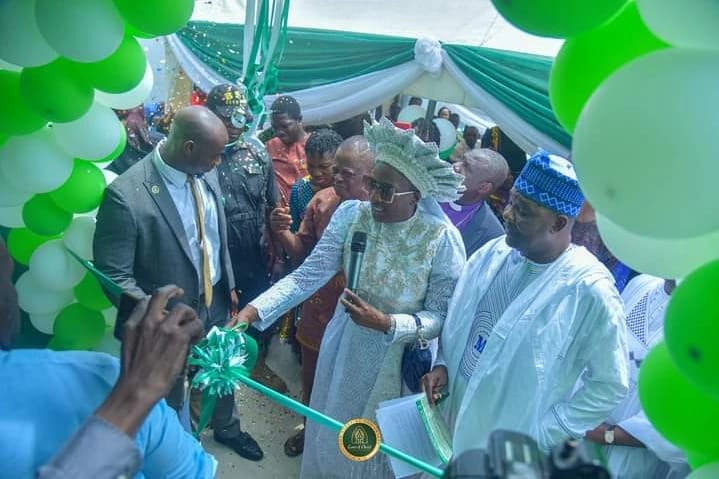 Nigerian Union of Journalists, Lagos has given kudos to Rev. Mother Esther Ajayi for her generosity in taking over construction from 30 percent to completion.
The Lagos State Council, Nigeria Union of Journalists (NUJ), on Saturday, January 28, 2023, inaugurated its remodeled secretariat at Ikeja, the capital of Lagos State.
The remodeled building was unveiled by Reverend Mother Esther Ajayi who was assisted by Aremo Olusegun Osoba, a former Governor of Ogun State, National President of NUJ, Chief Chris Isiguzo, representative of Lagos State Governor, Mr. Gbenga Omotoso, Commissioner of Information and Mr. Adeleye Ajayi, Chairman, NUJ Lagos Council.
The President of the Nigeria Union of Journalists (NUJ), Chief Chris Isiguzo, while conferring Grand Matron Award on the Rev. Mother, said that the union, in the past, usually relied on the government and its agencies for support, but she had changed the narrative.
Lagos NUJ Chairman Mr. Adeleye Ajayi said this was made possible by God through His Minister, Rev. Mother Esther Abimbola Ajayi.
"We approached Rev. Mother Esther Ajayi, a world-renowned Evangelist, and Philanthropist who courtesy of Esther Ajayi Foundation(EAF), assured us that by the Grace of God the Almighty, she would complete the Secretariat.
"I remember vividly that all she required at our first visit to her Church was the architectural drawing of the Secretariat, which she promised to give to her engineer to study.
"We told her we did not want cash and that all we needed was for her to complete the building for us.
Follow us for more news and updates.
Click the link below to subscribe to our YouTube Channel
Leave Comments