My mandate is to bring light to the hidden truth about C & S church - Imoledayo Immanuel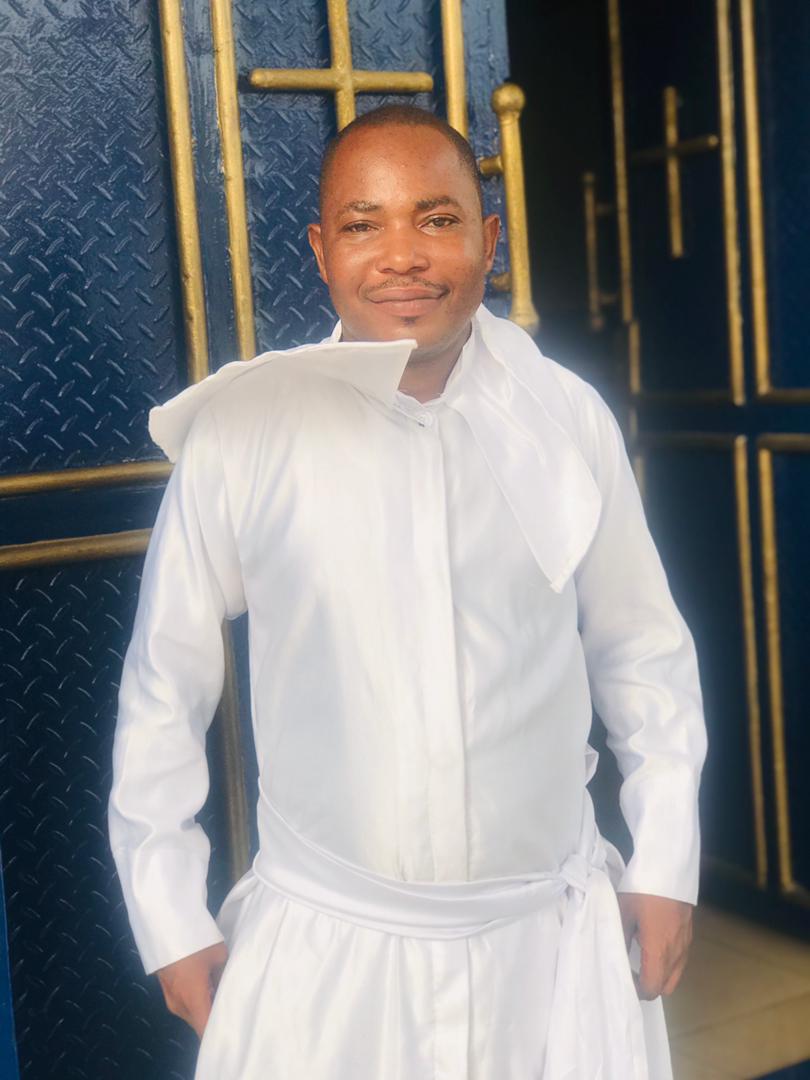 Imoledayo Immanuel, A man of God spreading the gospel of Christ and upholding the doctrines of the C&S church using his social media account is our "FACE OF SERAPH" for the week. He spoke with our correspondent on his vision and mission for the C&S church.
Can we meet you, sir?
My name is Imoledayo Immanuel Kolade Olaniyan, An Apostle of Jesus Christ from the Sacred Cherubim and Seraphim Church, Lagos State.
Share with us your salvation story.
I became born again in my church (Sacred C & S Church Oke Iyanu ). It was 30, October year 2003. I was in the church praying with my friend, we do have prayer and fasting every 3 days to end the month, so my grandmother was still alive then, we were both discussing the word of God and we argued a lot when my grandmother who was a prophetess and the founder of the church opened the scripture to us, she showed us how it was the same mountain that Abraham wanted to sacrifice Isaac on that Jesus was crucified. She preached to us that day that I was so touched in my spirit and surrendered my life to Jesus confessing with my mouth his lordship and believing in my heart that God raised him from the dead.
Were you born into the C&S fold or as time went by you joined the church?
I was born in C& S church in fact the day and time I will be born was given as a message and my names were given by prophecy from the trance. I was given the name Imoledayo that I was sent to bring light to people walking in darkness. The name Emmanuel was given from the spirit of God.
What can you say about the C&S church?
C & S church is a church sent as the last Ark of Noah in Africa. It was revealed to me that Moses Orimolade is one of the 24 Elders on the throne sent to Africa to bring the Gospel of Jesus to the blacks. This is the best church anyone can ever worship. I keep telling people that the church that is closest to God is Cherubim & Seraphim church. When I study the scripture, The angels that are closer to the throne of God are the Cherubim and seraphim, that's why when people want to know the mind of God, they run to us in secret from all denominations. C & S Church is founded on the Gospel of Jesus Christ, Moses Orimolade preached Jesus to all people and that's our message. If we all have the revelation of the C & S church, we will be proud of this church. We are God's favorite. And all other denominations will become C & S churches in the future. One of our hymns says ' kini yi o kehin aye , kerubu pelu serafu'. I so much believe in the God of C & S.
Why the strong passion for the church and tell us about your mandate for the church?
My Mandate for the church is to bring light to the hidden truth about C & S church. I was sent by God to unveil the beauty and power in C & S  church and show people that it was founded on truth and that truth is Jesus Christ, like our hymn says "
 Ipile to Jesu, 
fi le le leyi. 
Ti Baba Aladura nto
Keda mase rope
O ye kuro nibe
Oduro le Christi Apata
Kerubu eyo
Serafu eyo...
From that hymn, it says "keda mase to pe, o ye kuro Lori otito"
I was sent because some rebellious talented people are watering down our doctrines because they don't know the meaning or why we practice them. They say it's all old testament, they disrespect and insult elders, I was sent to open their eyes and lead people to the ancient path, the path of our father
What will you say inspired you into using a Facebook page to make an influence and correction in the church?
First, that's the social media I can use very well and I see many C & S members use the app. So I make use of it to enlighten people all over the globe and give room for questions about our doctrines or practice. I even open a Bible school for C & S members who wish to learn scripture and understand our doctrines just to enlighten anyone willing to participate and know what the church is all about.
Tell us about the Bible School and the drive behind its establishment.
The Bible School was birthed from the directive of God to enlighten our
 C & S members to know more about Christ Jesus as the focus of every page of the scripture and also to make them rooted in our doctrines so anyone won't come to convince them like waves of the sea. That's why I make it online studies, we hold class every day and even have online prayer early morning around 5 am daily. This already helps those who struggle with prayer life and the participants have more room to ask whatever questions they wish to understand in the scripture and about our doctrines.
What can you say about the state of the unity of the church?
The C&S unification is really trying. I really honour God in the life of our Father " Baba Aladura Solomon Alao" the supreme head of the C & S church and all the Ecclesiastical council of C & S church. I see God of Moses Orimolade using them mightily to bring the church together in one unity. Though we still have a long way to go with time, prayer and patience we will get there.
We recently observed a drift you had with some youths of the church about the doctrines of the church. Tell us your view about the youth of this generation.
I see many gifted youths in C&S ready for revival with zeal but many of them lack the wisdom of God. They claim to know but they don't have understanding. I keep telling them that the number one thing we all need to get, is wisdom. They condemn many of our doctrines and this is causing divisions in local churches, bitter arguments in Sunday schools, and even youths insulting their leaders and elders, calling them ignorant and leaving the church raising rebellious youths after them to see our elders as ignorant. This isn't the way of God. They have zeal but not according to knowledge. Many of them are very sincere, they think they're standing for truth and setting the right standard but they don't know they are raising rebellious children after them. Imagine telling young people that they don't need Altar, they don't need to carry cross again because it is the worship of an idol, they don't need to lead service, they don't need to remove their shoe to enter the church, wait what will be the future of C & S church? What will make us distinct as C & S church? Some of them claim that Moses Orimolade didn't carry the cross, he didn't have an altar that those doctrines were the tradition of men, and this is what I ask them, as long as these doctrines are in the Constitution of C & S unification, that Means God knows about it. This is who we are and what we stand for. Baba Fakeye that great evangelist preached Jesus to the world without canceling any of our DOCTRINE. So is Mother Esther AJAYI, but you see all these young ministers starting ministries, they just water down all our doctrines because they don't know better. Jesus is surely the Focus! We can point to Jesus in all our doctrines without canceling any of them. I write more about all these on my Facebook page.
Say something about the future of the church.
The Future of C & S is so bright. I see God raising ministers for the great revival from C & S church.  All we need right now is standing together in oneness and unity of mind just as the Apostles in Act 2. The Spirit of revival came because they were in the unity of mind and stand for oneness. I see God raising youths in C & S church but they need to put our structure together before the fire of revival fall. Prophet Elijah packed the 12 stones on the altar which stand for the 12 tribes of Israel before the fire fell on the sacrifice. If he didn't put the 12 stones, no matter how anointed he is, the fire won't fall. So I send a message out to our gifted youths that God is preparing for a great revival to not condemn any of our doctrines but pack all together so that the fire or revival will fall on their sacrifice.
Finally, a word for the church, sir.
My message for the C & S church as a whole is to prepare for the coming of Jesus Christ. The Rapture will happen anytime from now. Let us be ready to join the heavenly Cherubim and seraphim to worship our Father in heaven. Those who use charm should stop. Those who are into Adultery and fornication should stop. Let us look unto Jesus the author and finisher of our faith. Remember our hymn
"AGO RE WONNI
TI NI EWA TO, OLUWA
OKAN MI NFA
SILE ORUN..."
There is a place after this world and the only way to the Heavenly home is Jesus Christ.
Leave Comments