KEYNOTE ADDRESS OF THE SUPREME HEAD TO THE ANNUAL GENERAL CONFERENCE 2019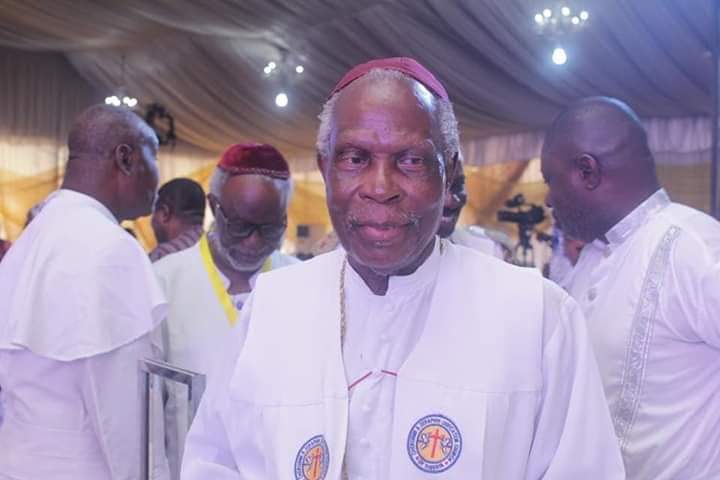 Your Excellency,
The Executive Governor of Lagos State
Mr. Akinwunmi AMBODE
All Government Functionaries
Your Royal Highness 
My Lord Spiritual and Temporal 
Members of the Ecclesiastical Council,
Members of the Executive Council 
Distinguished Delegates and Observers,
Gentlemen of the Press 
Ladies and Gentlemen 
I thank God with all my heart for being part of the glorious event; the 2019 Annual General Conference of the Church of God and I congratulate you all as partakers on this epoch-making event.I pray God to give us the grace to celebrate more of this in the land of living.Amen
I sincerely welcome our Governor of Lagos State, Mr Akinwumi Ambode into the assembly of the seraphs whilst also praying to God to overwhelm him with divine mercies in present tasks and future challenges.Equally welcome Your Royal Highnesses,All Government Functioninaries and other distinguished dignitaries here present on this auspicious occasion.
My beloved delegates and observers to the 2019 Annual General Conference (AGC), I implore you to re-enact those attributes that made past conferences very successful.As you 'play Tennis' with ideas during this conference, I implore you to go beyond the church matters and also bring to the discussion table some of the challenges facing our country today,witg a view to proffering solutions to then. 
Please recall that over the years; I have challenged you over matters involving Moses Orimolade University - Omu Aran and the development of our Ecumenical Center at Maba,Ogun State. In this respect and on your behalf, I wish to thank our mother, the Ambassador plenipotentiary of white garment Churches, Rev. Mother Esther Abimbola Ajayi who came out boldly and massively to put smile on our faces. I will be an ingrate if I do not also at this stage appreciate General Supritendent Yomi Sholoye,Snr.Supt.Ap.Mother Oshinowo and Special Ap. Taiwo Akinsola for their selfless contributions at the 2018 Mana vigils. They have also raised the bar of our vigil that we cannot afford to lower the standard. I praise the very God of Cherubim and Seraphim who answers prayers of his Elect to remove our tears in those key areas of our concerns Halleluyah!!! 2018 was awesome for the Church, the  current year is also following that trend; issues that are hitherto tagged impossible are now wearing the toga of possibility.
From the inner recess of my heart, I sincerely appreciate the Esthers, Nehemiahs, Ezras, Daniels in our midst and several others who laid foundation for what we are building on today and I want to conclude this appreciation by saying that, 'Not by might nor by power, but my spirit, says the Lord of Hosts' (Zech 4:6b) certainly what is being witnessed today in the C&S church is Divine Intervention in the lives of His Beloved and, 'This is the Lord's doing; it is marvelous in our eyes (Psalm 118:23)
As massive works commence ( and are on-going) in the key areas of the Church; I want to appeal to you to all relevance and make useful and indelible contributions as the train moves on (Ecclesiastes 9:10)
In this year (2019), more than before, the Olori-in-council, will embark on three key areas that are germane for Church;viz
a)  Evangelism - This very crucial as it the great commission given by our Lord Jesus Christ on Mt. Galilee and it is also the core mandate of the Cherubim and Seraphim church and indeed my mandate. 
b) Publicity - Our good deeds (which represent the light in us) must be constantly publicized so that others may see the light of God in his Church and glorify His name. (Matthew 5:16).
c) Episcopal Tour - Constituent Churches and state chapter will be visited this year as part of grass-roots mobilization.
Where necessary, a special committee would be put in place urgently.
As the 2019 Elections draw nearer, you are implored to participate as law abiding citizens and choose those you know will add value to the lives of the citizenry. Please do not engage illegal activities; either before, during or after the elections. Do all in the fear of God.
In Conclusion, flowing from the theme of AGC; 'That all may be one' (John 17:21); 2019 theme encourages us to, 'Pull Down the Barriers' (Ephesians 2:14), wherein there will be no Greek or Helene and where Paul and Apollo will work as a team. In 2025 we will be celebrating the Centenary Christening i.e the naming ( not the date of birth) of what is known as C&S. By 2025 therefore there should no Greek or Helen anymore. This is the period for continuous over-hauling of processes and total re-engineering within the church to, 'pull down the barriers'. May the Lord perfect all imperfections in our midst in the name of Jesus Amen.
As a church of God, let us intensify prayers for our leaders in the Ministry and also in Government. May the good Lord strengthen us all in the name of Jesus Amen. I thank the host Church for a wonderful show of hospitalality as I also wish you qualitative sessions during the Conference.
  
Thank you one, thank you all...
God bless C&S Unification Church of Nigeria 
God bless Lagos State - The Center of Excellence
God bless the Federal Republic of Nigeria.
His Most Eminence Prophet Dr. Solomon A. Alao,JPil.
The Supreme Head(Olori) C&S Unification Church Worldwide.
Leave Comments