It's Time To Make The World Know Who We Are And Whose Identity We Carry - Apostle Lawanson Gbolahan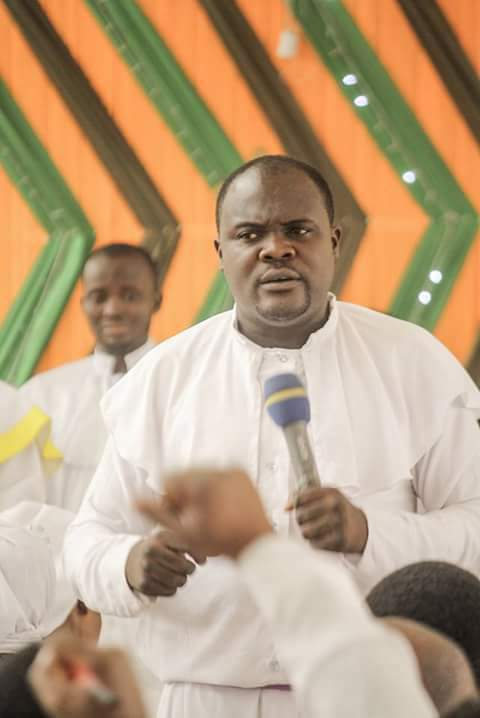 Senior Apostle Lawanson Gbolahan Olusegun is our FACE OF SERAPH for the week. The man of God sold out for church planting whom God is using mightly in our generation had an engaging interview with our correspondent where he shared insights with us about the church and his ministry.
Can we meet you sir?
 My Name is Lawanson Gbolahan Olusegun,  I'm a Senior Apostle of this great commission of C&S Church Worldwide. I founded a church in which I'm not the leader thereof. I also pioneered C&S Corpers Fellowship in the East, Enugu to be precise in 2012/2013. We were three including Bro. Gideon Ojemakinde and Sis. Deborah Owolabi (although she's married now), before other people started joining us from the various local government of the state. Today, to the Glory of God they have a permanent place of worship. I am presently a member of CSMC Amazing Grace District, Alagutan Alimosho Lagos.
 Can you give us a brief of how you became born again?
I got born again in 1995 officially at the Lagos Invasion of Living Faith World Outreaches in Gowon Estate Open Air Crusade.
Were you born into the C&S fold or as time went by, you joined the C&S Church?
 I was born and bred in the C&S Church. The Sacred Order of the Cherubim and Seraphim Church Ayanfe-Olu Oke Ayo, Orile Agege.
Tell us about your ministry. How you started and the journey so far?
It was a vigil where the elders and the leader of the Church weren't around, I took up the assignment for the night to minister and led the prayer for the Vigil, it was awesome.  I taught on the topic: "Oh You Sluggard". It was an unforgettable experience, the Church was charged like never before; I never believed I was the one speaking. The Holy Ghost took over beyond human imagination.  By the time I was through, It was 4am already, we could not do 'Ariya' again. Since then I have never remained the same. I minister everywhere I go, like fire. I have ministered in almost all the schools in South West except Ife and OOU fellowships. I mean Institutions of higher learning (Unification fellowships). God has been using me beyond my imagination.
In 1999, The vision of the ministry started with this revelation. I had a night revelation that I was killed by an Angel and I was buried, after 3days I rose from the dead. I saw a hole in my hand and feet like that of Jesus after been nailed to the cross. I saw men crying from afar. The moon was there which stands as the background and the first camel came but it didn't allow me to ride on it, It went with another person till the third camel and I just walked straight from where I was to the people. As I approached them, they were getting relieved and happy, till I got there.
What is/are the thing(s) you love about the C&S church?
 Everything!!! God has exposed me to so many things about C&S especially the Hymns and I enjoy the grace of divine direction.God is here!!! Though people thought we are a fetish and Satanic fold but we know who we belong to. Jesus is our Identity, Jesu ni Balogun oko, Jesu loruko to gaju and Jesus is our All!
How do we cultivate a sense of biblical and godly community in the C&S church?
Hmm… We need to go beyond just our gathering. The Bible says "Get Knowledge from afar and sell it not". If we can follow the lyrics of our hymns and biblical injunctions and work on them, we will be good and then, let all our gathering be Bible leading gathering.
 What are some of the most important ideas and practices that will enhance the growth of a C&S church?
  Colossians 3:16-17(KJV): Let the word of Christ dwell in you richly in all wisdom; teaching and admonishing one another in psalms and hymns and spiritual songs, singing     with grace in your hearts to the Lord. And whatsoever ye do in word or deed, do all in the name of the Lord Jesus, giving thanks to God and the Father by him.
 Prayers, Word of God (not just knowing the psalms) and Hymns.
 Finally, Evangelism has been neglected for so long. We need to go back to it in fullness and in Spirit, not looking at the gains in it but the Souls. Our hymn,  "Titi gbogbo ifoju okan yio fi tan laye, Ti Ku Jesu Oluwa wa ko ni je asan mo, Apalase lagbala orun pe k'egbe yi ma bisi" This is our vision and mission, any other is under it.
Can you tell us how the prophetic ministry can be sanitized from all kinds of prophets and prophetess?
My oh my... This one deep ooo.The reason we have fetish and hungry prophets is because they lack the word of God. We honour the gift more than the giver of the gift. Let every prophet go back to the 'Bible Ministry'. Let the councils of prophet quarterly organize Bible Summit where orientation will be given to them on "Prophetic Ministry: The Biblical Pattern", that will always guide the people and leader of churches should also join, in order to help teach more on the Biblical pattern in their local churches. The Councils of Prophet of various pillars of the church should set new standards that will enhance the ministry through the word of God. The Bible says, "By their fruit we shall know them". The bible teachers in churches should also expose them the more to the word of God during bible study meetings. Even when some members like concoction, Let us allow deep biblical teachings in our local churches, that also will help us out.
I see a greater C&S Church all over the world. We were role models to churches at large in the world and we will still be. We are taking our rightful position in Jesus name, we shall not fall.
 Finally sir, a word for the Youths in the C&S Church!
 Isa. 60 vs 1: Arise, shine for thy light has come, the glory of the Lord has risen upon thee. It's time to take over territories for God and establish God's Kingdom on earth. It's time to make the world know who we are and whose identity we carry. Jesus is the captain of the Ship (Jesu ni Balogun Oko). We are no more future leaders we are NOW LEADERS OF TODAY! God is expecting much from us all.
GOD BLESS CHERUBIM AND SERAPHIM CHURCHES.
GOD BLESS  NIGERIA .
Ayo ni ooo
Leave Comments