Isokan @ 41: The fellowship has rescued, trained, equipped C&S youths - Atansuyi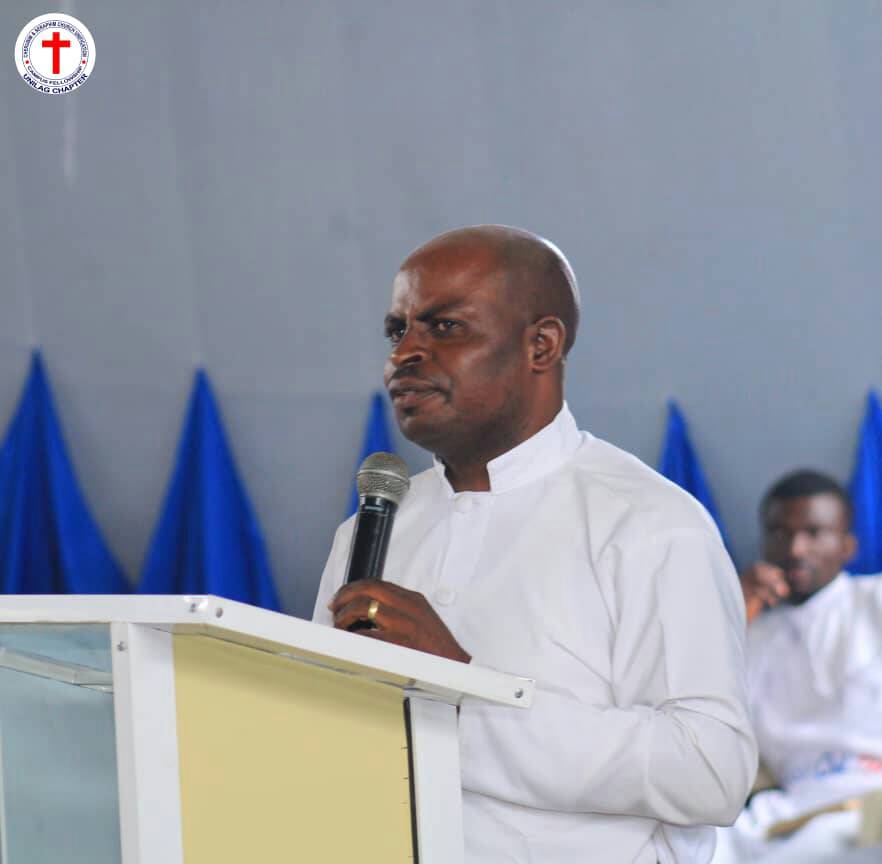 Can we meet you, sir?
My name is Pastor Olajide Emmanuel Atansuyi. I was the immediate Apostolate/ Chairman of Cherubim and Seraphim Church Unification Campus Fellowship, an assembly of Cherubim and Seraphim Church members (Graduates and Students) in Higher Institutions of Learning in Nigeria and Republic of Benin (i.e universities, polytechnics, colleges of education, colleges of health technologies and other tertiary institutions) worshipping together as United Seraphs.  I work with the Lagos State Government as the head of the Department of Social Media of the Ministry of Information and Strategy. I am a graduate of Ondo State University (now Ekiti State University) where I had my bachelor's degree in English and Education and a Master of Arts (M.A) Degree in English (Language). I also had a Post Graduate Diploma (PGD) and Master of Social Science (M.Sc.) in Mass Communication at the University of Lagos, Akoka. I am currently a Ph.D. student at Babcock University.
Can you share your salvation story with us and your service in the campus fellowship?
I was born into a Christian family but used to be a nominal Christian until I got to Ado Ekiti. I got admission into the university in the year 1991/1992 set, worship in the C&S unification campus fellowship (OSUA then but now EKSU Chapter) where I was brought closer to Christ, and I got changed in the year 1992.
At the Campus fellowship, I started as the Bible Study Coordinator and at the end of 1992, I became the Chapter Vice President. In December 1993, I was appointed as the Chapter's President until I graduated in 1996. Back then, being a student was very challenging alongside the president of the fellowship. As a shepherd, you could not allow your sheep to go astray, so it was a commitment that was challenging to my academics I must say. For example, in a particular semester, our fellowships Bible study is held every Wednesday by 4 pm on campus, the same time as one of my lectures. It was difficult for me to ask members to attend Bible study and I would not be there. I had to leave the class for the Bible Study. There were times I had to leave what I was doing to attend to members having challenges. Those experiences taught me the need to be responsible. I can testify that God has been faithful. 
Before I became the Apostolate/Chairman of Central Executive Council (CEC), I served as the Publicity Secretary (1999- 2003). Deputy General Secretary (2003-2005), 2nd Vice-Chairman (2005-2009), 1st Vice-Chairman (2009- 2012). In December 2012, I had the grace to be ordained as the Apostolate/Chairman of the Central Executive Council (CEC), I served for 6years and within the 6years until December 2018 when I handed it over. During this period 23 budding chapters were established and inaugurated into the Unification Family. They are all doing well to the glory of God. 
There is this beauty of C&S unification campus fellowship whereby people from different denominations come together under the same atmosphere (mode of conduct) and worship God in Spirit and in Truth irrespective of the doctrines of the mother churches you are coming from. 
Yes, Unification is an example of what a standard C&S church should be. The standard C&S Unification Campus Fellowship is for all to worship God in Spirit and in Truth, pray and know and study the Word of God (Bible study) the moment you know the truth (the scripture which is the word of God) no one will be able to deceive you. 
Unification came into existence in March 1980 at the then University of Ife.  Since then, the Church has been marching forward. We made discipline our watchword. We do not allow some practices such as the Africa indigenous act that crept into the C&S church back then (e.g. bathing in streams) in unification. In unification campus fellowships, going in trance for days is not allowed. 
If these things have been allowed, the unity of unification we are seeing today might have been tampered with. You can't get to any unification campus fellowship (North, South, East, and West) today and see them putting on any other color of garments aside white.
The C&S church is an African indigenous Pentecostal church (the church that believes in the power of Pentecost, i.e., the indwelling of the Holy-Spirit) the C&S church believes in all the sacraments, it's the church that exhibits all the 5-fold gifts in Ephesians 4:11(Apostles, Prophets, Evangelists, Pastors, Teachers). It's a church where God gives instructions and directions per time, a very unique feature of the church. It's a church where you experience the manifestation of the Holy Spirit even though some have bastardized it but the truth is that the Cherubim and Seraphim Church is one after God's heart.
Is it possible to have that same conduct in all C&S churches?
Yes, it's possible but the reason why it's difficult for the mother churches is that the number of C&S churches we have is almost equal to the number of founders. For me, it is only if those founders can come under one leadership.  Unfortunately, some of the youths are also into the chase for titles and positions. The youths must understand that according to Ephesians4:11 And He gave some, apostles; and some, prophets; and some, evangelists; and some, pastors and teachers; the Bible says He gave some, not all. So, we come off the mentality that those gifts are hierarchical (like from elder brother to a teacher, then after two years, one moves to the evangelist, then proceed to pastor, to apostle then to senior apostle, then to most senior apostle) that is not how it is meant to be. If those gifts are hierarchical, Jesus highest title during His days in the flesh on earth would not have been Teacher (though he is a personification of those gifts) but because wherever he went, he was always teaching, to us we believe a teacher is a low title in the church but those gifts were not hierarchical so the youths must understand that they must not struggle for titles or positions. 
There have been many efforts made by some people to abort unification, when I was the CEC Chairman, we fought a lot of battles, for instance, the battle we fought when we wanted to inaugurate Crown Polytechnic, Ado-Ekiti Chapter was tense. I register on this platform the role played by brother Shanu Olumide (past President of EKSU chapter) is a very crucial one to the standing of that fellowship today. Those that are trying to eliminate C&S Church Unification Campus Fellowship refuse to understand that the Church is from God. 
So, we must continue to try our best as change agents. We must bring forth our experiences, wherever we found ourselves. We should shun the entitlement to positions and the training unification gives is to worship God in spirit and in truth in the most seraphic manner. If we have put those things we learned in school in our churches at home, we should have seen reason to come together under one umbrella (one fold, one Shepherd, one Lord). We must love God to the point of yielding ourselves to Him completely and shun unnecessary arguments where some attempt to assign meanings to different garment colors like red is for victory, blue is for mercy, etc. the question is: how much of those things did Christ do to give victory to people? Did the Bible talked about the color of the garment Peter, Paul, Moses, Gideon, Deborah put on before they were able to do those exploits? No! All of those things are weakening us so we have to excuse ourselves from them.
With your experience in the C&S church, what can you point to as the beauty you cherish most about the church?
One of our hymns says 'Eyin Angel to wa lorun, e fiyin fun Baba' the chorus of the hymn established that the church is established here on earth for the redemption of soul and that C&S church must grow from strength to strength till the blind in spirit behold light in the world and that the death of Jesus on the cross would never pass in vain. That is the vision of the church and that is what I love about the church.
What is your favorite hymn sir?
Hymn639 Ọlọrun gbogbo araye, Iwo to pe ki imole ko wa. The hymn talks about the supremacy of God and that is the statement God made in Genesis 1(let there be light and there was light) The hymn reference God's word. He hearkens unto us when we remind Him of His word.
What benefits would you say unification opened to you, sir?
Unification has done a lot for me, I use to be a very shy person back then but Unification taught me boldness (having to face the congregation), Unification taught me Godliness, how to pray, and study the Bible. Unification taught me leadership, gave me a wife, gave me work, I mean Unification Campus Fellowship Ekiti State University chapter, any other thing I became today, the foundation was paid at EKSU chapter. I delivered a tribute on behalf of unification at Onikan stadium at one of Baba Gabriel Fakeye's funeral ceremonies, that "if the founding father of unification including baba Fakeye didn't think it wise to come up with a Cherubim and Seraphim church campus fellowships, what would have become the faith of many C&S youths? Many would have become drug addicts and other negative things on campus but thank God for Cherubim and Seraphim campus fellowship the Lord has been using to rescue us from all those nefarious activities and we are grateful for all the platforms unification has offered us to become whom we are today.
There is a widespread notion that people who leave the C&S Unification after graduation don't go back to their home churches. How can we bridge that?
C&S Church Unification Campus Fellowship came into existence to expose members to the truth. When students spent four or more years being exposed to the truth and the moment they discovered that they have been fed with half-truth from birth, they are not likely to go back to such mother Churches after graduation. So many of our mother Churches are not receptive to change. Characteristically, youths love to explore. When some people who have been exposed to new knowledge through years of University Learning and who have encountered Jesus Christ in a new dimension want to showcase such knowledge without being allowed, then movement out of such a Church will become inevitable. Our Churches must continue to embrace Godly changes. Youths must be allowed to flourish in the Church.
What is the fellowship milestone celebrating 40years?
The Church has every reason to celebrate the 40 years of its existence. It has been 40 years of glory, 40 years of unquantifiable greatness, 40 years of God's Goodness and Mercy, 40 years of growth and expansion (both Spiritual and Physical), 40 years of continued relevance in populating the Kingdom of God. But for the existence of Cherubim and Seraphim Church Unification Campus Fellowship, what would have become of the youths of Cherubim and Seraphim gaining admission into higher institutions of learning? Surely, some would have lost their Christianity. Some would have been cultists while so many would have become members of other denominations. Glory to God, Cherubim and Seraphim Church Unification Campus Fellowship came to rescue and continue to train and equip the youth of the Church for the task ahead thereby retaining them in the fold.
Therefore, it has every reason to celebrate the 40 years of God's Faithfulness.
Leave Comments