International Women's Day: C&S Women speaks on IWD2022 theme #BreaktheBias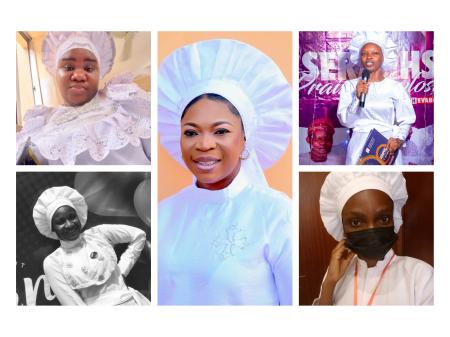 International women's day is marked on March 8 every year to celebrate the very essence of women all over the world. This day marks the importance of why women should be treated equally without any bias or prejudice. According to the IWD's mission, the day is aimed to create awareness about the significant roles women play all over the world and to implement strategies to achieve gender inclusion in all sectors. This year's theme for international women's day is #BreaktheBias, this is to call the world to be free of bias, discrimination, stereotypes about female folks. As the world celebrates, our team at Seraph stories chatted with a few outstanding women in the C&S fold on the year's IWD theme and the value of women. These are their views:
Prophetess Bukola E. Adisa (Founder of Grevo Ministry)
#BreakTheBias calls on people to work towards a world that is equitable, inclusive, and free from bias and discrimination so the playing field is leveled for women moving forward. Women should be given the opportunity to be at centre of our planning, integration into global and national laws and policies.
On the value of women, we are the primary caretakers of children and elders of every country. We are called to take the lead in helping the family adjust to new realities and challenges. Without women, this world can not settle.
Adegboyega Grace Yemisi (CEO AGY Events Management)
Value for women means value for Life and its entirety as that's the first and best teacher we all come across in life. Gone are the days when we used to relegate women to the kitchen and bearing children only, now we are breaking the bias and we are doing it strongly. Business-wise, Financially,  Psychologically, Socially, Spiritually, and in all spheres of life, a woman's impact cannot and should not be negated.
Oluwatoyin Ogunmakin (A prolific writer)
The theme "Breaking the bias" is a standpoint against all forms of gender inequality, women and girl-child abuse, and nondiscrimination in whatever form and ways. In Numbers 27: 1 - 7, the daughters of Zelophehad of the tribe of Manasseh the son of Joseph, came to Moses to file a complaint about the inheritance of their father being withheld from them.
According to the earlier regulations, properties were to be inherited by heirs of the families who were male. But these 5 women were not having it."We are children from this tribe too", they groaned. They stood before Moses and refused to leave until he attended to their cause. And Moses, seeing that the women were determined and not ready to be dismissed, went before the Lord to inquire. He asked, " Lord, what should I do?" And the Lord answered him "the daughters of Zelophehad are right, Give them their father's possessions!" And straightway,  The Bias was broken. These five strong women stood their ground against the legitimation of a limited right of Israelite women to inherit the land.
And in Joshua 17: 5 - 6, the scripture established that Manasseh's lot came to ten portions, in addition to the land of Gilead and Bashan on the other side of the Jordan, because Manasseh's daughters got an inheritance along with his sons.
The value of a woman in the world should never be underestimated. These women brought increase to their clan and tribe. A woman is a multiplier. Whatever she gets, she gives back in multiples.
Adebayo Ifedolapo (An Agricultural economist)
Basically, IWD It's a global celebration of the social, economic, cultural, and political achievements of women. IWD is also an opportunity to reflect on and further the push towards gender parity. I would say, it's a day when women tend to look inward and see potentials, what she's made of and capable of doing without limitations.
I believe a more fundamental bias against a woman is the one she holds against herself. The self-imposed limitations (I can't ever do this because I do not come from a wealthy home),  the self-directed negative talk (I wonder why you can't ever get this thing right), or the self-demeaning comparison (see how women like you are doing big things).
On the value of women, Our value is worth much more than gold. Women are a complete circle, we have the power to create, nurture and transform, even the Bible talks about women's value in proverbs 3:15.
Babaniji Oluwamayowa (A Mass Communicator)
Women all over the world have been forced to believe that there is little or nothing that they can offer when important matters are discussed. In the past the affairs of the state, nation, organizations have been governed by the male folks with the women in the shadow. However, some women have played distinctive roles to dismiss those beliefs. The likes of Michelle Obama, Kamala Harris, prof Dora Akunyili, Hon Anime Dabiri- Erewa,  Ellen Johnson Sirleaf amongst others have changed the narrative.
Women are beginning to speak for themselves and gain recognition in the outer world, and this is what God has ordained for this gender as a "help-mate". Although some biases still affect the modern-day woman, biases such as educational achievement which are regularly questioned, health barriers such as "that time of the month" and childbearing which is said to affect decision making, a financial status which is always linked to promiscuity.
Women ought to be given a chance just as the male folks. After all, no man is an island.
Leave Comments