Ikare Agog As Monarch Commissions Classrooms Donated By Mother Esther Ajayi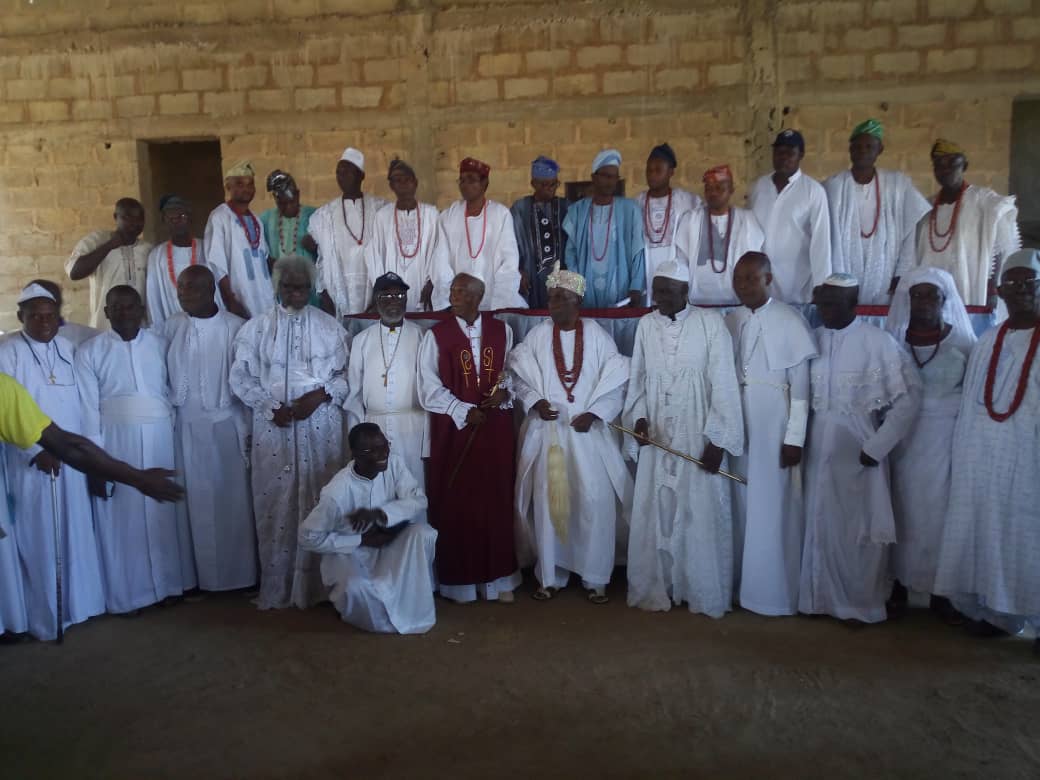 By Apostle Muyiwa Adeyemi, Chief PRO, Unification
The historic town of Ikare, Ondo State, Nigeria went into a wild jubilation as the Owa Ile of Ikareland, Oba Samuel S. K. Adedoyin JP commissioned the ultra modern classrooms donated by the world renowned Evangelist and Philanthropist, Rev Mother Esther Abimbola Ajayi to Moses Orimolade Comprehensive High School to get its autonomy.
The commissioning of the project was one of the key programs for the third edition of the annual pilgrimage to the home town of St Moses Orimolade Tunolase.
Oba Adedoyin who thanked the Supreme Head of the C & S worldwide, His Most Eminence, Prophet Dr Solomon Adegboyega Alao for leading the church aright said, if the C & S had been in unity before the time Unification started, many laudable projects would have been done in Ikare in honour St Moses Orimolade Tunolase.
He said he was particularly happy with the role being played by Mother Esther Ajayi in the Christendom and his love for the church which made her to build the best classrooms with modern facilities in Ikareland.
The monarch promised to join the leadership of the church to foster unity and advised all Seraphs to do away with all divisive tendencies.
The Owa Ile said, "Ikare is our Jerusalem in Nigeria but we can do all that is befitting to honour Orimolade if C & S Church remains united and build a big institution in this town. C & S is big enough to do that and I pray it shall be possible during the tenure of Baba Alao".
Moses Orimolade Comprehensive High School was said to have been built several years back on the Mercy land. But when it was no longer functioning because of lack of facility, Ondo State Government  merged it with another school named Agbaode who was the first Owa Ale of Ikareland.
The Chairman of the Building Committee, Special Apostle Akin Owolabi said, "the school was in that dilapidated condition until last year when Mama Ajayi came and donated N1m and Mama Alao also donated N500,000 to rehabilitate the existing structure. 
"But for the school to have its full autonomy, more classrooms are needed and Mother Ajayi came to the rescue and build the needed classrooms with four modern toilets for male, four toilets for female and borehole to provide water for the school. With the facility provided, the school will no longer bear Agbaode/Orimolade Comprehensive High School but St Moses Orimolade Comprehensive High School".
He said for the facility in the  school to reach excellence Seraphs are known for, we still need to provide modern library and science laboratory.
Baba Olori who led thousands of the Seraphs and Baba Aladuras  to the annual Ikare pilgrimage assured the monarch and Tunolase family that there will be heavy presence of the church in the town because "Ikare is the source of St Moses  Orimolade Tunolase, the greatest prophet from Africa".
Leave Comments