I Was Born Into A Muslim Family, I Had An Encounter With Jesus Christ While I Was In College - Prophetess Dorcas Obagbemiro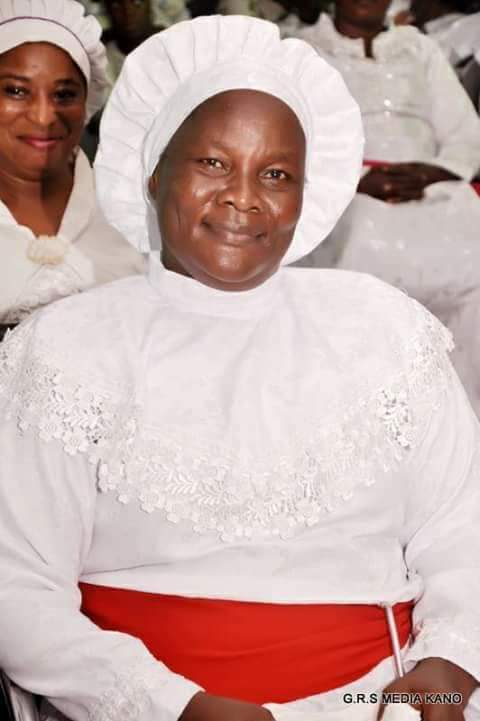 Prophetess Dorcas Obagbemiro is the convener of the Grace of God Ministry and a member of Cherubim and Seraphim Movement Church, Branch 6 Ilorin, Kwara state, in an interview with our correspondent Oyegbade Olumide Crown, shared her story on how she had an encounter with Jesus Christ and her love for the Cherubim and Seraphim Church 
Can we meet you ma? 
I am Prophetess Dorcas Obagbemiro, the convener of the Grace of God Ministry. I became born again in the year 1975. 
Were you born in C&S fold or as time went by, you joined the C&S?
I was born into a pure Muslim family, I remembered then when the Lord visited me, He directed me to move out of my classroom so I started the journey, lo and behold I found myself in a wilderness, there in the wilderness was a rock with a cover-like shield, while in the wilderness I discovered there was a pool under the rock so I did ablution (washing of face, hands, and feet) with the water as a Muslim and then slept off. In a dream I had in the wilderness, I saw Jesus Christ, He came to remove my cloth and His face possessed a great light, He said to me I am Jesus, appearing like a man, He cleansed and bathed me, poured oil on my head, after that He lifted me, re-dressed me in a white cloth and then gave me a Bible, a bell, and a staff like the prophet staff, all that happened in the year 1976. The Lord said I should go set people free and I woke up holding those things, then I went back to the school then it was past three so everyone has left for their homes. Although the journey was so tough and hard, being the first person to convert to a Christian in a Muslim family but God silenced all turbulence in the journey.
Tell us about your ministry, how it started and the journey so far?
To the glory of God, the Lord entrusted a ministry into my hand called: The Grace of God Ministry. It started in the year 1995 in Kano state, I never intended to start a ministry, but there was this faithful day when two sisters (Sis Muslimat & Sis Stella) both came for prayer and I decided to lay the prayer points while they prayed it together with me, they were both waiting on the Lord for the fruit of womb, they went home rejoicing, having liked the way we prayed together, they returned the following day with two more friends and we prayed again, the third day was a Saturday which they came again and I told them that "this place isn't a church, I only prayed for you." But to the glory of God, they came back with babies which prompted Sis Muslimat to say that we should be having the prayer on Saturdays. We started with six people and it began to grow, within three months, the number increased to 48 in my room and miracles were happening. People began to call themselves for prayer because we only use anointing oil and water for prayer. There was a woman that triggered the multiplication of the numbers of people fellowshipping because she's been waiting on the Lord for the past 11 years, she gave birth to twins. We moved to the mountain top as the number increase to 70 when the living room couldn't accommodate us. That was how it all started, till we expanded and had different branches in places like Ilorin, Kano, Sokoto, & United States.
What can you say about the C&S church?
C&S, my favorite church, is a wonderful church if you know the purpose and reason of you worshipping there and whom you are serving. I love attending C&S church anywhere I find myself. I love putting on this white garment always. When I traveled to Jerusalem in 2011, I wore it throughout my stay in Jerusalem because I'm proud to be a Seraph and always proud to take people to the kingdom.
What's your favorite hymn? Why?
My best hymn so far that I love most is one of the hymn that we render during the passion week which says, "E je ka to Jesu wa lo (FE 325, SE 304)." if you can just sing it and meditate on it, it's the best of the songs which shows the passion, suffering, love, and care of Jesus Christ. Let's go to Jesus at the garden where He bows his face.
What are the things you love about the C&S church?
The things I love about C&S is in three [3] categories:
I love the spirit of humility before the presence of God, both young and old will always come to church with this spirit not minding their worldly character, social, political, and other status in the society. 
The gift of the spirit of God. If something happens to a C&S member, ask very well, it will be as a result of ignorance because God always reveals things that are to come to C&S people and the spirit of God is still there till date. The power of efficacy of prayer, meet bonafide C&S sons or daughters, they will always kneel before God to pray, nothing moves them. 
 
How can a church grow according to the bible?
The way a church can grow is by dwelling on the word of God. Evangelism is the first thing ever that Baba Orimolade Omo Tunolase had but we're neglecting the place of evangelism, those that are doing it are few. Showing them the efficacy of prayer [according to the scripture where Jesus said that these people won't believe except they see signs & wonders] will make them know that the church carries the word and life of God. You must carry the spirit and word of God before you can perform the real miracle of God. The Grace of God Ministry started growing, a church can only grow when they see the power of prayer.
The two sisters had testimony that prompted them to call others. We should never run after power but seek authority and the spirit of God, then the miracle will follow. The Grace of God Ministry expanded to 287 in population in no time then God gave me the name of the ministry in my dream. It was on a faithful day while sleeping, I saw the crowd and a coaster bus parked at a point and the name written on it was "The Grace of God", it was the name on the bus that became the name of the ministry, that's how THE GRACE OF GOD MINISTRY came about. As a church of God, we need to be genuinely born again, go out to evangelize and pray for the spirit and authority to start because the devil is chasing people from the kingdom of God.
We must be rooted in the word of God then the spirit will fill us up. You and I should start learning the word of God individually before coming to church. This will enhance the word of God in our lives, then we can be called the inhabitant of God's word. 
Can you shed more light on why we have different denominations of the C&S Church and is it possible for us to come together as one?
​That coming back together as one is my fear, I'm not sure but there's nothing God cannot do. The reason behind us having different Baba Aladuras here and there is all because of our selfish interests and lack of submission to authorities. In my own case, people have been telling me that I should establish or plant a church since I have large and enough numbers of worshippers attending my fellowship and those that love me in the church but I told them that it's not possible because I don't have the assignment of planting a church. One of the reasons we have so many Babalawo [herbalist] in prayer garment and you will begin to see the different names of C&S church even in a small room and parlor. The purpose of your ordination as a pastor or prophet is not for you to go establish your own church in an illegal way. I pray to the God of Orimolade Tunolase that He will look down unto us and change things for better for us in the C&S church. I don't know if we can become one except if the Lord permits and if we can drop the mentality of wanting to become a leader or Baba Aladura.
Is there anything you don't like about the C&S church as a whole? If yes, what solution can be proffered?
I don't like the fake prophets and pastors in this church, I dislike sacrificial things such as bathing in the river, getting different soaps, perfume, etc. that is the more reason why I and some other prophets and prophetess are not in good terms till date. I'm saying this to the general public that one day you and I will appear before the great throne of judgment and tell God how we have used our calling as a Pastor, a Prophet, an evangelist, an apostle, and a teacher, let's have the fear of God in our heart. I hate when I see people dishonor the God of Seraph, God of Israel.
The solution to it is in the book of Matthew 7:7, 21:21-22. My question concerning those scriptures is that how many candles did he ask us to get? How many stream bath did he ask us to have?
Brethren! I want to appeal to us all, if you aren't a bastard of Orimolade Tunolase, you must be able to tell people that prayer can be answered without any act of the sacrificial process, by the time they see that, they will know that the God of Israel work wonders. The Bible says in Matthew 21&22 that if your faith is as small as that of a mustard seed, you will command the mountain to move and it will move and go into the sea, with faith you can command things.
Many people say "my ministry that is growing rapidly is as a result of secret things but I do tell them that God of Israel is the secret behind it." 
There was an incident that happened at Basin mountain top in Ilorin where a woman had a wound on her lap for twenty-five years, she sold all her properties, she came to the mountain top with oil and water for prayer, I prayed to the water and oil then I instructed her to drink and bath with it. The following week, the wound started drying up and after two weeks the wound dried up.
We have to go back to the name of Jesus Christ as the Bible says, "He has given us a name that is above any other name which is the name of Jesus that will make every knee to bow both in Heaven and on Earth." We need to go back to Calvary and check our ways, with this we can now have C&S church like that of the time of Baba Moses Orimolade Tunolase. Praise the Lord.
What is your advice to the C&S youth?
Thank God I joined the church as a youth. The youth of nowadays are impatient, intolerant, and they are in haste, but you can't achieve all these things in a day, sit down to learn. My father that taught me how to study and meditate on the scripture is of blessed memory in the person of Baba Emmanuel Oluwafemi Famodimu. He taught me how to imbibe the word of God in me, he always says then that this word is beyond carrying the Bible but the Bible must be inside of you anywhere anytime.
The youth of today should learn to imbibe the word of God.
The youth of today should learn meekness.
The youth of today should learn humility. With these, they have far miles to go, there are great potentials in our youth. Seraphs always give birth to virtues, great people not just ordinary people. The problem of Seraph youth is the spirit of arrogance. Always learn how to go alone with God so that you can learn more (like the case of Moses when he went to Mount Sinai), have time for God by studying, praying, fasting. I see the Lord helping us.
My prayer is that the Lord will teach us, bless us all, take away the spirit of pride from us, and we'll live longer in sound health and wealth, He will uphold us in the journey of faith, and we will all reign with Him at the end of our lives.
God bless us all.
Long live Seraph!
Long live Youth of Seraph!
Long live Seraphstories family!
Long live Cherubim & Seraphim!
Long live every vessel of God in C&S world-wide!
Leave Comments