I WAS BORN A MUSLIM BUT ONLY ONE REASON KEPT ME IN C&S - Pastor Festus Taiwo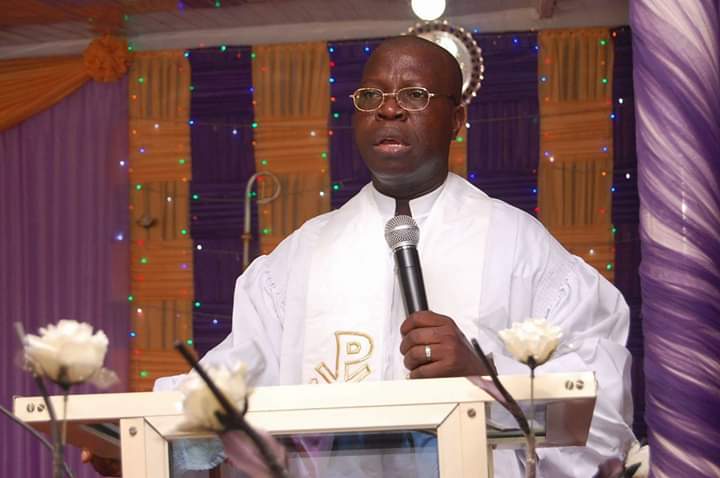 Can we meet you sir?
My name is Pastor Festus Babatunde Taiwo. The minister in charge of C& S Unification, the Lord is Good, situated at 47, Kayode Street, Ogba-Ikeja, Lagos.
Can you give us a brief on how you became born again?
 I was born a muslim, my parents are muslims as well, my muslim name is Lateef. I went to quranic school popularly called "Ile Kewu" but the turn around came when I was in form 3, I was introduced to a christian fellowship in the secondary school; from there, I was introduced to World Bible School correspondence course which I fell in love with. Then I was given a lot of bibles upon completing each course. When I was in form 5, I started having soft mind towards Christianity despite the staunch hatred we were taught as muslims. I came to Lagos when I finished my secondary school. I stayed with my elder sister but followed one of my elder brother to his church, that is C&S Ayo Ni, at Km. 4 Apapa-Oshodi Expressway, Surulere Sub-headquarters then. The day I entered the church, I saw it filled up,  all in white garment, they wowed me. When the choir was singing, they sang one of the song that we used to listen to in the town, "wa o, omo igbala wale o, wa wole ayo, ki'le ayo to kun". Back in the town, I thought that melodious song was sung by angels not knowing they were human beings. So, when I heard that song with all the lyrics and instrumentation complete. I made up my mind to become a chorister. Then, the church used to hold evening service by 5pm, one pastor Sa Apoe was ministering a touching message about heaven, I was weeping having realized how lost I was in sin. He made an altar call, and I found myself in front, that was how I met the Lord. Since that day, I was filled with internal joy which I later knew to be 'joy of salvation '.
Tell us about your ministry. How you started and the journey so far?
I eventually became a member of choir in 1992, after series of divine encounter with Christ that lasted for 3 years consecutively which facilitated my calling.  Christ Himself ordained me with oil physically in my room at Onipanu on one afternoon, the oil was physically running over my head and dropped to the glass table.  I started ministering in 1992 when I started Divine Echo Ministries in October 12, 1992. We were into rural evangelism, church revivals and crusades. In 1999, I was ordained as a pastor after having completed my training full time in seminary of Ayo Ni o Surulere. In 2000, I started Hours of Grace with Jesus Outreach Ministry, which further gave me strength to embark on radical evangelism. In year 2010, I was released by  Prophet G. O. Fakeye to go the present place I am now.
What can you say about C&S church?
Oh! C&S church is a wonderful church that can't be compared with any denomination. There hasn't been a match or substitute for C&S church. I believe so much in C&S. It is a church that Christ loves so much.C&S is the only true Church of God. This is what I proved in my upcoming book. I intentionally write this book to prove to the whole world that C&S is the only balanced church.
What are some of the most important ideas and practices that will enhance the growth of a C&S church?
 C&S church has already grown, but we need to work on leadership and management of the church to accommodate expansion.I have had over a thousand reasons to exit C&S, but only one reason kept me in C&S church, and that is, the practices and doctrines that are found in the Scriptures, new testament, not even old testament. So, what we need doing is to locate ourselves in the Scriptures, and teach our people who will teach others as Paul told Timothy.
All our liturgy and worship are located in the bible, those not found should be removed and thrown away. Those that are man-made doctrines should be seen and agreed that these are man-made not God's instructions, then we won't have problems with the elders. When the elders lied to us that some man-made doctrines are from God, which we knew God didn't say any of such. So, let our elders come out boldly and tell us that so and so doctrines are man-made or imported from other denomination to C&S. 
Those that are fetish or that resemble idolatry should be removed. The issues of "emi mimo lo ndari wa, tenikan ko le mo", should not come to play, because, there is no mystery to Christian, they are mystery to unbelievers, Holy Spirit in us reveals the mind of Christ to us. Once all the shameful liturgical worship are removed, then C&S church will be acceptable globally. White people will be coming in mass.
We should make the church accommodating to anyone who is coming. There should be no restrictions. That is what makes the pentecostal churches different from ours and makes them acceptable. God bless.
 In recent time with what is happening in the prophetic ministry, what did you think can be done?
 Thank you. There is clear difference between talent and skill. If one is talented but not skillful, he will fumble with the deposit of the talents. Likewise, a prophet who lacks training will fumble. There are two categories of prophets;
1. Classical prophets
2. Primitive prophets. 
Most of the prophets in C&S are primitive in nature. Primitive are those who does things in a crooked way. Before they can prophesy they will have to beat drums, clap their hands and turn or roll to the point of near faint before they enters into trance and prophesy. They will have to call so many strange names, and speak in tongues for so many minutes before they can prophesy. They will have to shout 'Eli Jah... ' before they will prophesy. They are primitive and they remain primitive. When they are in the church, their spirit is activated only when revival songs are rendered and their so called "Hayah", but as soon as the word or sermon or teaching comes in, they will either walk away, or start sleeping or dosing off, they hate preaching. They are primitive.
 Solution. 
Let every prophet and prophetess be trained. Let them have the word of God. Let them have the same training as pastors, let them be soaked in the word of God, they will become classical prophets. In their training, they will be taught the ethics of prophet, the ethics of prophecy, the prophet and his prophecy, etc.
 Recently I gave so many prophets a scholarship into my seminary to study for free the prophetic studies, only few came for the fact that it is a free 2 years tuition, but, they don't have time, those who comes are sleeping in the class, they go to vigil too much. Once they are trained, the prophetic ministry will be sanitized. Thank you.
 What is your advice to the C&S youths?
They should get closer to their bibles. They should not be a blind follower of any unbiblical practices. They should stop reproducing the errors of our fathers. They should get engaged in bible study. They should become the revolutionary tools in their parishes. We started revolution in Surulere, Baba Fakeye supported us and sent all the prophets and prophetess and all the bands executives to bible school, today, we are proud of the church, the word of God is about 65% in that land, the youth there are doing great. Let the you become innovators of impactful programs, not feasting and eating and dancing about, not gathering themselves in an event center and be dancing worldly dance. Let them gather together and reason out among themselves in the scriptures. Let them formulate modalities that will be a great legacy for the generation coming. We, the youth, should stop running after some few millionaires who do not impact their lives, but only giving them money to eat. I love one gathering for seraph youths at where training were held for them and start up was giving. Let all the youth get themselves engaged in so many jobs, they should learn to create jobs instead of waiting for government or church to do it for them.
 Then, the successful youth should help others to rise up.
 Finally sir, how do we cultivate a sense of biblical, Godly community in C&S church? 
Very simple. There are countless of C&S church that don't allow Bible study talkless of Sunday School. Each parish should institute Bible study and Sunday school and make it compulsory to all elders sitting in the altar, all church officials, all choir members, all leagues of prophets, all Alores, all band executives, all should be involved. 
Also, anyone who would be ministering on the pulpit, must be he or she who has gone to bible school formally. Enough of using untrained soldiers on our pulpit. Enough of making mockery of our pulpit by featuring the story tellers. We need divine messages that will save souls, we need teachings that will pierce through to our thought life, we need prophecies that will be directly from God, not, "Se alaafi ni mo ba yin", no, enough of "e fa Ire igun mererin agbaye mora ", enough of all those gimmicks.
Leave Comments