I see the church moving higher if only we can shed the shoulder of ego, the fight for supremacy, and do away with hypocrisy - Snr Superintendent Apostle J.O Adagba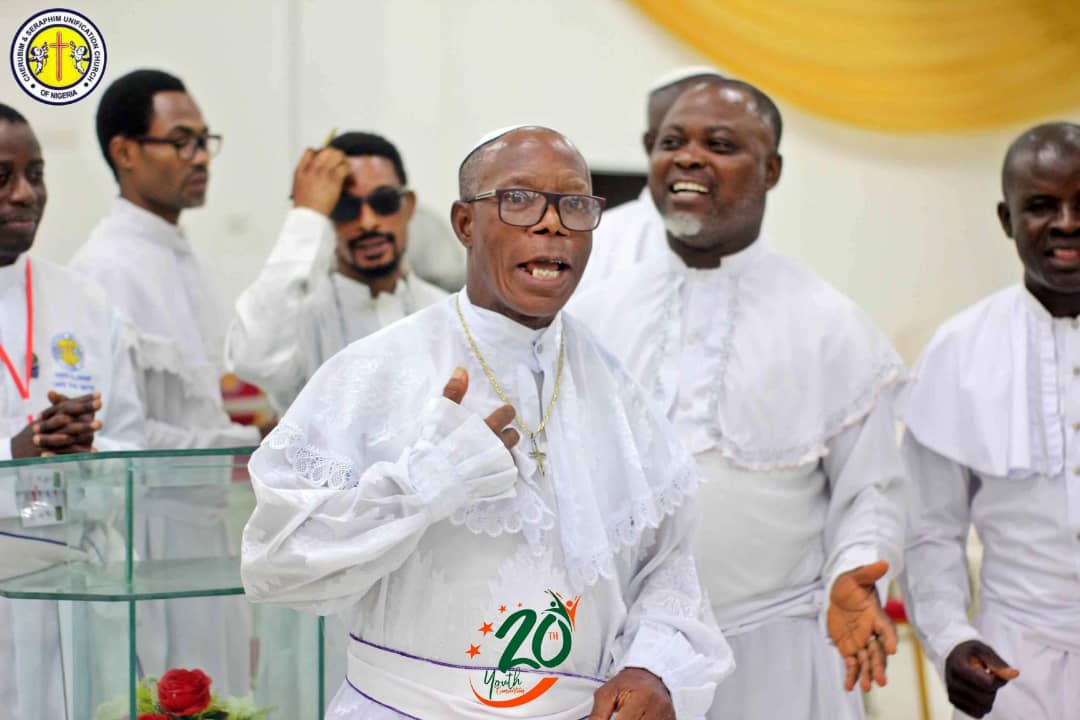 Senior Superintendent Apostle Dr. Joseph Olatunde Adagba, the chairman of the C&S Unification Church of Nigeria, Lagos chapter who also doubles as a member of the council of elders of The C&S Church of Christ, The Worshippers and the minister in charge of  "Bolorunduro" parish, Ejigbo. In an interview with our correspondents, Elijah Omosuyi and Sola Afolabi where he shared his life journey and progressive pathways for the church.
Can we meet you, Sir?
I am Senior Superintendent Apostle Dr. Joseph Olatunde Adagba, the minister in charge of the C&S Worshippers "Bolorunduro" parish. By the special grace of God, I am a member of the council of elders of the C&S Church of Christ,  The Worshippers, and the chairman of the C&S Unification Church of Nigeria, Lagos chapter.
Can you take us through your life journey; how you started?
I was born in Emina village, in Epe, Lagos state. Emina was the headquarter of so many villages. During the colonial days and early chief Obafemi Awolowo's dispensation, Emina village was the only village that had a primary school.  So, I grew up there and later moved to town to further my education. Thereafter, I came to Lagos after my father insisted that I must become a professional. I decided to study at an institution. The institution was established by a black man; a Sierra Leonean. Then, he was the Chief Engineer of "Leventis Technical Radio", and there we underwent both the practical and the theoretical aspects of the course. After my graduation, I joined SCOA Nigeria plc in January 1968. In the course of working in SCOA, I was promoted to the position of a manager and I retired in 1990. However, I was born a seraph. As a matter of fact, my late grandfather was the chairman of Christ church cherubim & seraphim not only in Nigeria but all over the world, so, we grew up in C&S. While schooling, we were members of the choir. When I got to Lagos, I joined C&S Ajagun Jesu at No 8, Jeba street, Ebutte Metta east. At a time, I held two positions; the treasurer and the choirmaster of the church up to the very last time I worshipped in the church because at a time, there was a certain crisis created by certain people. I was the main target probably because what I did was done to the best of my ability. I became the choirmaster in 1970. Then, we had a handful of competitions with so many churches like the Praying Band, Ebenezer Cathedral, Holy Mary Cathedral Odo-Abore in Mushin and to God be the glory we always came out victorious. Nonetheless, I served there for 22 years.
I and some other families were very much into uplifting the church without being expectant of any reward. We used our own money; we levied ourselves for the growth of the church. C&S Ajagun Jesu was one of the earliest C&S church in Lagos state to purchase a brand new church bus. As the church treasurer, I collected the money and we purchased the vehicle from RT Brisco in the 70s. After a while, the church ran into a crisis and so many people ran away, but I didn't, because what was pursuing them was unclear to me. At the time, the church was built on a rented piece of land and people began to worry about the fate of the church. Therewhile, we decided to buy a piece of land for the church. Hence, we gathered money and purchased land at No 14, Wonuola street, off Awoniyi, Idi Araba. After the purchase, our intention was to erect a building but crisis arose and the rest is history.
Does C&S Church Ajagun Jesu still exist?
I don't know because 25 years after the crisis, the head of the church died. In fact, my church choir ministered at the wake & funeral services. If you go there now service no longer holds there that's why I said I don't know if it's still existing.
How did the church C&S The Worshippers "Bolorunduro" parish start?
I left C&S Ajagun Jesu on Sunday, 5th May 1985 after much pressure. However, I couldn't cope so, I went back again. Our church came to life 2nd June 1985, without any prior arrangement that was it and I use to say the miracle of our time, between 5th May 1985 and 2nd, June 1985. The church came to life with 5 families as members of the church let me call them pioneers. In less than one month, the church was established as we had begun some weekly activities like vigils and revivals. In no time, these activities became consistent in the course of still settling down. When I was still fellowshipping in C&S Ajagun Jesu, Ebute metta, I was the most senior in the spiritual title but no 3 in age, thus, I had no intention of leading the church.
Every 2nd of June marks our founder's day anniversary, hence, we organized a service to recognize the significance of that day in a member's residence at Egbe. I must say that the Holyspirit took over the service through his disciple. There is a hymn that says;  Ileri to se fun Mose Lori oke Sinai... was the hymn we rendered that day with a word from God, "Joseph Olatunde be feeding my sheep" saith the Lord like Jesus said to Peter in John 21 and just like Peter, I wept bitterly then I took it up and to God be the glory. We joined C&S the worshippers through the help of the Holyspirit. During this period, the church was relatively still growing because The Worshippers came to life in 1975, that is, 10years of existence, at the time. Presently, I am a member of the council as well as the Chairman, the council of ministers in charge of all C&S. Before the demise of our primate, I was no 6 out of the 7man council of elders. 
Tell us about your position as the Chairman of the Lagos State Chapter 
 I was once the chairman of the planning development committee of the Lagos state chapter. During my regime, we formed the Lagos state youth fellowship and I was the pioneer co-coordinator, although the first regime of the youth was under Ayo Oyebokun of C&S Holy Messiah, with Deolu Shotunde as the secretary of the youth fellowship. I maintained the position of youth coordinator until I handed over to Kehinde Adeyoju. Also, I held a position in the planning and development research committee until I handed it over to my present vice; special Apostle Segun Adio. When I became the chairman of the Lagos state chapter, I decided to put in some innovations. I emphasized the need to review the constitution, thus, I set up a constitutional committee and one of the significant things we did was that we separated the mass choir from the youth fellowship so that they can stand on their own as it is practiced in my constituent churches. One day, as I slept, the Holy Spirit reminded me that it was Lagos state that birthed the national unification and we had been going from Ilorin to Port-Harcourt, to Kaduna and Ibadan. During my tenure, we introduced the Annual General Conference in Lagos and to God be the glory we have done 6 already and this year will be the 7th all things being equal.
Nonetheless, I introduced seminars specifically for church leaders due to the belief that most churches died due to leadership issues. So far, the turnout has been on average. We are trusting God to touch the heart of our leaders. We also rejuvenated the standing committee and its wings. At the beginning of our tenure, we had less than 10 divisions, but now, I can proudly say that there are about 30 divisions. Normally, we encourage divisions to hold meetings, interact with one another then if ready for elections, we will be there to supervise the election, afterwards,  a day will be set for induction. We do participate at national levels, in fact, members from Lagos usually outnumber the home state at national events. The only challenge we are having now is the lack of cooperation on the very much agreed upon slogan, "My Lord is Great!" It is a very good slogan but over time, we've discovered that there's no uniformity in its use.
Personally, what do you have to say about the C&S church?
C&S is the best church in the world but we still have certain steps to take. C&S is not a church where some people went to school, searched for jobs to no avail hence, decide to found a church, No! Our hymn says... Ogoji odun ni Baba fi gb'ebe... Ogoji odun ni Omo fi bebe...
So, when the son pleaded for 40years and the father considered the pleading with the pace of another 40years making 80years altogether, it shows that C&S is a special church ordained from the throne above, but it is a pity that some people are herbalists from their lineage, however, to make ends meet, they saw people wearing the white garment as a means of making money. Their ways are evidently impure and they are seen making one sacrifice or the other. But according to the scripture and our hymn, there is only one sacrifice that can make man reconcile back to God perpetually and that sacrifice is no other person than Jesus because through Christ Jesus were all things created (John 1:1-5).
I can boldly say that C&S is the best church and what happened on the day of Pentecost is precisely what is happening in C&S now. The Bible says that "they began to speak in different languages"; 14 different languages. This clearly proves that C&S is still the best and for that reason, we need to stop all acts that are against what the church stands for or represents. You will see some people playing politics because of their thirst for posts. In all, God's time is the best, just as God's ordained post is definitely the best. Every position I attained in life was not contested for, including my managerial position at SCOA until I was due for retirement.
I received my retirement letter on my birthday 17th of December 1990, this year (2020) will mark my 30years of retirement from work. Then, all my children were still in school. My youngest child; Segun Adagba was in kindergarten then, In all honesty, I thought the whole world had ended but to the glory of God, he is now a mechanical engineer. Presently, he is doing his Post-Graduate course in LASU Epe campus. The Lord has been faithful.
Considering the state of Unification, can all C&S come together as one?
The reason it can't happen for now is because of the people who call themselves OAIC and some C&S amongst them claim they can't come down from their ladder. Some are also in CAN. The truth is that other denominations in CAN and OAIC will go back to their respective denominational association later on. However, C&S doesn't do that. I know that "with God all things are possible". Although, it will take some time before every Seraph can reason and come together. It might come to fulfillment in the youth's generation. There's a need for us all to come together and reason with one another.
God will touch the heart of those that can talk and people will listen. The current problem in the C&S church is ego. There was an Annual General Conference in Ilorin where some people suggested that the highest rank in C&S is reduced to Senior Apostle, but all the people above the rank didn't support it. They found it difficult to leave their current ranks. Some even suggested that we have only one Baba Aladura while the rest can be called "Elders" but there are some people who already have the title of Eminence. In fact, they questioned if they should drop their Eminence rank.
We just have to plead with our people, if we can align ourselves with the word of prophet Isaiah to "come and reason together". After all, in heaven, there is no title, as nobody can present themselves with an earthly rank in heaven. In heaven, if you are of Christ then you are of Christ and if you are not, you are not!
Let's talk about the youth fellowship of the church; what is your view on the present generation?
We started the youth fellowship in C&S. Where Lagos lead, others follow. We informed the churches and conducted an election for them. Some protested and left because they didn't become a leader. Ayodele Oyebokun became the pioneer chairman, his tenure was succeeded by Taye Ajose followed by Olarinde Ogunkunle, followed by Bolaji Oguntoyinbo, afterward, Muyiwa Odedina. So, they have been up and doing; they bring innovations. Although some were unserious at first, some were heady and likewise, you see some that are capable of handling anything, even at the national level, they perform wonderfully well. Personally, I don't give room for condemnation. I always give youth free hands in the church. So, the youths have been doing creditably well. The pioneering president of the national youth was from Lagos state when they wanted to create the wings and Mummy Fashola became the head of the Good Women in Lagos state. Everything was going on smoothly until it was scattered at Orile Igbon in 2014 due to a disagreement. 
This is why we shouldn't allow politics to creep into the church. Some people were ordained unaware, hence, they didn't prepare. If we can try as much as possible to avoid and do away with all forms of politics in the church, I see the sky, not as our limit! We should remove rascality and the youths should learn to respect the elders. Yes, we have talents. As a matter of fact, there are some youths who are more talented than the elders, this, I cannot deny. Nonetheless, they should learn to honour and respect elders. Aside from that, the youths are doing fine. 
In your years of experience as a choirmaster, what is your favorite hymn?
My favorite Hymn is Jesu mo gb'agbelebu mi, Kin n le ma to O lehin, Otosi at'eni egan, Wo l'ohun gbogbo fun mi; Ti ini mi gbogbo segbe, Ti ero mi gbogbo pin, Sibe oloro ni mo je! Temi ni Krist' At' Orun.But the tune I love to use for the song is quite different from the common tune.
A word of admonishment to the church. Also, where do you see the church in the next 10years?
I see the church moving high if only we can shed the shoulder of ego, the fight for supremacy, as well as do away with hypocrisy. The cherubim and the seraphim who we were named after are not hypocrites and our position is recorded in the book of Isaiah 6. The hidden things are revealed unto us, the mighty men desire to see what we are seeing but they don't have the privilege. If we have such privileges, then, why the shortcomings, carelessness, and hypocrisy? Hence, the need to join hands together to stop the fight for supremacy. Peter in the Bible as a case study didn't compete for the position of a leader before he became a leader; he was just a Fisherman. It is high time we shed and do away with anything that can drag us down and be focused on that which is of Christ.
Leave Comments