I am relying on the guidance of the Holy Spirit in my new position - His Grace Adeoye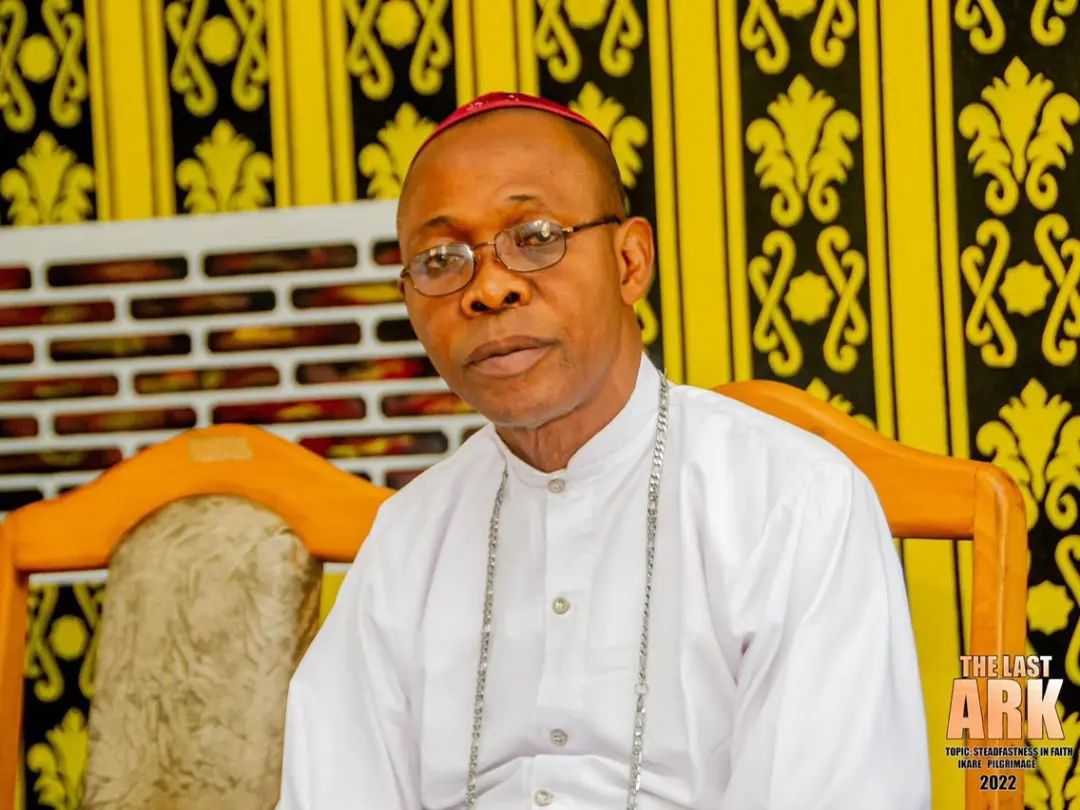 His Grace Most Rev Dr. S.A.O Adeoye, the newly elected Chairman of the National Executive Council of the C&S Unification Church of Nigeria and the spiritual head of the Progressive International C&S Church, Ikotun, spoke with Seraph Stories about his new position and journey in the C&S church.
Tell us how you feel about your new appointment as the NEC chairman of the C&S Unification Church of Nigeria.
Even though unexpected, I believe it is the Lord's doing. God has destined it to be so, I am happy that I have been saddled with such a responsibility. I know the task is enormous but the Lord who has made it possible will empower me to accomplish the assignments.
As a man of God who has been assigned different responsibilities and has been committed to the church of God, Do you ever feel you will be saddled with such an obligation?
I have never imagined it. it was unexpected.
What should be members' expectations of your new position?
I was terrified when I got elected. The way people reacted to the news was what frightened me. The saying "to whom much is given, much is expected" suggests that people anticipate more from me. I know the Holy Spirit will motivate me to make exploits.
Were you born in the C&S Church? If yes, please tell us about your background.
Yes, I was born in the C&S church. I am from a Seraph family. My grandfather was one of the early apostles of the Eternal Sacred Order, and my maternal grandmother is also a well-known prophetess in the praying band C&S church. My family has been known to be a Seraph family despite some have left. I remain a member because of the calling and the prophecy before my birth. I grew up in the church, I had my training and orientation in the church. I have never at any point in my life been a member of any other church.
I was born in the praying band C&S church, St. Michael Chapel, Ebutemetta. The church was the first branch of the Praying band C&S. I attended St. Michael Chapel church till about age 12 and left for St.Matthias C&S church, Ebutemetta. I worshipped there for 22 years before God's call. I was born and raised in Ebutemetta, My primary and secondary education was completed there. I left Ebutemetta for Ikotun in 1981 and have lived here for 42 years.
Tell us how you move to Ikotun after leaving the Ebutemetta church.
I relocated to Ikotun to live, but I didn't quit the Ebute Metta Church; I continue to attend services there. 7years after moving to Ikotun, I still worship at Ebutemetta. I chose to live in Ikotun because of its tranquility. It was extremely peaceful there.
Can we know more about your academic background?
I had my primary education at Ijero Baptist school, Apapa road while I completed my secondary education at Nigeria people's high school, Ebute metta east. Then, I enrolled in a course at Goodwill Commercial Institute called "Office Administration," which covers accountancy, English, typing, office procedures, shorthand, etc. My dream was to become a lawyer, so I worked with a lot of solicitors. I had the intention of working with the solicitors to accomplish my dreams but I couldn't because of divine intervention.
I started fashion design after working for a while because of my love for creative art. I have a clothing line called Smartfit. Up until 1987, when I was called to full-time ministry, I was managing my fashion business while also working in the office. In 1987, I found my current church.
What made you so vast about the C&S Church and its doctrines?
I already mentioned that I came from a Seraph family, that my grandparents were aware of the origins of C&S, and that although being very young, my father was quite close to Baba Orimolade. My father's name is David Adeleke Adeoye, a senior apostle before his demise in 1991. My father was one of the people who carried a lantern for Baba Orimolade during evangelism, not because he was interested in evangelism but because Baba Orimolade do give them money so he made himself available. While he was doing this, His parent were Baptist Church members but he secretly made himself available because of what they were getting from him. Miraculously there was a time the grandfather's children had issues with unhealed wounds.
You see, before the arrival of the C&S church, a lot of people went to church, but when they needed help, they went to the ritualist because there was no such thing as Divine healing. We joined C&S because my grandfather's cousin suggested Baba Aladura to him rather than using the ritualist. Baba Aladura H. A Phillips, a member of the Praying band C&S church, was the cousin. 
He had no idea that his son has been serving Baba Orimolade. All of this occurred while C&S was still a single, unbroken unit. After the split, my grandfather and two of his wives remained with the Eternal, while the other wives, a total of around eight of them, went to the Prayer Band C&S church and are still living together. As usual, my father followed his mother, this was how I grow up being a praying band member.
My father was able to learn so much about the church's history. When I was younger, I used to be quite curious and would frequently ask questions, but at times, he would always shoot me down as if he wasn't interested. He will surely answer me more than what I ask for, and we used to be very close to each other because I am the only surviving child of my father. I am the last and the only surviving child of my dad. My father was very open about everything, not even the church alone.
With your background knowledge about the church, How did you plan to help Unification?
It is the Holy Spirit that will help us. Let me give an example of when I started my church in 1987 in Ikotun. I wasn't satisfied with the C&S practices around me but with the help of God and the support of other like-minded individuals, we were able to re-orientate and start unification in Ikotun and his environs.
My slogan then and till now is "Titi gbogbo ifoju okan yio fi tan laye". I believe we can put ourselves too much learning because Knowledge is power. People will continue to make bad decisions if they lack knowledge. I am very grateful that we would be holding our national leadership summit and retreat.
With the different factions in our church and all that is happening, What can you say, sir?
Everything, in my opinion, results from spiritual negligence. Jesus commanded us to remain watchful, pray, and be vigilant. I put my faith in God to use the Holy Spirit to lead me.
Say something about the Migration of youth in the C&S church.
It is one of the things I have mentioned in my paper to be presented at the leadership Seminar. Most of the problems emanate from the elders, when I was young I don't even like C&S church, I have so much interest in Christ Apostolic Church. However, Bishop Benson Idahosa was my role model, I love him so much. I leave church early on Sunday to watch and listen to him but My father continued reminding me of God's revelation and the circumstances surrounding my birth, and that's what kept me here.
Why I said the major problem emanates from the Elders is because Some of them don't educate their children. Whether or not our children stay will depend on how we interact with ourselves.
Our children are leaving us because of our dealings and a lack of awareness. The only issue with C&S Church is that our fathers lacked effective image-makers.
One of the reasons I cherish my dad so much, what I received from him is rich. It has given me so much courage and strength.
A word of admonition for the church.
To all seraphs, there is a verse of our hymn I Love so much "Sugbọn k'a sotitọ ni ilana Rẹ, Yoo si gbe wa nija, yoo duro ti wa,K'a fara da iya, ka tẹ siwaju,Oun to gbọ t'Abraham / yoo si gbọ tiwa.". We should remain faithful, and honest in all we do.
Leave Comments