God Has Upheld The C&S Church And Nothing will Shake It - Primate P.A Oparinde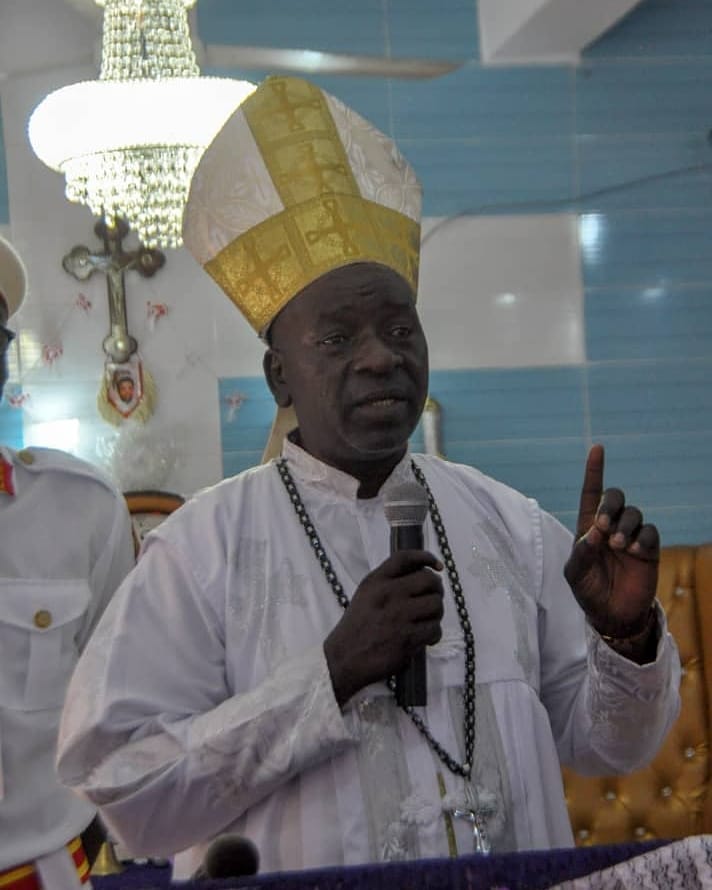 His Eminence Primate Rev. Dr. P.A Oparinde JP, the spiritual head of the Cherubim and Seraphim Unification Church of Nigeria, ST.JOSEPH CHERUBIM AND SERAPHIM CHURCH (ILE ANU), Ori Oke Ogunmise, Obalende, at their 53rd Adult Harvest Thanksgiving held on the 24th November, 2019 at their church auditorium spoke with our correspondent and gave a brief on how the journey began and this year's harvest.
Today is your 53rd Adult Harvest Thanksgiving Service, can you tell us how the journey started?
First, we bless God. There's a lot to talk on about the journey. I'm the second primate of this church and I was appointed in the year 2000. The church started on the 13th of February, 1956. I bless God because we started it together. God revealed to the Founder of the church, His Grace, Late Dr. Joseph Oladeji to hand over the mantle to me, and it's been more than 15 years that I've been pastoring the church, even while the founder was still alive. I was ordained as primate after his demise. I glorify the Lord because the church is matching on. What baba could not experience when he was alive, God did it for us, He used me to get to where we are today and He helped us build and groom the church, the gates of hell did not prevail against it. I bless God over those working with me, they stood by me like soldiers.
We experienced storms but we were able to move forward. We built a house of prayer in Maroko and Ebute in Jakande but it was demolished. But by God's grace, we are where we are today.
What can you tell us about the harvest?
It's very wonderful, better than last year. God really manifested himself, I'm happy and glad that God didn't allow any hindrance come our way. Lagos is peaceful and rain did not disturb us. We bless God and I pray that to everyone that came here, God shall grant them journey mercy back home.
What can you say about the theme of the harvest "RESTORATION OF ISRAEL"?
God has returned the lost possession of many and there are still some that haven't regained what they've lost. When the Lord returned the captivity of Zion, they were like they that dreamed, so we used the theme to prophesy into the lives of many that have wandered away, that the lord shall return to them all that they've lost. We are the people of Zion and we have faith that the Lord shall return to everyone their lost possessions, those good things that will fill our hearts with joy and next year shall be better than this year in Jesus name.
We've seen your good works in the C&S Unification, can you please tell us the way forward?
God has upheld Unification, all that is happening in Seraph is surprising but we thank God that He hasn't stopped his work, though there are some differences but as the Lord liveth nothing will shake the C&S Church. The merciful God sent Iya Esther Ajayi to modify the works of Baba Moses Orimolade. God is using her to raise the church, that's my belief and I pray the Lord will continue to support her and the work she's doing in Seraph. God will continue to use her and the rest of us to uplift the C&S Church. The dignity of seraphim has been restored, we were known to be fetish but God has manifested himself, God is in Seraph.
Word of wisdom for the youths?
They should be patient, God's time is the best. Some are in a hurry, where God hasn't placed them is where they are going, which has brought problems into their lives.
I've been in Seraph since 70's. I went to a Seraph school around 60's and 70's. The position I am today, I didn't struggle for it, God himself chose me and said I should take over from the founder. The children of baba were available but I'm the one he decided to make use of. Before I was ordained in the church 18years ago, Baba Aladura always spoke to me to go for ordination but I said it was not a criteria for the kingdom of God. When I was about to be ordained as a Senior Apostle, I told them that there's no Senior Apostle amidst the disciples of Jesus, so they should let me go for Apostle. Baba Adetoro made me a Senior Apostle then and I glorify God. He's still God over his church and his work is moving forward.
Leave Comments