God Does Not Say He Will Bless Our Fast But The Works Of Our Hands - Pst Seyi Bakare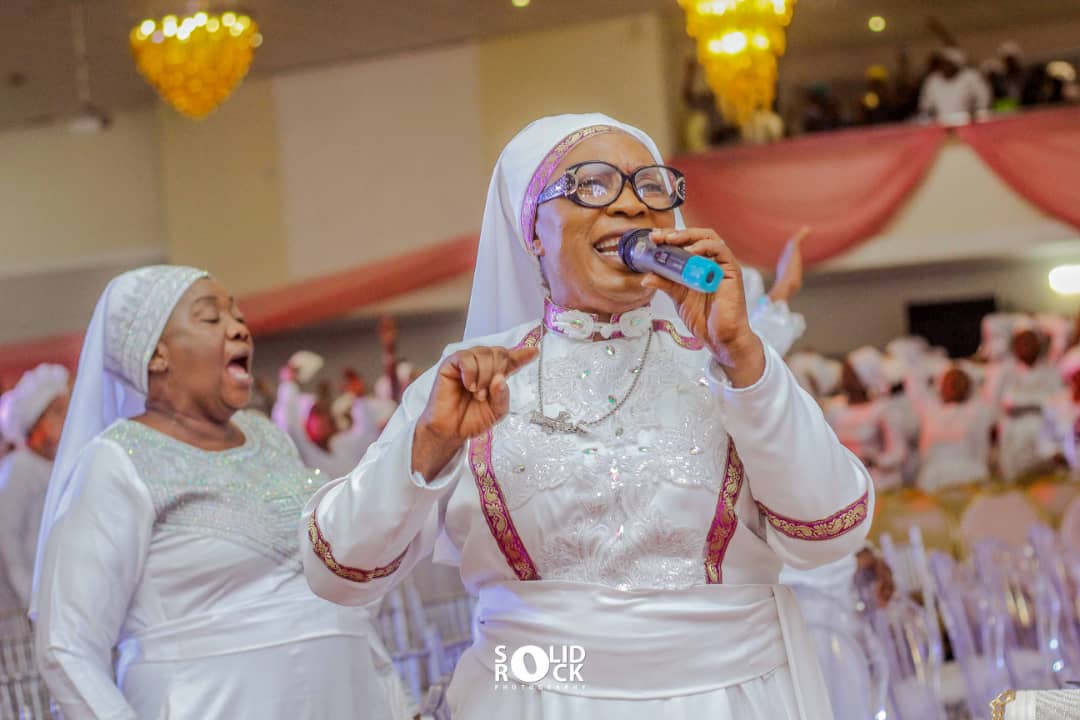 Convener of the just concluded Operation 7to7 program, Pastor (Mrs) Seyi Bakare has declared herself a part of the unstoppable generation.
The crusade with the theme "Unstoppable Glory" held Tuesday at Daylan Events and Conference Centre, Ibadan. The 3500 capacity hall saw to the throng of people from the fold, the Celestial Church of Christ and other Christian denominations.
The 12 hours program, being the 12th edition, started on the note of worship at 7pm and was brought to a close at 7am. It witnessed people rending and yearning their hearts to God in soul-ful songs, sessions of moments of praises, dances, and prayers.
The annual gathering is powered by the trio of Gboromiro Prayer Ministry, Men and women of prayer Mission and the Sacred C&S, Oluwamayomikun Parish all headed by the convener, Pastor (Mrs) Seyi Bakare.
Addressing the congregation, the convener, Pastor (Mrs) Oluwaseyi Ebunoluwa Bakare urged the congregation to embrace hardwork and shun laziness, " God does not say he will bless our fast but the works of our hands. Unstoppable glory will not meet you at a lazy point. I belong to a generation that is unstoppable, that will not rest, a lazy person is one that believes people do rituals before they succeed".
In a brief chat with members of the Seraph media team, the convener, Pastor Mrs Oluwaseyi Ebunoluwa Bakare expressed optimism that the members that have left the Seraph fold will come back. "I want to advise people who left, they are coming back! C&S is taking a new turn. Before, people like you would not be here, you would have joined other churches. It was very difficult when we started, I just chose to stay. But I know now the Lord is raising giants, he is raising people who will shake the nation, he is raising people who will be good ambassadors, I know something great is on the way. Many people who have gone away, they will come back, but they will not meet us at the level they left us".
She also stated that the most of the members of her ministry were not born Seraphs, but became members when they saw she is deep in the word of God, likewise the Grace of God upon her. "Most of the people here that you see today were not born Seraphs, through our evangelism, we have brought them to Christ. I'm talking about the Pentecostals, the Orthodox churches, people from big churches. Most of those you see in white garments they were not Seraphs, but once they see the Grace of God upon me and the word in me, they journey with me. And with me in Ibadan, people are seeing C&S in another dimension, we need to work more, we need to evangelize more".
As part of the vision of the ministry to mankind, the convener disclosed that the ministry has provided free education to the girl child. "Stop running from one place to another, think of what you can do to make a difference. Wonderland, igboko was a dry ground, God told me to go there. Today, we have a school for the girl child at no charge. We have school books, bags, uniforms and feeding at an absolute free cost. For people to say to say we have done our best, I'm encouraging you so you can be the best".
Giving the exhortation, Pastor Segun Michael reveals that 'Glory' isnt a phenomenon but a personality, Jesus Christ, "The word glory is not a property, nor occurence, but a personality, meaning when the person appears, glory appears. (Opa) Staff isnt glory, tongues isnt glory, Jesus is the glory! I know anointing oil and water can be potent, but Jesus is superb. The next level is not glory, you are the glory when you carry Jesus".
Ministering, the set man of Molete Baptist Church, Rev'd (Dr.) Edward K. Alabi states that a life without glory is lived in obscurity, "When the life of a man is devoid of glory, he will not have a voice, he is but an empty life. Man became in search of glory since he lost it in the garden of Eden. He died physically, spiritually and also materially until it was restored at the time of Noah, Moses, then Jesus Christ ".
Also giving a brief exhortation, Prophet Michael Fakinle stated that unstoppable glory stems from believing in God, whilst encouraging people to let go of sinful lifestyles which could postulate a breach in ones glory. "Whosoever wants to have an unstoppable glory must be a person that believes, glory springs from believing. Money chases after glory, and glory brings honour to men. You must persevere, when you live sinful life, glory fades".
Throwing her weight behind the revelation of the gospel, Pastor (Mrs.) Seyi Bakare reiterates the need for the fold to be word-full and encourage members to go more into the word stating that "ye shall know the truth, and the truth shall set you free"
Expressing her gratitude to God, the convener, Pastor (Mrs.) Seyi Bakare appreciates God for being faithful all through the course of the event. "I am elated. I've just been thanking God, he has been a faithful God. He started with us and you can see the way it all came out. I am happy and give glory to God, it is not of man, it is of God. I know people will be having testimonies very soon, this is how we do it every year and we record testimonies, people will begin to seek Christ as they should seek Him".
She also dole out her appreciation to the guest minister's whom she affirmed to have given out the undiluted word of God noting that the attendees would not go back the same way they came.
There was the presentation of awards presented by the convener to Mr. Imole Adetansuyi and "Able to" on the premise of hard work, commitment and dedication while series of testimonies flowed from members and participants of previous programs
In attendance are invited guest with the likes of Seraphs Delegate from Lagos, Bishop Olufemi Adepoju, Pastor (Mrs) Funke Adetuberu, founder of "She Matters", Baba Michael Fakinle alias Baba Ayeraye, Pastor Claudius Adebayo Olaiya, Pastor Gabriel Evans, Revd Evangelist Yemi David, Dare Alaka, Abbey Praise, Kemi Rehoboth, Evangelist Bukola Akinade (Senwele Jesu), Alapala crew, Abbey Praise, Korede Daniel amongst others.
Leave Comments