Exclusive: Branco, Dominion Chapel to host Tunmise as model for youths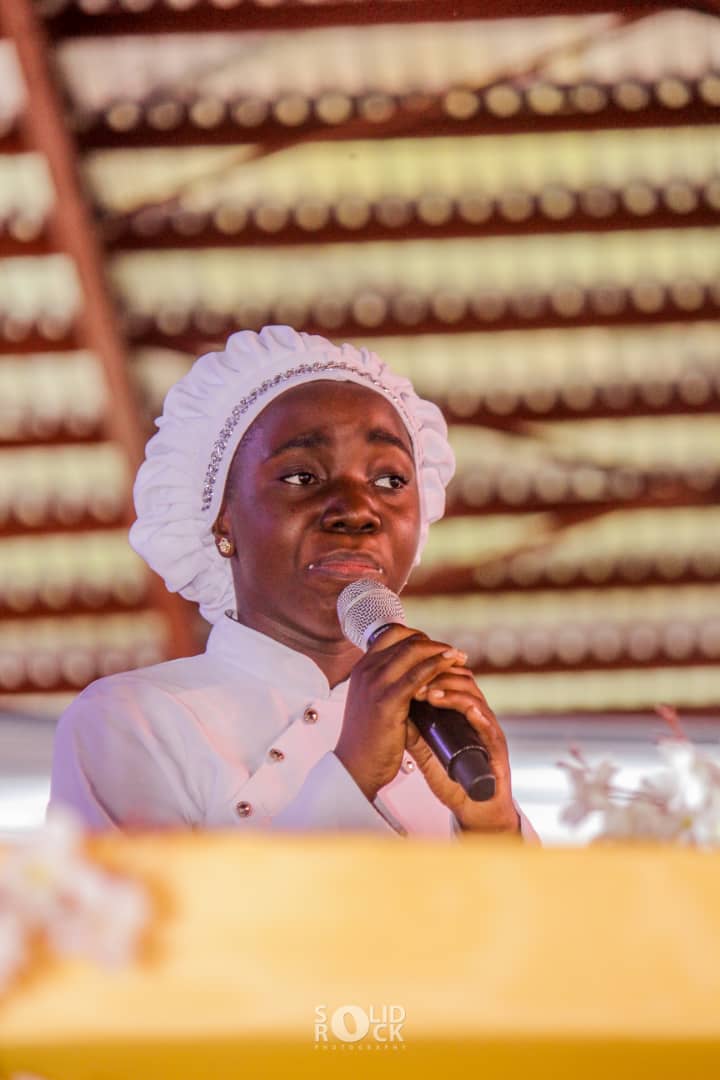 Churches and organisations have continued to invite Seraph Tunmise Adeyemi to their programs to encourage youths in their various churches.
Tunmise won a prestigious scholarship from Esther Ajayi Abimbola Foundation for reciting the longest chapter in the Bible, Psalm 119 at the 94th Seraphim Day Celebration held last weekend at Seraphim Land, Maba Km, 40 Lagos/Ibadan expressway, Ogun State.
Inviting Tunmise to be the Guest at the Eternal Sacred Order of the Cherubim and Seraphim Oke Ibukun Branco, Ebute Elefun, Lagos, at its Adoption Anniversary coming up on Sunday October 6, the Minister in charge of the church, Superintendent Apostle General (Dr) Prophet Aduragbemi Adewusi, JP said he would be pleased to celebrate her and use her as an example of what Seraph youths can do.
Elder Adewusi in a message to Tunmise's father said, "I am using this medium to heartily rejoice with you concerning the feat demonstrated by your brilliant daughter, Miss Esther Adeyemi, at the just concluded 94th Sephim Day, last week Saturday. I am really excited and happy for you as I share in the joy.
"As a Lover of education and being an Academic myself, may I crave your indulgence to invite her to our forthcoming 2019 Adoption Anniversary this year?
"It comes up on the 6th of October as I also have some tokens for her, in order to further appreciate her creativity, brilliance and painstaking efforts.
"I will be extremely happy to personally welcome her; not only because of the little things that I have for her, but in order to challenge, boost and encourage others to pursue exploits that hitherto seem impossible.
Elder Adewusi, a Chartered Accountant and financial guru also thanked "our very amiable, talented, ebullient, Philanthropic and International Lady Evangelist, Reverend Mother and Captain, Iya Adura Esther A. Ajayi" for encouraging our youths and her contributions to the development of the Holy Order.
Also, the Pastor-in-Charge of The Sacred Order of Cherubim and Seraphim, Dominion Chapel, Olomore, Abeokuta has requested Tunmise to grace the harvest thanksgiving service of the church holding on September 29.
Supt Apostle G.O. Adeyemi who said he watched the program live in the United States of America said Tunmise made him and others proud and his church would want to honour her as the face of Seraph youths.
He said, "Celebrating Tunmise's feat should be a normal thing to encourage our youths to use their talents for something positive. If we cannot celebrate something positive, then we should not condemn few elements that drag our names in the mud. A society or church gets better by encouraging excellence.
"There was a time our youths did not value education and that created inferiority complex which forced few educated ones to leave the church, but that era has gone and we are pleased with what is happening now.
Leave Comments