ETERNAL YOUTH FELLOWSHIP (HOTONU) TO HOST ANNUAL CONVENTION VIRTUALLY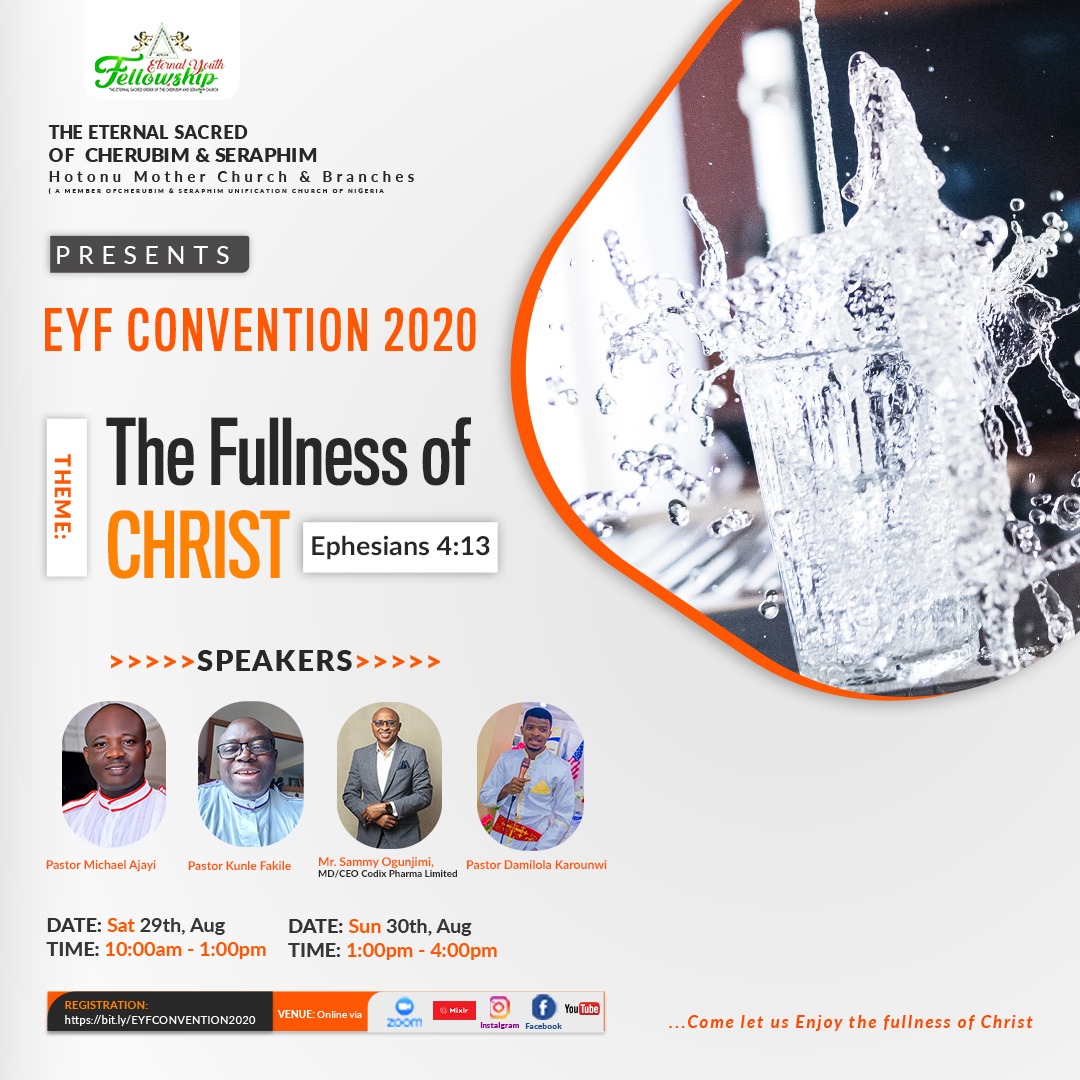 The youth fellowship of The Eternal Sacred Order of The Cherubim and Seraphim, Hotonu mother church is set for their yearly annual camping convention. Despite the situation in the country, the leadership of the fellowship has put up this year's convention to be hosted virtually due to the Covid-19 Pandemic. The event which hosts thousands of members from all over the country yearly with unmeasured testimonies and has raised global champions will commence Saturday, 29th - Sunday 30th, 2020 with theme Fullness of Christ (Ephesian 4:13). 
This year's convention is geared towards leading all participants to the realization of the fullness of Christ through a life-changing two days encounter and experience to utilize the resources already made available to us in Christ for life's fulfillment and manifestation. "The convention has been packaged to sow the seed of greatness in members for them to fully manifest their God-given potentials and flood the eyes of the members' heart with illumination (information) to see clearly what God has called every member into for easy manifestation," Says the chairman planning committee, Bro. Akapo Olusegun.
The convention will start Friday with an opening event with the theme "That I may know him", by 10 pm and the other two special sessions for Saturday morning 10:00 am with an opening lecture from Pastor Kunle Fakile speaking on "Understanding the Full work of Christ at Calvary" followed by Mr. Sammy Ogunjimi, the MD/CEO of Codix Pharma Limited on "Integrating into the Society Productively (Post COVID-19) and other two sessions for Sunday from 1:00 pm in the afternoon. It promises to be a great time in God's presence.
However, the president of the fellowship, Bro Oluwafemi Adesanya expressed that "What the Lord is about to do in this year's convention, participants won't recover from it". In a conversation with our correspondent, He also quoted the scripture "However, do not rejoice that the spirits submit to you, but rejoice that your names are written in heaven." which he emphasized that at the end of the convention all members will experience the fullness of our Lord Jesus Christ.
The convention happens to be the first virtual convention after 15years of seeking the face the Lord yearly to raise champions to dominate God's Kingdom. Members can join through various means such as Facebook (www.facebook.com/eyfevents), Mixlr for Audio listeners only (www.mixlr.com/EYF) amongst other platforms. You cannot afford to miss this; God bless you as you get prepared for the convention.
Leave Comments