ESTHER AJAYI INDUCTED INTO NIGERIAN BOOKS OF RECORD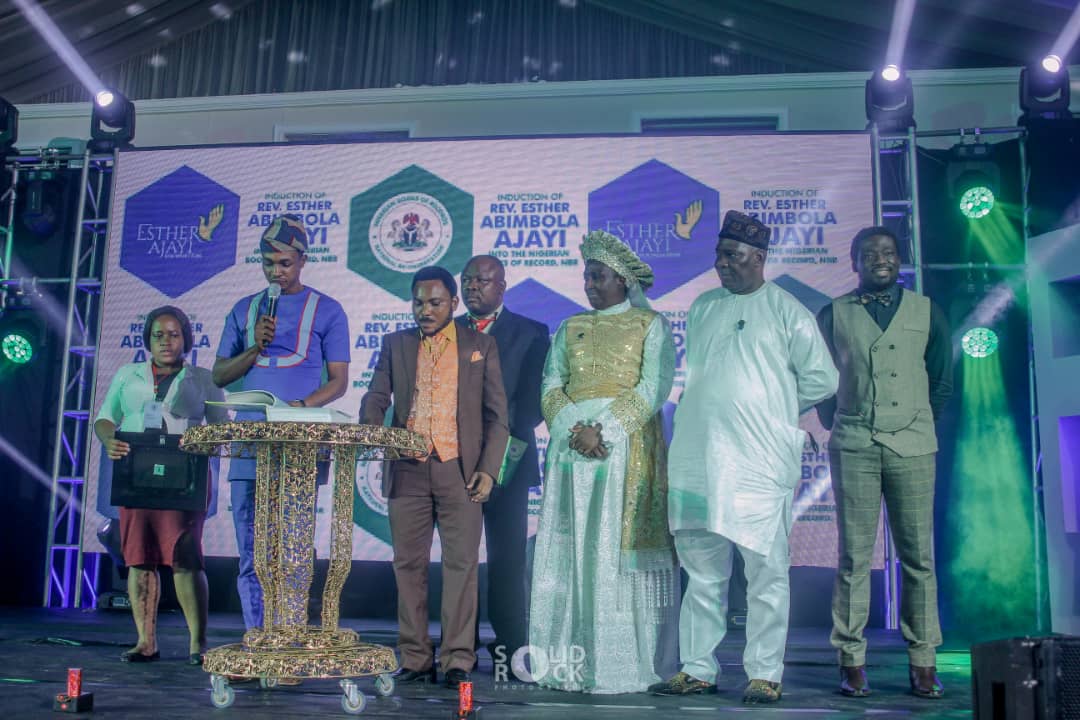 The Nigerian Books of Record Research Institute, Abuja has honored the founder of the Love of Christ Generation Church, Rev. Mother Esther Abimbola Ajayi and inducted her into the Nigerian Books of Record. Nigerian Books of Record is the official book of record of the Federal Republic of Nigeria, conceived by the Institute to drive attitudinal re-orientation and Change-Begins-With-Me Campaign of the Federal Ministry of Information and Culture, Abuja.
The primary focus of the book is to recognize Nigerians with remarkable achievements, people who have made great positive impact and influence in their generation. Dignitaries in the book are Ex-president Olusegun Obasanjo, Pastor E. A Adeboye, Pastor W. F. Kumuyi to mention a few. Iya Adura was inducted into the prestigious national annals at the Comforter Youth Gala Night held at the Harbour Point, Victoria Island, Lagos, which was organized by the youths of the Cherubim and Seraphim Unification Church and the Celestial Church of Christ. It was an evening of praise, music, lecture and comedy before the showcase of the long awaited Celebrate the Comforter 2019 event which comes up on Saturday, 20th July, 2019 at the Tafawa Balewa Square. 
It was an evening to celebrate outstanding youths who have selflessly impact the body of the white garment churches. Some of the youths who were presented with the Outstanding Youth Awards were Oluwasegun Victor Adagba, Aderemi Anuoluwapo Morenike, Odufowakan Adebola Samuel, Ayoola Theresa Adediran, Akinola Esther Olubukola, Fakile Olujimi David, Akinloye Samuel Afolabi and Ajube Mimiyentei Samuel.
The induction was conducted by the Director General of the institute, Dr. David David who commended her for the great sacrifice to the human race. He described her as a beacon of light and an epitome of encouragement and hope. He expressly said she has affected more lives within a short period of time.
In appreciation, Iya Adura thanked the organizers and pledged never to relent in her good works. She also showered scholarships on five deserving youths who came on top in an academic test organized by the youth body of the white garment churches.
Leave Comments