C&S Unification Elects New National Youth Officers.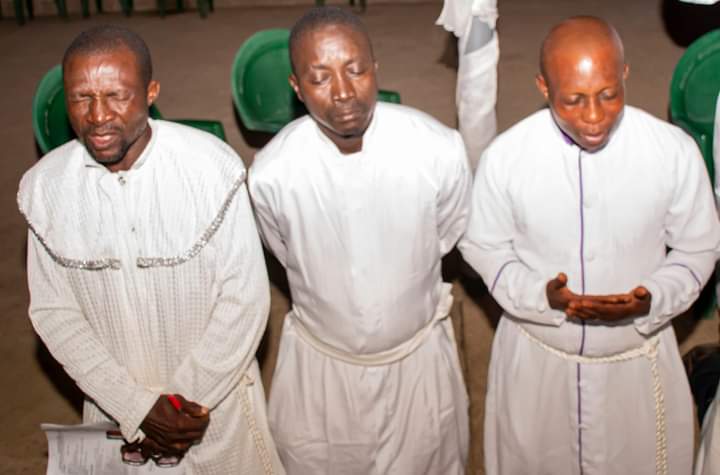 The National Youth Fellowship of Cherubim and Seraphim Unification Church of Nigeria had on 13th August elected new executive members to take charge of its affairs.
The secret ballot election conducted on the last day of the fellowship's eleventh convention, had 4 delegates representing each member state of the Fellowship and was overseen by the Pioneer President, Bro. Olarinde Ogunkunle along with other stakeholders of the Fellowship.
In his remark, the Pioneer President of the fellowship, Bro Olarinde Ogunkunle congratulated the Ayegbusi-led administration for its doggedness and progressive governance which had brought about numerous achievements into the Fellowship. He as well advised the newly elected executives to work earnestly towards active development of the Fellowship with an admonishment to ensure individual and collective efforts are contributed towards enhancing more giant strides as recorded during the time of the outgoing executives.
"Let me congratulate the Ayegbusi-led administration for its successful governance. The successful administration has yet given birth to worthy successors who are setting out to take over the baton of governance.
However, I implore the incoming executives to be up and doing. Also, as the theme for this convention implies, they should be faithful in their services to the growth of this great fellowship", Bro Ogunkunle admonished.
While dishing out his farewell address to the stakeholders, the outgoing president, Bro. Dr. E. T. Ayegbusi appreciated his predecessor, Bro Olarinde Ogunkunle for his support throughout his term in office. He also acknowledged the unforgettable impacts of the stakeholders including members of his cabinet, state Chairmen and directors which he said were responsible for the success recorded. He hence urged them to replicate such with the incoming administration. The Golden Jubilant also appreciated the motherly role played by the Fellowship's Grand Matron, Rev'd Mother Esther Abimbola Ajayi whom he regarded as a great person to reckon with.
Meanwhile, the newly elected executive includes the former Vice President, Bro. Olugbenga Quadri (Ogun) elected as President, Bro. Awopeju Dare (Osun)(Chief Welfare) and Bro Bolarinwa Adedokun (Kwara) returning as Asst. Gen. Sec.. Other elected executives include; Bro. Sangoleye Joseph (Oyo) (Vice President) , Bro. Ayodeji Ojo (Ondo) (General Secretary), Bro. Oladimeji Adedokun (Lagos) (Treasurer), Bro. Fasae Adewumi (Ekiti) (Financial Secretary), Bro. Tunji Ajayi (Ekiti) (Public Relation Officer), Bro. Ibitoye Emmanuel (Kogi)(Auditor), Bro Olowoniyi Taiwo (Oyo)(Asst. Fin. Sec), Bro. Adonai (Niger) (Welfare 1), Sis. Bisola (Kogi)(Welfare II) Bro Emmanuel Taiwo Ayegbusi (Ekiti) (Ex-officio I), Bro Sodunke Oluwaseun (Ex-officio II).
However, inauguration of the newly elected executives has been fixed to hold on 27th August, 2022 at the Seraphim Land, Maba, Ogun State.
Leave Comments