C&S LEADERS IN FCT, ABUJA FORM COALITION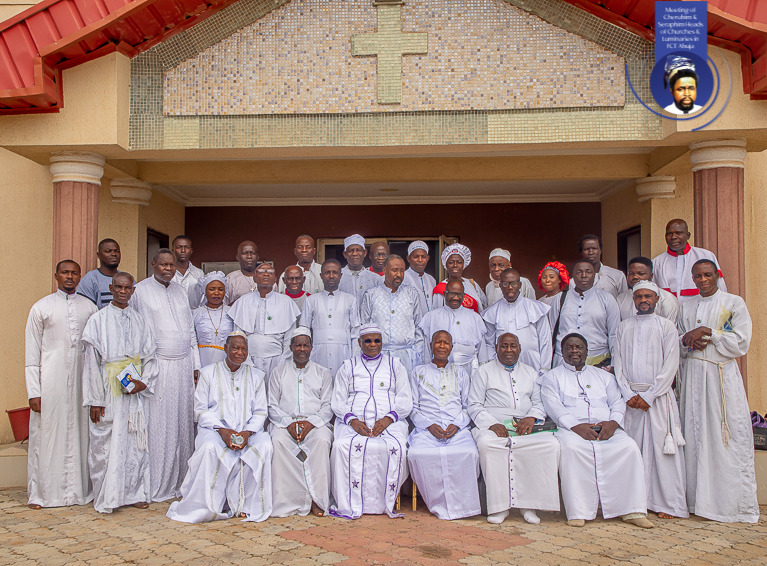 On Saturday the 9th of July 2022, The maiden meeting of 'Cherubim and Seraphim Church Leaders in FCT, Abuja' was held at 'Eternal Glory Church of C&S', Abuja. The Church which happens to be the Church of the convener of the meeting, Elder Professor Joseph Otubu, witnessed the presence of sixteen (16) C&S District heads and luminaries, resident in Abuja. According to Otubu, the meeting was not targeted at forming another organization within the C&S fold nor interfering with the structures of the already established churches rather, he called for the meeting to suggest a coalition of C&S leaders in Abuja.

Otubu said the synergy will form a common front that must speak for the C&S Church. This was received with great joy and approval by all leaders present. He further said such a coalition was necessary so that the C&S Church would not be found too busy worshiping thus, ignoring matters before the Church in dire need of public attention, responses and actions. The alliance will respond in various forms to attacks, wrong notions and intentional negative brush paintings on the C&S Church's image.

One of the examples he laid was that it was wrong to refer to the C&S Church as 'white garment church' as it automatically included the C&S Church in matters concerning other Churches who put on white but had different doctrines from the Church. He also talked about the need to correct the ignorant prejudice that the C&S Church is a church of illiterates as the church is now full of millions of literates to include those who have attained high positions in the nation.

In various progressive responses from the C&S leaders present at the meeting, it was agreed that apart from working together in unity, the coalition will petition the National Film and Video Censors Board (NFVCB) and regulators of digital content creators concerning movies, comedy skits and adverts that intentionally and ignorantly slander the image of the C&S Church via our uniforms, hymnals and specific mode of worship. The elders of the church present also agreed to bring to book bad eggs amidst the church in the FCT, settle identified issues within the churches represented in the coalition and totally erase visible discrimination within the popular and growing wings of the Church.

The C&S bodies duly represented were: The ESOCS, Praying Band of C&S, The Sacred C&S, C&S Movement Church Daki-Biyu and Gethsemane Districts, Omo Agbo Jesu, Ikirun Conference, Ona Iwa Mimo, Atunbi Mose, Divine Power of C&S Mission, MCC&S JAH ZION, Holy Messiah-Revival Center, Land of Canaan and C&S Development Organization international- Northern Zone.
Attached to this news report is the Communique of the meeting.
Leave Comments