C&S Church Needs To Focus On Empowering It's Members - Gandonu Gabriel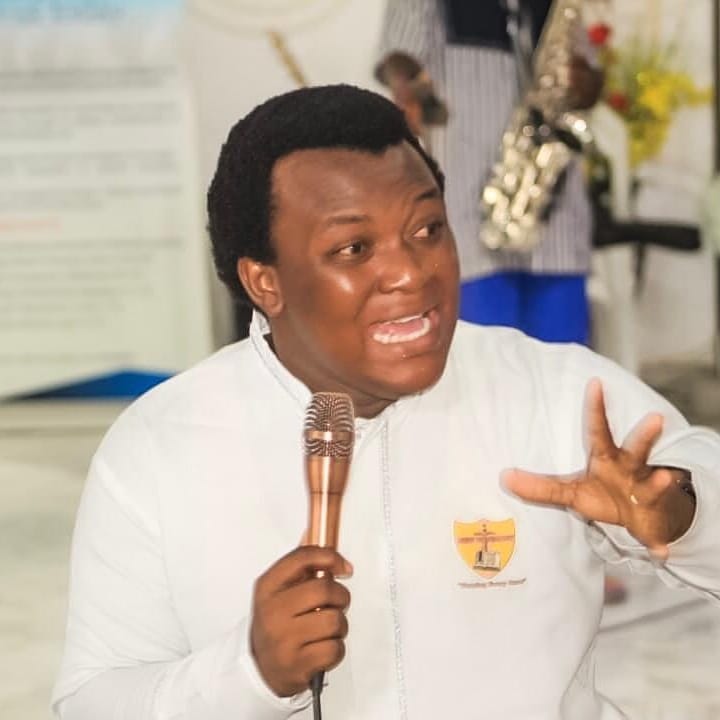 Prophet Gandonu Gabriel  is our FACE OF SERAPH for the week. The man of God, with the prophetic mantle, who has great passion for building youths and driving innovations for the body of Christ. Seraph Stories had an engaging interview with the prophet of God where he shared insights with us about the church and his ministry.
Can we meet you sir?
My Name is Gandonu Gabriel. I'm an ordained Prophet of the Cherubim and Seraphim Movement church Worldwide, New covenant Model, Ikorodu and I also double as the Assistant District Secretary of New covenant District (UK). I'm a Graduate of Houdegbe North American University, Cotonou, where I bagged my LLB. HONS. I equally served as the Attorney General of the Law Faculty. By Grace I facilitated the establishment of C&S Campus Fellowship In Cotonou 2011. My passion for grooming youths especially of the white garment fold is second to none. I am married to Bukola Gandonu and we are blessed with a lovely daughter; Gabriella Gandonu. 
Can you give us a brief of how you became born again?
I was born into a Christian Family and brought up in the way of the Lord. However, the renewal of the mind and purpose is an individual decision, so I had to re-align solely with the cross. I became born again in the year 2002. I was in secondary school then and we had an orientation programme where there was an altar call and I had my life re-dedicated unto Jesus. 
Tell us about your ministry, how you started and the journey so far?
Well, I would say ministry is in different dimensions and ways. It depends on where you find yourself at a given time. I grew up into working in different capacities in God's vineyard such as Band captain, Evangelical head, Warden, Chorister etc. However, In 2008 It took a different turn as I began missionary work of going from one zone to another with the gospel of Jesus without being static in a place and by grace I have been consistent in that aspect till date, part of which led to the establishment of Unification Campus Fellowship in Cotonou in 2011, during my degree days with like minds. So far above all odds, God has been faithful and consistent. 
What can you say about the C&S church?
Our hymnal says IPINLE TI JESU FI LELE LEYI. I find C&S Church as a rare gift to humanity because of our peculiarity and uniqueness coupled with the ever dynamic flow of the Holy Spirit. Another stanza of our hymnal says JAH JEHOVAH LO DA EGBE YI SILE KIN SE ARAYE KAN.The aforementioned are assurances that this fold was divinely birthed and orchestrated by God. The era of impunity and bastardisation of this fold is gradually phasing out with the set of generals God has raised for this sect at the moment and those He is still raising, whose sole desire is to redeem the dented image of this fold and follow the dictate of just the Word of GOD alone. Permit me to end with an assurance that one of our hymnal says:KINI YIO KEHIN AIYE, KERUBU PELU SERAFU.
What's your favorite hymn? Why?
NI ORILE EDE ENIYAN DUDU ATI KA WA SI EWEKO. I love this hymn because it gives a vivid description of how people detest us or some even think we don't serve God, but then God himself knows we are His and doesn't joke with our gathering. It points to the supremacy of God and his ever un-failing working hand.
What are some of the most important ideas and practices that will enhance the growth of the C&S church?
I think its high time we pay attention to Empowerment and Job creation in our fold. When we only organise revival and praise nights from January to December for jobless members then they would continue to remain in abject poverty. We should have more industries built, hospitals, schools, factories etc. This would alleviate poverty amidst us and go a long way in wealth creation and distribution and strike a balance in the church management. 
Again may I say we must give attention to Word conferences, so we can totally dis-abuse the mindset that seraphs are not sound and do not study the bible, then we would relieve ourselves from gullibility. There should be unity of purpose amidst us and not everyone pursuing his/her selfish interest. We need more seraphs in power (government) because to make a change is not by praying alone, we must think and act big. 
Tell us how the prophetic ministry can be sanitized from all kinds of Prophets and Prophetess. 
Well, I would say the challenges of the prophetic ministry is enormous in the sense that every sect under the Cherubim and Seraphim fold has their league of prophets and as such this makes it hard for general checks and balances as we cannot point exactly the central co-ordinating body of prophets, hence so many atrocities are being committed daily. However, for us in CSMC WORLDWIDE we have a taskforce saddled with the responsibility of checkmating the activities of prophets/prophetess and bringing erring ones to book after investigations are carried out. Sanity is a thing of the mind, we must make people understand that they are the first prophets of themselves hence no need to apportion powers unto a man but just to seek guidance and support as the case maybe. This would reduce to the barest minimum prophets taking advantage of people. 
Training is key and pivotal in the prophetic ministry, this would re-orientate and align all our prophets to doing nothing but the will of God. It is very important that the Unification in general takes it upon themselves from time to time in organizing mind blowing and eye-opening series for members of the prophetic ministry with biblical guidelines. 
Is there any advice you have for the church that would make the fold better?
Oh yes!We should focus on becoming better by the day via projecting the church in a good manner in words/deeds. Un-healthy rivalry should be totally nipped in the bud. We should get to work and stop engaging in unnecessary online arguments as this takes a whole lot of our time which is supposed to be channeled on developmental activities. 
We should engage the youths positively and stop using them as instruments of politics in the fold. We should make it a known fact worldwide that we are kingdom minded and we are raising people in that manner towards reigning with Jesus. 
Finally Sir, a word for the Youths? 
The bible admonishes us in Eccl 12vs1 that 'Remember now your Creator in the days of your youth'. Anything done without reference or honor for GOD is futile effort. I admonish youths to do away with whatever is not honorable and strive to set their lives on fire for God. Above all, we all know that we have Job deficit in Nigeria, so it is advisable for our youths to get vocational trainings to support whatever qualifications at hand and not being idle or expect free money at all times. 
GOD BLESS  US ALL
Leave Comments