CONVENTION 2020 UNVEILED: EMPOWERED FOR EXPLOITS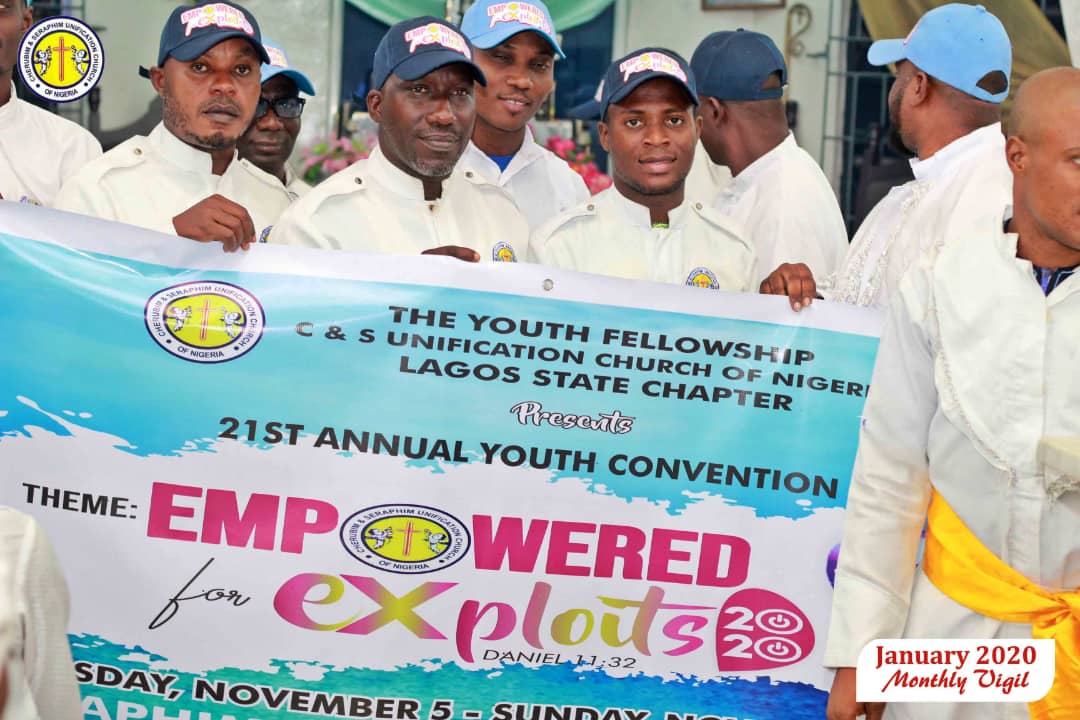 The youth fellowship of the Cherubim and Seraphim Unification Church of Nigeria, Lagos State Chapter, in a laudatory way unveiled the yearly convention at the first monthly vigil of the year held at the C&S Society Oke Iye, 101 Cemetery road, Ebute metta, Lagos. The convention which is to bring all youths in the state chapter together for a 4-day camping with activities and event. This year convention with the  theme "Empowered for Exploits", is well packaged and branded to focus on human development, says Bro Segun Odufuwa, the Chairman Convention Committee.
He also expounded that this year's convention is taking a new shape in terms of population and there will be different activities which will be a long term event that will take place from January to November such as Spelling Competition, Sports Competition, Startup Funding etc. The unveiling came with special decorations of the stakeholders and executives of the fellowship, where by the official launching was led by Bro Olarinde Ogunkunle. 
At vigil were past leaders  of the fellowship such as  Bro. Bode Medale, Bro. O'Michael Olajuwon, Sis Kemi Ajayi, Bro Gbenga Amodu, Bro Bolaji Oguntoyingbo, Bro Olarinde Ogunkunle JP among others. Also present at the vigil was the cordinator of the fellowship Most. Snr. Apostle Pro. Kehinde Adeyoju JP.
The first vigil of the year tagged "Salvation Inevitable" with the theme "Acceptable Year of the Lord", from Isaiah 61:12, was an all in one vigil full of praises, word and prayer in God's presence. The exhortation by Evangelist Dr. Seyi Ashaka, a lecturer from the university of Ilorin gave emphasized that the word " Salvation" can never be excused from mankind and the life of a man. "Your salvation is your price possession", He reiterated. There is no other love or sacrifice that can be compared to that of Christ on the cross of calvary.
 Bro Bolaji Oguntoyinbo brought the congregation into a great monument fire of prayer with inexhaustible prayer points to start the year and prophetic declaration by the chairman of the chapter Bro. Muyiwa Odedina JP. The vigil ended with great joy and happiness as everyone walked in new dimensions of grace and glory
Leave Comments