Christ Redemption Church Celebrates 61st Harvest Anniversary… My joy knows no bound on how God has helped the Church - Baba Aladura Matthew Jemilugba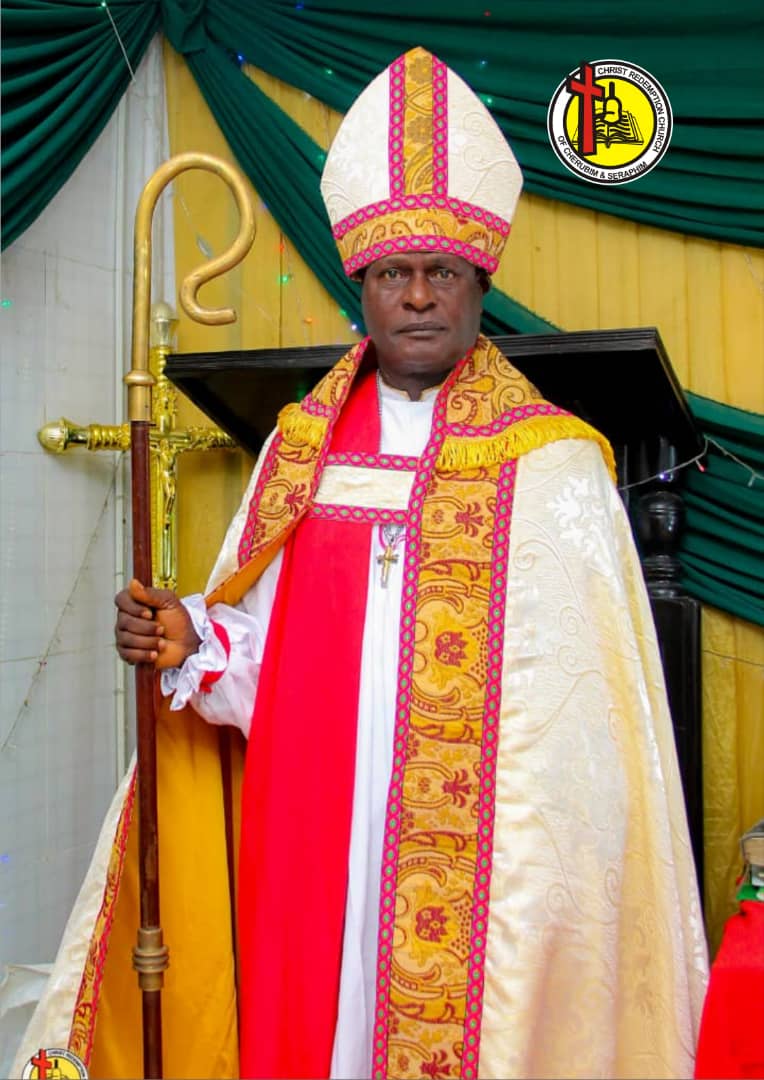 The Christ Redemption Church C&S church founded by Late Baba Aladura St. John Ayibiewu Jemilugba situated at 2, Jemilugba Street, Somolu, Lagos, on Sunday 4th October 2020 was filled with joy and gladness to God for giving them the enablement to celebrate another harvest thanksgiving. Nonetheless, the church couldn't mark its founder's day anniversary due to the COVID-19 pandemic but had to join forces to celebrate their harvest in a grand style. The Chairman of the harvest committee, Prophet Ademola Adefolu expressed his profound gratitude to God for giving them the grace for this year's celebration, despite what is going on in the world, God spared the life of our members and granted us enablement for this year's harvest. Hence, our correspondent Elijah Omosuyi had a swell time with the spiritual head of the church, His Grace, Baba Aladura Matthew Abayomi Jemilugba who happens to be the son of the late founder.
Tell us how you feel about your 61st Harvest Anniversary.
I am very excited and elated, in fact, my joy knows no bound. I give God the glory in a reflection of where he started with us and where we are now and we are assured our God is taking us to higher ground. God has been faithful to us over the years.
Can you briefly tell us about yourself, sir?
I was born on the 10th of February 1956, in Lagos. I started my primary education at Methodist school, Somolu, from January 1961 - December 1966. Thereafter, I was admitted into CMS Grammar School in 1967, my secondary education was from January 1968 to December 1972. However, I took a teaching appointment as an auxiliary teacher in Ladylak primary school, Bariga, February 1973 - September 1976. Simultaneously, I was also in pursuit of my academics which I enrolled for the university. I was admitted to the University of Ibadan to study Sociology. It was the first admission I got. Later on,  my parents informed me that I had also been offered an admission to study at the University of Lagos. 
Hence, I finished my first degree in July 1979. I went for NYSC at Iwo which was then in Oyo state. After my Nysc, I came back to Lagos and got an appointment with Lagos state teaching service which I was deployed to CMS Grammar School 3 now CMS Girls Grammar School. I taught Economics and Government. I was there for just a year. Furthermore, I went back to the University of Ibadan for my second degree in Industrial and Labour Relations. It was a study in which no payment was required. I got my Master's certificate in December 1983. I was at the Lagos state teaching service from 1st August 1980 - 1st August 2015. My service lasted for 35 years. However, I ended up as a principal in Igbogbi junior high school from 2006 until my retirement. 
In my Christian life, I have always been a member of this church, I was born and bred in the church. I was ordained a deputy Baba Aladura to my late father. So after his death in the year 2004, I took up the mantle as the spiritual head of the church.
Ever since you became head of the church, how have you been able to manage the challenges and crises of the church through your leadership?
God has given me grace with the appreciable cooperation of the elders of the church. I honor God for giving me wisdom, knowledge, and understanding. The church has always been my major focus in prayers and priorities right from inception. I can boldly say the Lord has actually helped me. Nonetheless, My style of leadership has been leading by example.
Before you were appointed the Baba Aladura, Was there any opposition from family, relatives, or the church?
On a lighter note, when I was younger, there had always been prophecy that despite I go in pursuit of my career, I was called to be a servant of God, to take up the church ministry, not twice or thrice. Also, I was told not to fight over properties. I appreciate God for making the prophecy come into fulfillment. Towards the latter part of my late father's tenure, about 7years to his death, the prophecy came through and I was ordained as the deputy so that erase any opposition because during his Lifetime I was already ordained.
Give us a historical background of the Christ Redemption Church.
My father, Late St.John Jemilugba from inception, was born into Methodist Church in Ifishi Ekiti State. Along the line, he was about to be introduced into the Oro fraternity of his hometown but his uncle a very sound member of The Apostolic Church snuck him out at a tender age. He took my father to Ilesha where he started his primary education. He was very brilliant so he was retained as a teacher in his school. However, he later came to Lagos where he joined the Praying Band C&S Church at Ita Balogun, Mushin. Thereafter, he joined the church in 75, Ibadan Street, Lagos The Eternal Sacred Order of  C&S due to the distance from his house to Ita Balogun. However, there was a group then at Ita Balogun in which many of them live in the same environs as Odi Olowo, Idi Oro, etc. Through inspiration a member of the group, Iya Adura Ogunbiyi, under her leadership, my father was part of the people who co-founded the Holy Temple of Christ, Fadeyi. He was the first prophet of the church.
My father later got a call from God to found his own church but he was reluctant at first until he had a whitlow attack where God told him the pain won't go away if he didn't adhere to His word. On a certain night, he made a vow to start a church the next day. Actually, He started from our parlour which he later got a piece of land for free.
As the head of the Church, Where do you see the church in the future?
Our vision as a church is raising quality saints for Christ. The followers of Christ were referred to as saints before they were called Christians in Antioch. Also, our mission is "retracing and restoring the original mission of the Cherubim and Seraphim Church".
Your advice for the C&S church as a whole.
The church is progressing and marching forward. I will like to commend the supreme head for his leadership over the church. We just have to uphold the church with scriptural teachings, make all tenets of the church go in line with the scripture. We thank God for our good heritage and as we know the church is the first pentecostal church in the country.
A word of advice for the youth.
Remember your Creator in the days of your youth Ecc12:1. Generally, the youths are vulnerable but my advice for them is to apply discipline, abstain from the devil's territory, and worldliness. Most importantly, live in the spirit and righteously at all times.
Leave Comments