C & S National Secretariat, Women Development Centre for Commissioning Saturday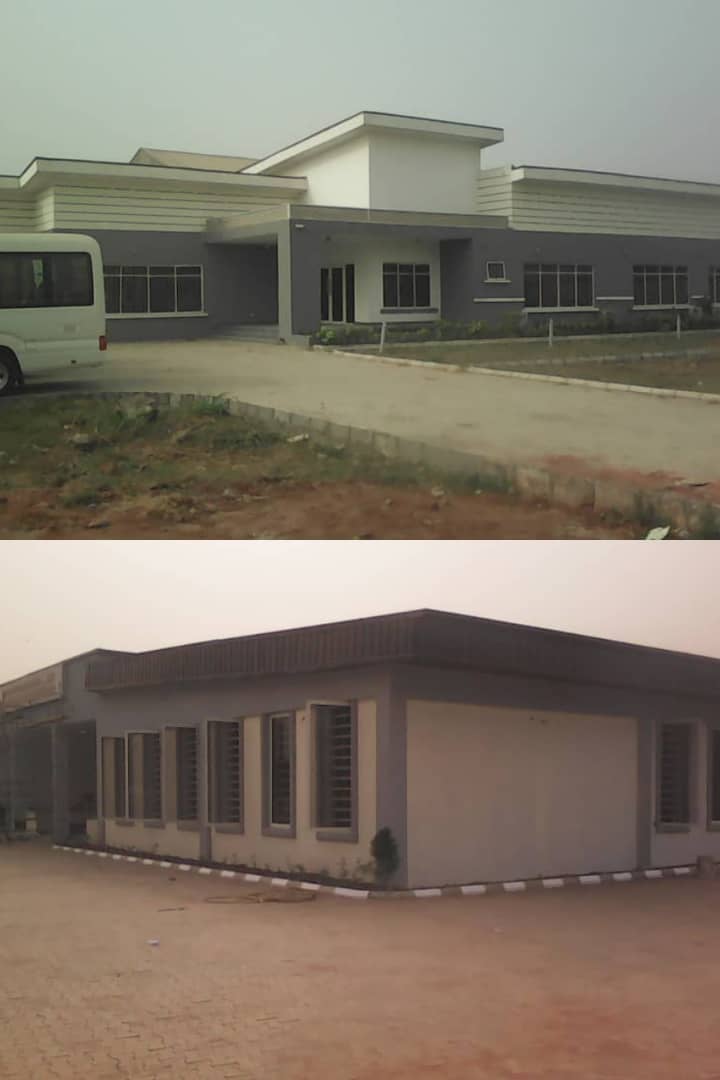 ….It's Lord Doing, Owomoyela
…We thank God, Mama Ajayi, says Ogunkunle
….Transformation of Seraphim land awesome, Owolabi
By ApMuyiwa Adeyemi, Chief PRO
The ultra modern National Secretariat complex of the C & S Unification Church of Nigeria and Women Development Centre built on Seraphim Land, Kilometer 40, Lagos/Ibadan expressway, Maba, Ogun State will be commissioned ‪on Saturday, January 11, this year.
The multi-million Naira buildings were donated to the church by the world renowned Evangelist and Philanthropist, Reverend Mother Esther Abimbola Ajayi also known as Iya Adua.
A statement by the Chief PRO of the church, Ap Muyiwa Adeyemi said the National Executive Council (NEC), will hold its first meeting of the year at the new Secretariat, immediately after the commissioning service.
The state-of-the-art Secretariat which has been fully furnished, has offices for the Supreme Head, national officers of the church and staff. It also has a conference centre and modern equipment to operate a 21st century office.
The Secretary General of the Church, Supt Ap. Tunde Ogunkunle had at the last conference hosted by the  Faith Mission C & S Church at Golden Tulip Hotel, Amuwo, Lagos appealed to public-spirited Seraphs to assist in the building of the Secretariat and provide equipment needed for its operation.
On that day, Reverend Mother Ajayi who attended the conference for the first time promised to build the Secretariat and provide all that is needed to make it the best in the country.
Speaking on the projects to be commissioned, Ap Ogunkunle said, "We can only thank God for this. It is a dream come true. We thought it would be possible in the next eight or ten years but let's thank Mama Ajayi for this wonder. We appealed for it in February this year and by May it has been handed to us. It is a special grace and this magnificent secretariat is what any church can dream of.
For the National Chairman of the church, Supt Ap. Emmanuel Omoniyi Owomoyela, " It's Lord doing and it is marvelous in our sight. The way the two projects came into reality was beyond our expectations. Left to our capacity, the two projects would still remain on the drawing board. But we thank God who raised somebody to achieve this feat. We can only thank God and those God used for the project. We have all these projects in our master plan but we never thought it would come to reality so soon".
The chairman of the building committee of the church, Special Apostle Akin Owolabi said, "For me it is a fulfillment of prayers of several generations of Seraphs. It is a dream come true and as I am speaking and as I have expressed in different fora, I am still dreaming because I am overwhelmed.
"I am still dreaming, coming from a position wherein we put a caterpillar on that virgin land in 1996 and for decades, it appears nothing was moving until the first bungalow and the three pavilions we had, things looked  static. But all of a sudden like a volcano, help from above erupted and for every honest Seraph, it is beyond our comprehension, that is why I call it a dream. Between May 2018 till now, that is within a period of 20 months, the entire landscape of Seraphim Land has been transformed,  hundreds of millions of Naira has been sunk.
"For me, the transformation is awesome, it is fantastic, it was a progress not envisioned, but in summary it is a revelation of God's mightiness through the philanthropic gesture of Reverend Mother Esther Abimbola Ajayi. I want to say it equivocally that this generation and next generation of Seraphs will forever remember, admire and praise her God for the heart of Gold".
The commissioning service which will begin by 10am will be attended by the Supreme Head of the Church, His Most Eminence, Dr, Prophet Solomon Adegboyega Alao, all members of Ecclesiastical Councl and NEC members.
Reverend Mother Esther Ajayi, her husband Reverend Dr. Ademuyiwa Ajayi and other prominent Seraphs will also grace the epoch-making event.
Leave Comments