Baba Olori Instruct Seraphs To Comply With Govt's Directives On Coronavirus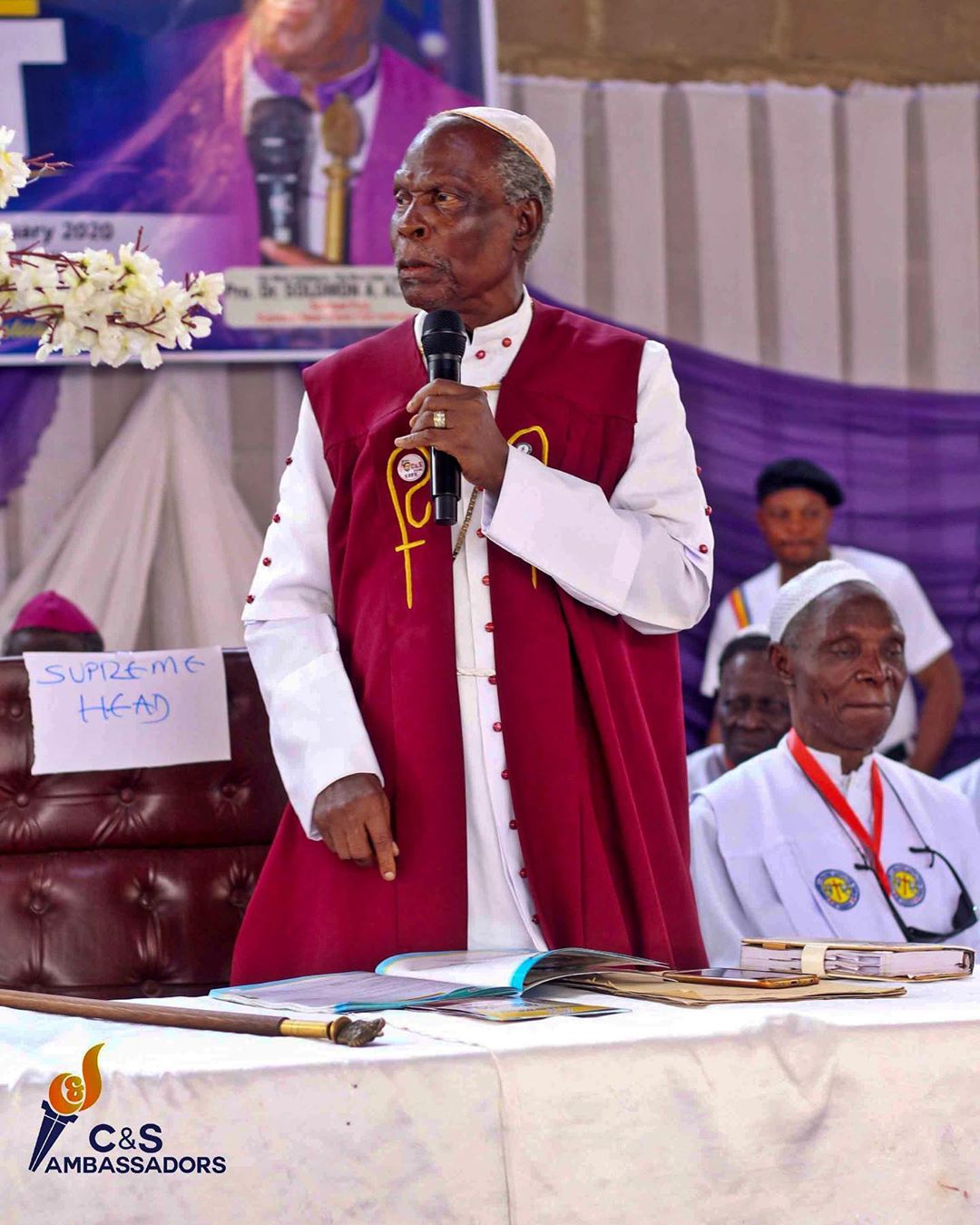 ........Releases prayer points
.......Cancels Sacred night 
....Suspends mass evangelism
.
The Supreme Head, Cherubim & Seraphim Unification Church of Nigeria, His Most Eminence, Dr, Prophet Solomon Adegboyega Alao JP, has instructed all churches in Lagos and Ogun States to comply with the directives of governments in both states, suspending religious gathering that are more than 50 people.
He said all Seraphs must join hands with the government to tame coronavirus with prayers and strict adherence to personal hygienes.
Baba Alao said complying with this directive is in tandem with the church philosophy  as a law abiding religious organisation.
A statement by the Chief PRO of the Church, Apostle Muyiwa Adeyemi Jp, quoted the Supreme Head to have said that though he fervently believes in the unfailing efficacy and potency of prayers to solve all problems but "it is our civic obligation to be law abiding and respect the decision of the government", aimed at protecting citizens.
Baba Olori  also instructed that churches with lesser congregation should also make their service as brief as possible. He also suspended all retreats, revivals, seminars and other public programs that will attract more than 50 worshippers.
The Supreme Head, who is also the Baba Alakoso of the Sacred C & S Church of Nigeria & Overseas disclosed that he has cancelled the Bi-monthly joint  revival of the Sacred which ought to hold tomorrow night  in Ipetumodu, Osun State to underscore the church determination to join hands with the rest of the world to stop the spread of the virus.
Baba Olori advised all Seraphs to pray with Psalms 23, 46 and 91 in a water, drink and use it to bathe at all times till the scourge of the virus will disappear.
He said if coronavirus had shut down economy and social activities in many countries of the world, we cannot be unconcerned.
He pleaded with the government to be more proactive in protecting Nigerians and be more circumspect about foreigners entering Nigeria at this period and do more to locate some suspects who ought to be in isolation now but have mixed with the public.
Baba Olori said no Seraph should be panic about the virus because they are all protected by the blood of Jesus but they must be prayerful.
Leave Comments