Baba Alao, Mother Ajayi seek unity amongst C & S churches … "I will accept invites from only Unification churches", Ajayi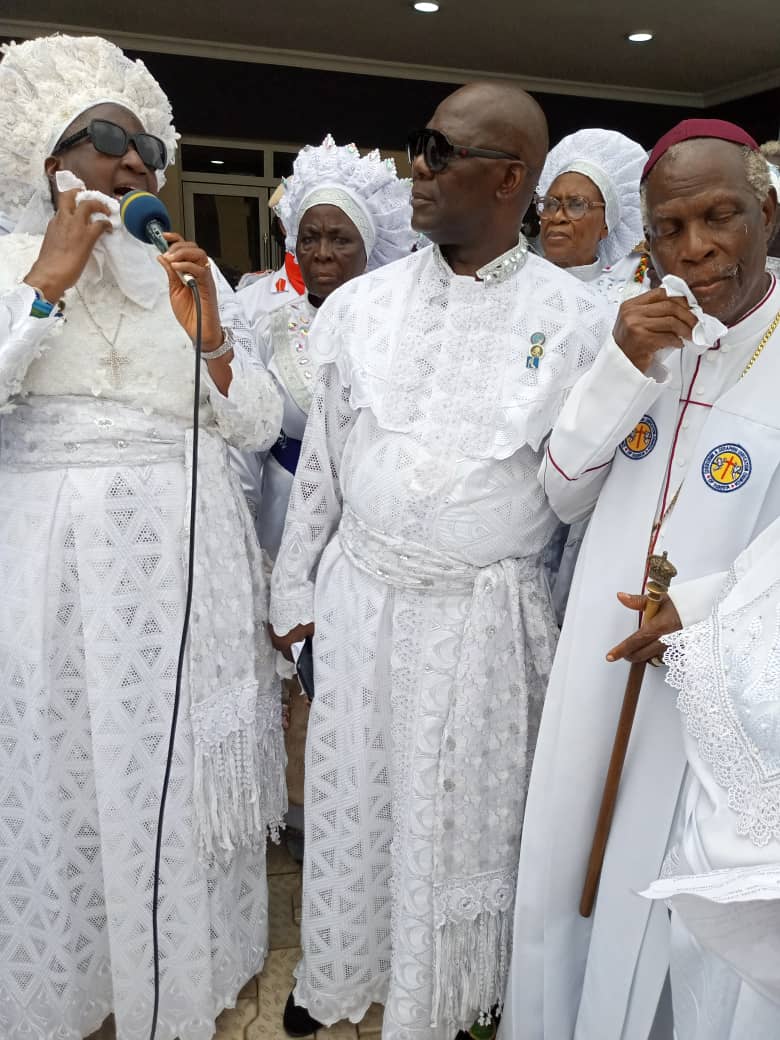 An indivisible C & S members is a prerequisite for growth and development that will make the church relevant in the comity of Christians in the world.
A statement by the Chief PRO of the church, Ap. Muyiwa Adeyemi said, this was the fulcrum of the comments by leaders that spoke at the commissioning of the ultra modern national secretariat of the church and Women Development Centre at Seraphim Land, Kilometer 40, Lagos/Ibadan Expressway, Ogun State, last weekend.
Inaugurating the projects, the highly elated Supreme Head of the Church, Dr, Prophet Solomon Adegboyega Alao,bwho congratulated all Seraphs for the projects, said the coming together of all the C & S Churches should be a major concern for everybody for greater things to happen.
He particularly thanked Rev. Mother Esther Abimbola Ajayi for her unflinching support and promotion of unity among all churches and members in the unification.
He also thanked her for donating the buildings to the church and her interest in the development of female members which made her to build the Women Development Centre for the purpose of empowering the women.
Speaking at the event Mother Ajayi who urged all C & S Churches that have not joined the Unification to do so, declared that she would henceforth accept only invites from churches under Unification.
The world renowned Evangelist and Philanthropist said, "I belong only to the Unification and I see no reason why any C & S church should not be under the control and authority of the Unification.
"For me, I will only accept invites from churches under the Unification. Whenever I received any invitation card, I will ask my people to check the church name in the Unification list and assert its financial commitment and other contributions to the various organs of the Unification.
"If the church is not in the list, I will not accept the invitation. If we all come together the world, especially the politicians will take us serious. Few churches that are misbehaving are not in the Unification and we must encourage them to join.
The Chairman of the National Executive Council, Superintendent Apostle E. A. Owomoyela said it was the dream of the Unification to have a Secretariat since 1996 when the church moved in to the site and thanked Mother Ajayi for donating the buildings.
The centre was named, Rev. Mother Esther Abimbola Ajayi Women Development Centre.
While thanking the church for naming the centre after her, she however, urged the leadership to imprint the names of everybody that have contributed to the development of the Seraphim Land on a plaque.
Leave Comments