All set to celebrate 89th Orimolade remembrance anniversary October 18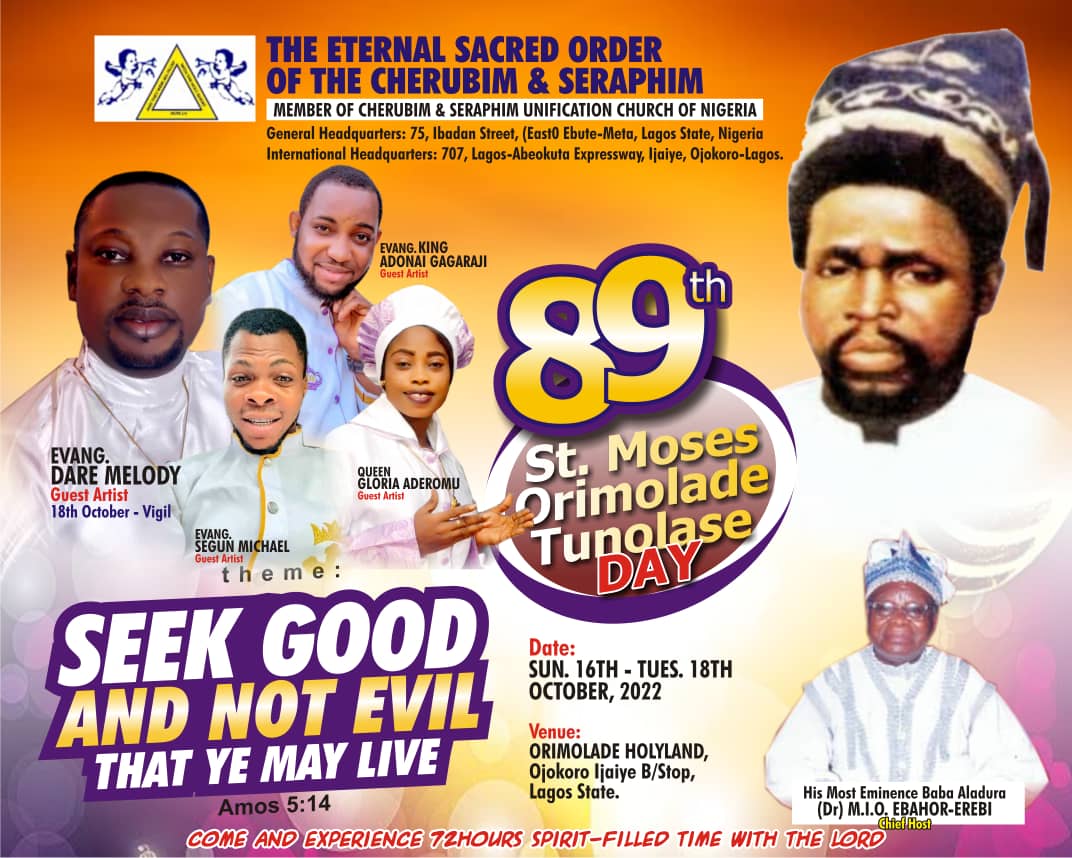 The 2022 annual remembrance anniversary of the founder of the Cherubim & Seraphim worldwide, St Moses Orimolade Tunolase will hold on Tuesday October 18, this year.
The 3-day spiritual service being organised by The Eternal Sacred Order of The Cherubim & Seraphim will begin on Sunday October 16 with revivals by the League of Prophets and Prophets at the Ultra Modern International Headquarters of the church located at Ojokoro , Ijaiye Bus Stop, Lagos-Abeokuta road, the burial site of the greatest Prophet from Africa.
The 72-hour spiritual programme with the theme: Seek God and not evil, that ye may live (Amos 5:14) will attract Seraphs from all over the continents of the world.
The Tuesday October 18 service will feature Youth programme where many gospel artistes will perform and pay tributes to the founding father of the church and proper remembrance service begins by midnight.
The chairman of the Planning Committee and The Eternal Conference Board Leader, Supt Gen. Apostle Isaac A. Adekunle said adequate arrangement has been made to ensure that thousands of Seraphs who will attend the programme are blessed and protected.
It will be recalled that Baba Orimolade left 75 Ebute Metta, in October 1933 and headed for Ojokoro where he joined the Saint Triumphant at exactly 3. am on October 19, and his remains was committed to the Mother Earth.
Since then The Eternal Sacred Order of The C & S, which he registered in 1925 has been holding the remembrance service, which has become one of the major events of the church.
The head of The Eternal, His Eminence, Baba Aladura M. I. O. Ebahor-Erebi Jp will lead other elders, including Vice Baba Aladura Noel E. K. Cuthon (Benin Republic), Vice Baba Aladura David O. Ojo and Vice Baba Aladura J. O. A Oladapo to thank God for the life and times of Baba Orimolade and pray for all Seraphs in the world.
Leave Comments