A C&S led foundation supports Ikorodu orphans with library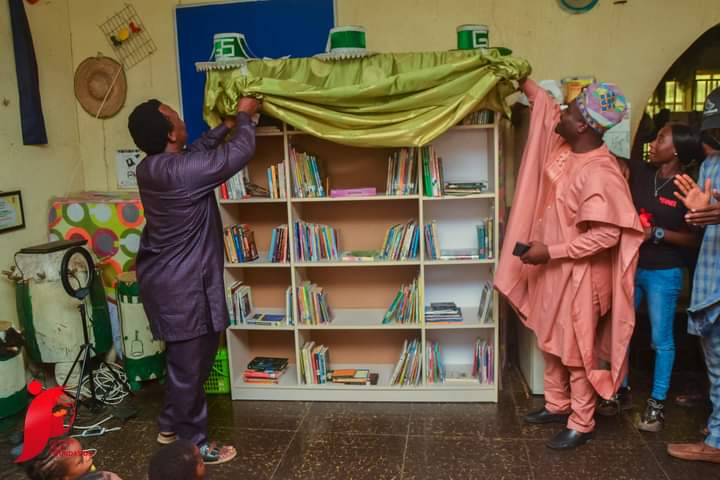 To address issues of out of school children on Lagos streets, the Penner Paul Foundation (PPF) has donated a library to orphans in the Ikorodu community
The pioneer, Mr. Bimbo Fajekmirokun, while commissioning the project at Gifted Steppers Homes expressed optimism that it would encourage and improve the reading culture of the children while urging the children to be the best in their endeavors.
"We lack knowledge and we are under utilising the knowledge we are meant to have. The Penner Paul foundation in our own little way is trying to give the children knowledge. Knowledge is the foundation of success in life. I am happy to have associated myself with this foundation. We are not only going to give knowledge with our library donation of a book. I want a situation where there would be an e-library for the children. Anywhere you get to in life I want you to be the best. We are going to support you," he said.
Team Lead, Penner Paul Foundation, Adedoyin Paul appealed to the children and youths to embrace education and desist from taking hard drugs that could destroy their lives while calling on well-meaning Nigerians to invest in education of the people.
"I am the happiest person on earth because everything happened beyond my imagination. God has been so faithful and one of my dreams is to enhance the quality of education in Nigeria. Education is one of the tools that can determine how far one will go in life.
"This essence of this library is to help children with accurate information that can transform their lives. Gifted Steppers is a home that I love so much. They focus on Art and I felt that it shouldn't just be Art alone but it should be an Act of education regardless of their current situation," she said.
Speaking on challenges of the Home, the founder, Ihuoma Harrison, said the children feed once a day and have also been given notice from the rented apartment.
[a]d
She said: "Feeding has been difficult with the way prices of food items have gone up. Feeding twice a day is a miracle for us. We eat once a day sometimes, when they go to school and come back there is nothing to eat and this hurts me."
Gifted Steppers is an art foundation with 40 children, which uses art to reach out to the less privileged children and homeless kids.
Leave Comments