Operation 7 - 7 To Go Live On Seraph Media Platforms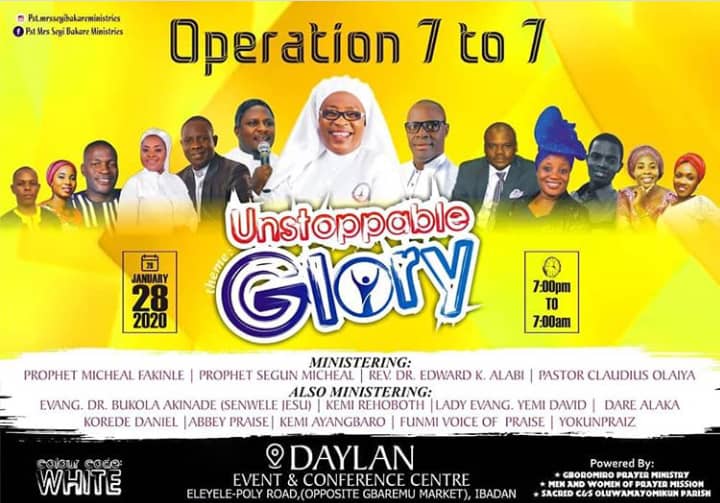 As the much anticipated Operation 7 to 7 annual crusade inches close, plans have been concluded to feature it live on Seraph media platforms in the Cherubim and Seraphim fold.
The programme with the theme: "Unstoppable Glory" is slated for Tuesday, 28th of January at Daylan Events and Conference Center, opposite Gbaremu Market, Poly/Eleyele Expressway, Ibadan, Oyo state.
The development came on the heels of ensuring that a sizeable number of persons do not miss out on the program, apparently due to distance barrier.
The platforms to live stream the programme on their Facebook pages include: Ijo Kerubu Serafu, Seraph Stories, Acts of Seraphs, Seraph Events, and 24hrs C&S/CCC Updates.
The program which is powered by the trio of Gboromiro Prayer Ministry, Men and Women of Prayer Mission, and Sacred C&S Oluwamayomikun parish will commence by 7pm through 7am.
It will be recalled that the convener, Pastor (Mrs) Oluwaseyi Bakare, revealed that series of divine impartation will be evident at the gathering much more than what had been witnessed in the past.
Leave Comments