The New Seraph To Host Annual Night of Divine Experience (NODE. 4.0)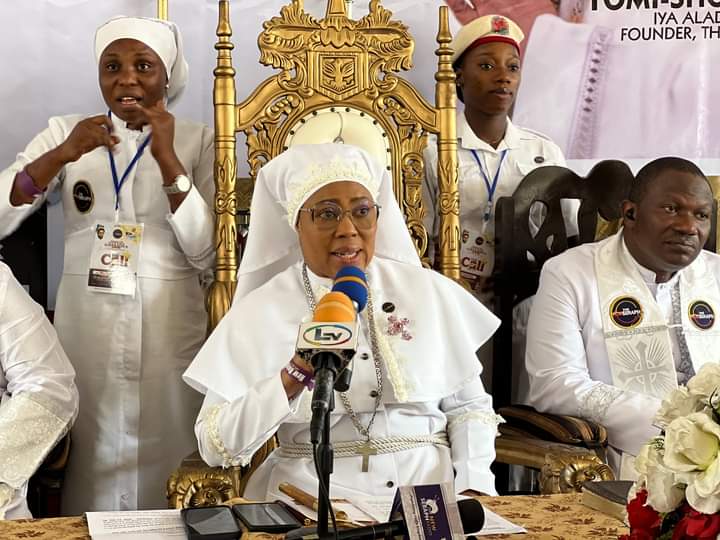 The New Seraph is set to host the fourth edition of her annual Night of Divine Experience at The New Seraph Prayer City - Klm 60, Lagos/Ibadan Express Way, By Sapade Overhead Bridge, Ode Remo, Ogun State. Sapade, Ode Remo, Ogun state.
The 3 days programme is scheduled to commence on the 17th of August with it's 
grand finale holding on Friday, 19th August 2022 from 6.00 PM TILL DAWN.
The Night of Divine Experience is a gathering of Seraphs and Non-Seraphs for fervent prayers and the undiluted word of God. The programme has recorded bountiful testimonies and a great turnout from all over the world.
The theme of this year's programme is "THE CALL", as taken from the book of  Genesis 3:9.
The founder of the New Seraph, Her Grace Dr.(Mrs) Oluseye Yomi Sholoye, while speaking at the press conference to usher in the event, said evangelism is at the core of the conference.
"The major focus of the New Seraph is soul winning and populating God's Kingdom, the Lord has placed it in our heart again this year to reach out, hence we are here to intimate you that we shall be hosting this year's NIGHT OF DIVINE EXPERIENCE - NODE 4.0 (The 4th Impression)", she said.
Speaking on the programme, she said that  "starting from Wednesday, 17th August 2022 - NODE 4.0 will kickstart with prayers, seminars and impactful sessions from morning through afternoon till evening and all night.
Day two which is on Thursday, 18th August 2022 will also be power packed as we shall be hosting our debut Musical Competition for Singers, Bands and Choirs."
"Let me inform you that the first two days - 17th and 18th August - Wednesday and Thursday Respectively, there shall be avenue for Prayers and Counselling, so anyone who desires to have Guidance in Prayer can visit for hourly prayers as anchored by various arms and units of The New Seraph - TNS PRAYER WARRIORS, TNS ARONITES, etc", she added.
This year's programme has been fully packaged in a way to accommodate nothing less than 400,000. Having in mind that we are converging in such magnitude, we have put into serious consideration  precautionary measures in line with the government directives for safety of all attendees.
Ministering at the event are Prophet Sam Ojo Authority, Prophet Cherub Obadare, Laolu Gbenjo, Bidemi Olaoba, Ewa Kristi and a host of other anointed Ministers of God.
However, on transportation, she stated that, "As a way of ensuring many people across board partake in God's goodness through this year's Night of Divine Experience, we have made provisions for over 200 BRT Buses across Lagos state and Thousands of Buses for Interstate Transit, ALL FOR FREE. These buses are to convey attendees to and fro the Vigil Venue. 
Once the bus list is published, attendees are advised to locate any nearby bus assigned to their locations.
Also, Provisions have been made for believers all over the world to connect and stream the programme LIVE via The New Seraph Facebook page, YouTube Channel or via any of the following Seraph Platforms:   Ijo Kerubu Serafu, Acts of Seraphs, Proudly Seraph News, Seraph Stories,Seraph Television, Balm of Gilead Media.
As we all know Nigeria is preparing for another history making electoral outing in 2023, let's join hands together in raising God's Call for everyone of us to start getting it right; let's begin to live aright, and move closer to Him regardless, she iterated.
Leave Comments