TAMPAN to sanction members over misuse of white garment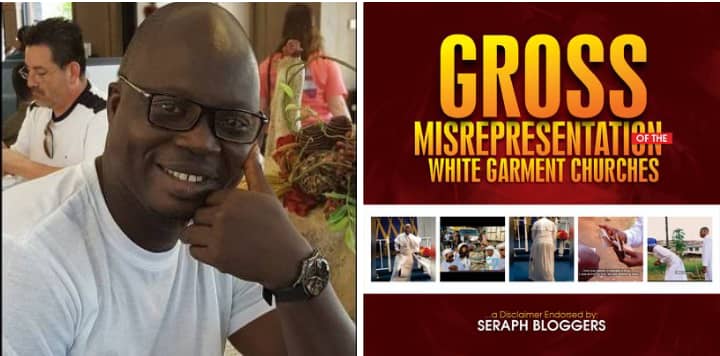 *Theater Arts and Motion Picture Producers Association of Nigeria (TAMPAN) says it won't hesitate to sanction members who portray the white garment churches in bad light.
President of the association, Otunba Bolaji Amusan, better known as "Mr. Latin" made this known following an inquiry by Seraph Bloggers.
The media group penultimate week frowned at the habitual misuse of white garment by Nigerian entertainers. In what was contained in a release titled: "Gross Misrepresentation Of The White Garment Churches", the group says it won't cease to contribute its quota in checkmating the ugly trend.
While calling his attention to a music video making the rounds which featured a member of the association who donned a white garment with questionable dance steps, Amusan claimed he was unaware of the video.
"I have not seen or heard of the video. But if any of our member paints the church in bad light, report the person to us and we sanction such member, tell him or her to apologize and do what is necessary. That is why we are here", he stated.
He, however, clarified that some actions are beyond the purview of TAMPAN, with specific reference to music videos and skit makers.
He said, "Anybody can call an actor to a production and the actor will play his role according to the script. So if you have any issue with production, it will be the owner. For example someone called me to play the role of one who smokes and drink, I will be there as an actor and play the role as it is written in the script. So if there is an issue, you won't blame me as an actor but the producer on why he produced such video. That is not to say that the actor does not have his or her own share of the blame. But the blame of the actor carries over 20 percent while the producer bears the remaining.
Mr. Latin therefore suggested that the church leadership make a formal complaint to the association in such regard, so that necessary steps can be made afterwards.
"What I would advise the spiritual head of the Cherubim and Seraphim Church to do is to officially report to us about their reservation for how the church is being portrayed in our movies. Then we talk to our members. We cannot react on hearsay or phonecalls. We are an organization with over 50,000 members, and we act on documents. So without any document backing it up, there's little we can do. Will I tell my members that someone called me on phone to make complaints about a particular issue?" He stated.
Reacting to the demand for an official complaint, the Chief PRO of C&S Unification Church of Nigeria, Supt. Apostle Muyiwa Adeyemi, says the fold may not have to do that to correct such anomaly.
He said a time would come when there would be a roundtable discussion between the church leadership and stakeholders in Nollywood to review the latter's activities.
He said, "It might not be necessary for us to write as a church, but at the appropriate time, there will be a meeting point where all of us would sit down at a round table to review their work. So I think Mr. Latin should be expecting that day when we would sit down to review their works to see if they are fair to the church or not. By then all of us will speak at the level of conviction."
Elder Adeyemi also stated that those portraying the white garment churches in bad light are only exhibiting their level of ignorance which is not a reflection of the essence and doctrine of the church.
According to him, what is being depicted of the Cherubim and Seraphim Church is not a reflection of the present moment.
He said, "It is wrong to skew your script towards deriding a particular church. It is true that drama must mirror the society, but it must be done in a balanced way, and not towards running down a particular body and exalting another one when there is no basis to do that. There is no church that is populated by angels."
He added: "I am not saying you should not see anything that is wrong in us, but you must also see the good side of us. As a church we are not harboring anybody that is doing evil. Even we are always ready to help the police in fishing out bad eggs amongst us. What I'm saying in essence is that we are not covering anything satanic or unbiblical. When you mirror what is bad in us, please mirror what is good in us for the sake of balancing."
*©Seraph Bloggers*
Leave Comments