​​​​​​​Seraphstories Unveils Seraph Mobile, An all-in-one Mobile app for C&S Members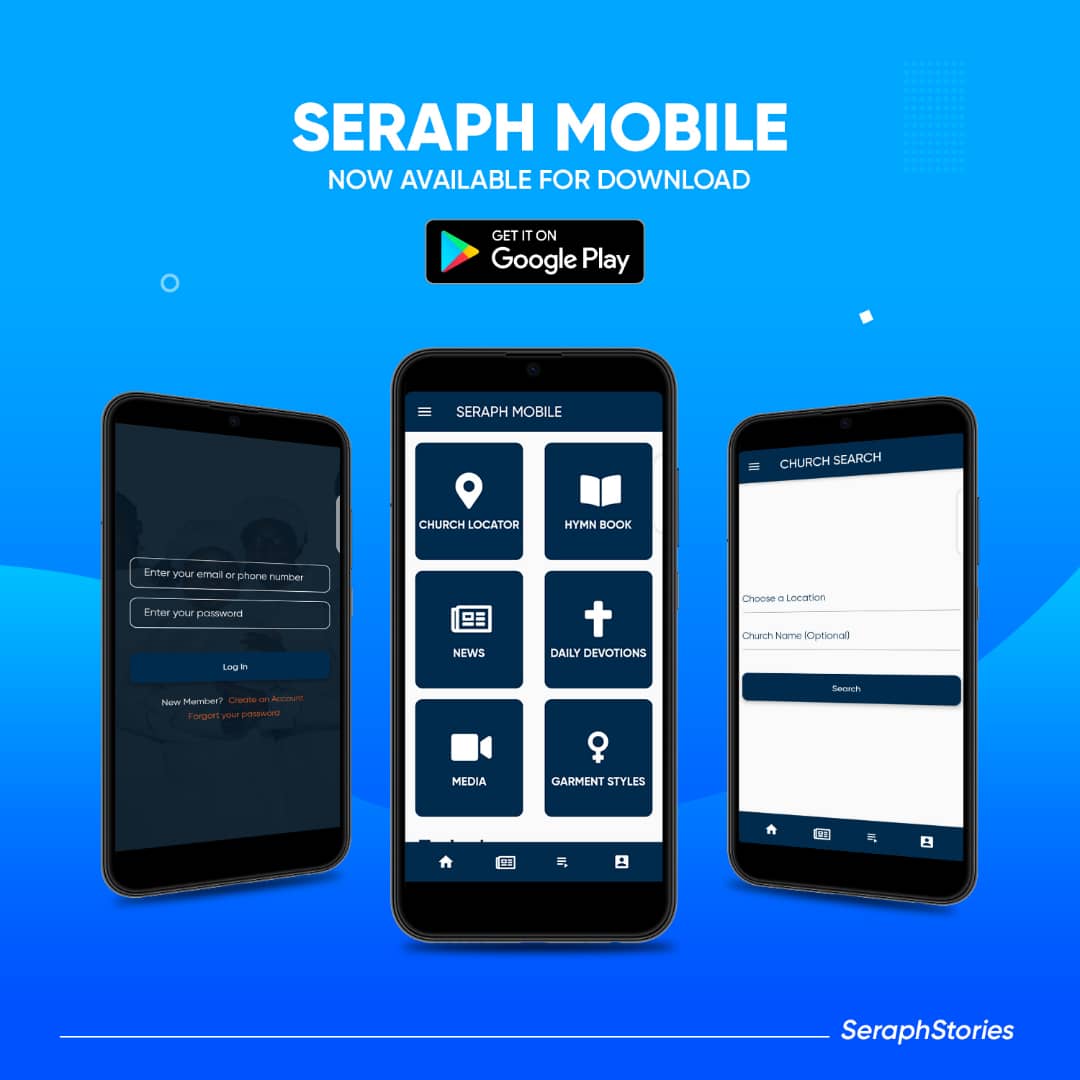 Lagos, Nigeria- February 05, 2021- Seraphstories Media, today, released their first mobile application, "Seraph Mobile" designed for all members of the Cherubim and Seraphim (C&S) Church. Seraph Mobile is a well-rounded app that caters for and proffers accurate solutions to challenges facing members of the fold in the 21st century.
The app encompasses a church locator, which helps Seraphs, across the country, easily discover C&S Churches around them. With Seraph Mobile, say goodbye to days of sitting at home because you are in a new environment and don't wish to worship anywhere other than a C&S Church.
Users also have access to C&S complete hymn book in both Yoruba and English languages with just a single tap.
In addition, the app helps users stay updated with trending C&S news and stories.
Speaking on the drive behind the birth of the app, Team Lead of Seraphstories, Bolaji Olasupo said, "As a team, we believe strongly in our vision, and to make sure the church is abreast at all times. In times like this, the need for innovation and creativity is highly needed for the church to stand out in the global world. Thus, one of the reasons we came up with the app is our belief in a data-driven community that serves as foresight for us to own the future we pray for".
Seraph mobile also delivers daily devotions, and exhortations (media; videos, and audios messages). Users also get a luxury of stylish white garment styles to chose from for all church programmes and events.
"We discovered people find it difficult to locate C&S churches around their communities. In addition, due to requests for locations and a number of members reaching out to us for addresses of different churches, we came up with the church locator. We are aware that the spiritual growth of our members is expedient, and can't be set aside, thus, we added daily devotions, as well as, garment styles for the Fashion stylists", Olasupo added.
Seraph Mobile is available on android and iOS versions, however, while the former is now available on play store and the iOS version will be released based on request.
Hinting that this might just be the beginning of greater things, Olasupo said "We believe revelations are progressive and as the Lord reveals to us we keep giving our best to making an impact globally while also expanding the kingdom of God".
About Seraphstories
Seraphstories is the mouthpiece for Cherubim and Seraphim Church Worldwide. The media outfit cover events and programmes, in addition to sharing interesting stories, factual news articles, and inspirational messages about the fold.
For support, feedback, and enquiries
Kindly call,
Dele: +2348167472084
Elijah: +234948843818
Email: seraphstories@gmail.com
Leave Comments