My mother had a great influence on me... As a legal Adviser to the church, I have always used the mediation approach - Supt.Gen.Apostle Wale Taiwo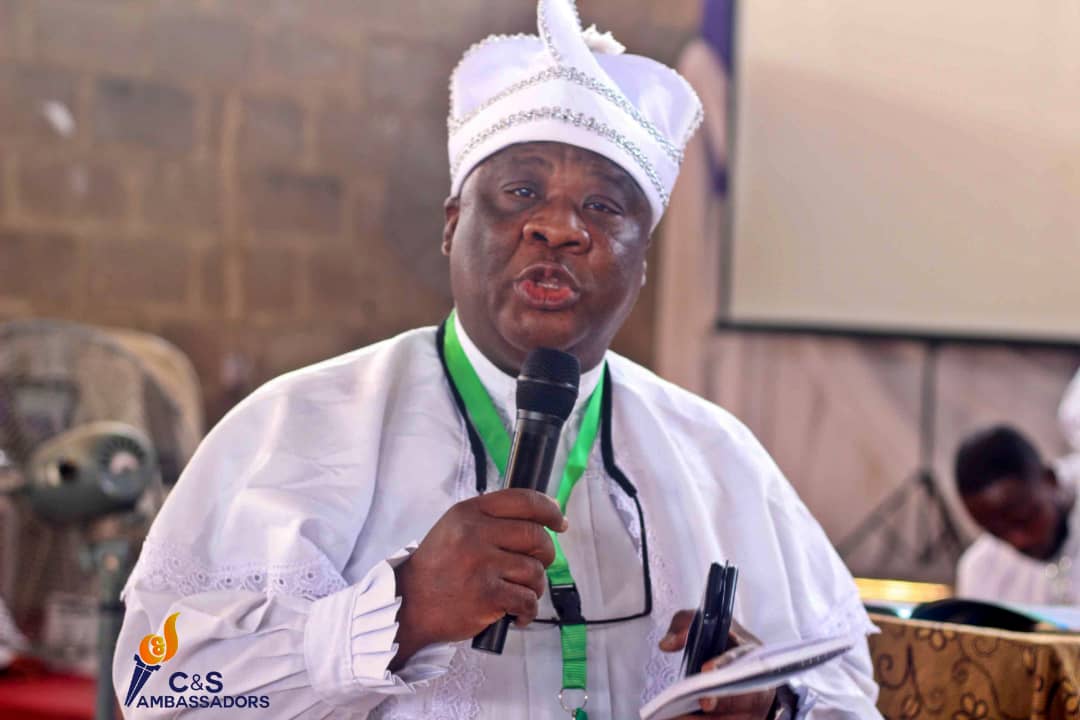 Superintendent General Apostle Samuel Olubowale Taiwo, the chief legal adviser of the Cherubim and Seraphim Unification of Nigeria and, who also doubles as the Elder in Charge of the Eternal Sacred Order of the Cherubim and Seraphim Church, "Hope of Everlasting Glory Church", Akoka, Yaba branch. In an Interview with Oluyemi Oluseyi and Bolaji Olasupo in commemoration of his 60th birthday.
Can we meet you, sir?
I am Superintendent General Apostle Samuel Olubowale Taiwo. A Senior Advocate of Nigeria and a fellow of the Chartered Institute of Arbitrators. I was born into the Cherubim and Seraphim Church about 60years ago and I am still a prominent member of the church. Presently, I'm the Elder in Charge of The Eternal Sacred Order of the Cherubim and Seraphim Church, Hope of Everlasting Glory Church, Akoka, Yaba branch. 
Celebrating your 60th birthday on Saturday 6th June 2020, can you tell us how you feel and your fulfilment in life?
I feel very happy that I clocked 60years on Saturday, 6th of June 2020, to the glory of God. When I look back, I see a lot of things that have happened to people that we were born together, some that we schooled together who are no more today or somewhere along the line that has fallen in terms of academic fulfilment and all other things that can make one fulfilled in life. It's not by my power nor might, I thank the God of our father, Saint Moses Orimolade Tunolase that has always been with me. I feel fulfilled, to the glory of God, I'm in good health and the family is doing well. I have no cause to complain at all. I give God all the glory.
Take us through your career journey and other captivating moments of your life sir.
Like every other child, I started my primary education in Lagos, thereafter, I attended Anglican Grammar School, Igbaroke in Ondo state for my secondary education. I continued my education after I came back to Lagos in Baptist academy Yaba, Obanikoro, where I did my HSC between the years 1979 and 1981. In 1981 after my A' level, I gained admission into the University of Lagos to study law which had always been my dream course, I finished there in 1984  and proceeded to the Nigerian law school in Victoria Island where I got my barrister at  Law for the professional calling and I was called to the bar in 1985. In 1988/89, I left again to do my masters at the same university with outstanding results. So, I have a first degree in law, LLB, LLM, and thereafter I proceeded to serve my tutelage in a chamber called Adesanya Adesanya, unity house in Marina, Lagos. I was there from 1985 to 1988. I worked briefly with the Okada group of companies as a legal adviser. I left there in 1991 to start my chamber. Within that period, it was very difficult for me as a Legal Practitioner. We had to do a lot of cases over the length and breadth of Nigeria.  In 2000, I decided to apply for the position of senior advocate of Nigeria and I moved my office to Laban House in Lagos Island. in two years that I got there, the whole place went in flames so I had to start all over and that was what delayed my application for the Senior Advocate of Nigeria. I had to start all over again and I could not get all that was necessary for me to start applying again together until the year 2012. I applied 6 to 7times before I became the senior advocate of Nigeria in 2018. Last year, I was conferred as a fellow of the Chartered Institute of Arbitrators.
How were you able to manage yourself during the period you lost all?
Well, my bible taught me that I shouldn't lose hope, everything that happens to a man is ordained, no leaf falls without God knowing about it. So I regained my loss within a very short period because God restored everything miraculously.

As an Elder in Charge and a Seraph, how have you been able to handle your exploit, putting the church into consideration?
Well, as I said before, I was born in the C&S church and I've always been part and parcel of the church. I have seen a lot of God's manifestation and direction in my life in the church. The influence of my mother who was the Mother Seraph(Iyalode Serafu) before she died. She had a lot of influence on me. Although, there were occasions when people came to me from other churches to woo me to come to their midst and I'll ask them if there's anything I ask from God of Orimolade that he doesn't do for me. God has always answered my prayers in the church and there is nothing I desire that God has not done for me.
As an Elder in Charge, I never planned to be an elder of my church, it was providence that threw the challenge to me. My late mother was the cofounder of the branch I'm presiding now (Iyalode Serafu Dorcas Ajike Taiwo) together with late Supt Gen. Ap. Popoola Makinde, both of blessed memory. Over time, they were progressive enough to know that they will not live forever and they needed to groom other people. Whenever there was a need to anoint, Baba would give me the oil to do it. I didn't know they were already planning a coup at that time. There were so many things baba would put me in charge when he was alive. In my little way, I tried as much as possible to be innovative in the growth and building of the church from scratch. God used me so well, perhaps that was the reason why they taught they needed a progressive leader.
Combining the leadership of a church along with my job is no child's play but God has been very faithful. I have many diligent and committed lieutenants who ensure that whenever I'm absent, they take charge. There are so many challenges but the little we have God has been good enough to make us surmount the challenges, we give God all the glory.
As the legal adviser to the C&S Unification Church of Nigeria, how were you able to manage crisis and different matters arising in the church. 
My election as the legal adviser of the church coincided with the period I was battling with my application for the Senior Advocate of Nigeria. It wasn't easy for me at all combining those challenges. Nevertheless, I tried my best. I observed that there was no system in place in terms of effective management of the cases that we had in court, then I streamlined the processes and identified all the cases, I took them over and virtually did what I could.
More importantly,  My approach has always been to use mediation by trying to soften the nerves of those who are the contenders in this crisis. However, when it comes to going to court in making sure that it's possible for us to resolve an issue through mediation and if it was necessary for us to go to court, we take the bold step and to the glory of God we've recorded a great amount of success in many of the matters both at the high court and court of appeal. Regarding the constituent churches, they have their legal system and legal adviser, I don't poke my nose into what happens to the constituent churches. 
Also as a legal adviser of the T.E.S.O constituent church. What is the update on the resettlement scheme of ESOCS and TESO?
The truth is, these crises have been there even before independence, nonetheless,  I became quite involved in the crisis sometime in 1985 after I became a lawyer together with a very virile woman lawyer from Hotonu church late sis Folako. We took up the gauntlet in making sure we solved the problems. I was encouraged by people's comments that God had raised me at a specific time for the crisis of Mount Zion to be resolved. On the other hand, as much as we tried to make sure that we wilder through the crisis, somewhere along the line, some people felt that they had more knowledge that could solve the problem more efficiently than we could that we ended up compounding the problems and that is the problem we are still in today. 
 Mediation is the best solution to resolve cases getting to family or churches. Thank God shortly before the passage of  Late Deputy Baba Aladura Adewunmi he took up the gauntlet to start another round of negotiation to reconcile the factions in eternal. He took the step, he went to Hotonu Mother Church and had a meeting, unfortunately, the other side was supposed to come to the Mount Zion church at the 75, Ibadan street, Ebute Metta to have the meeting for streamlining the talk but unfortunately, he fell ill thereafter and passed on. I am aware that new initiative has been set in motion for resolving the imperil that has bedeviled the church for so many years and I pray that the Lord Almighty, the God of our father Saint Moses Orimolade Tunolase will minister to each and everyone that they will be able to resolve the misunderstanding in a short time and the body of Christ can be one rather than being personalized. 
Can all C&S churches come together under the body of the C&S Unification of Nigeria? Give Reasons sir.
I believe that the body of Christ can come together through the willingness on the part of everyone who wants to become "Baba Aladura" to sacrifice it for the overall benefit of the church. If everybody can realize that whatever they are doing is not personal and that they are doing it to propagate the church of God so much so that when they remove their interest and the material benefits they are going to derive, I don't see any reason C&S Church cannot be one. "Divided we fall, united we stand". If we are all united under one umbrella, we'll be competing with these Pentecostal churches, then we'll probably be the largest church in Nigeria. But with the fragmentation we have here and there, I don't think that it's the best. I'm very optimistic that we can all come together but there has to be selflessness, people holding on to titles should set that aside and focus on sacrificing their interest in the overall interest of the church.
What can you say about the youth of our generation and a word of advice for them?
Well, the key thing I'll tell anyone of them because the general saying is that youths are the leaders of tomorrow but the question is what is the preparation these youths are taking for the assumption of leadership tomorrow? First things first, you need to seek knowledge as well as wisdom. If you're going to be a leader you must have the knowledge, otherwise, it will be the case of a blind leading the blind. When you have a good education, good knowledge, not forgetting wisdom then you have everything. People who want to follow you will need to know how intelligent you are. This marks the importance of adequate preparation by the youths hence the need to equip themselves all over the world. People would be willing to follow a leader if they see that you can add value to their lives. Apart from that, the elders must also know that we are in the jet age and technologically, they must be able to allow the younger ones to take the leadership of the church, as it doesn't mean that they have done a coup. They have to give the youth the chance to contribute to the betterment and growth of the church. As I told you before, the founding fathers of my church in their lifetime projected and saw ahead and instituted the leadership quality in me and pushed me forward. They didn't say they must be the ones that will continue to do everything, rather, they empowered me so much so that it became easy for me to assume the leadership of the church after their demise. The Lord has taken the church from glory to glory improving the church materially and spiritually. Apart from the elders giving the youths a chance, they must be able to show that they are capable of taking the church to a greater unit.
A word of admonition for the church.
Like what I have been saying for the umpteenth time, the church has a glorious future if everybody agrees to play their parts well in terms of making sure that we withdraw our interest and focus on the mist germane and sacrosanct interest of the church. The elders should keep in mind that they will not be here forever. They should drop the quest for position and leadership of the church. Notwithstanding, the youth of this generation should also try as much as possible to equip themselves for a better tomorrow. Most people believe that anybody belonging to a white garment church is an illiterate. The C&S church needs to be rebranded, let people see what we are doing. Some of our practices and Liturgies have to be looked into. I believe that we all should start promoting the church. The C&S church shouldn't be seen as a tribal church where the only recognized Language is the Yoruba language. We should try as much as possible to permit other languages with reference on English Language. Church services should be conducted in English and other languages so that the C&S church will not be further stigmatized as a Yoruba tribal church.
Leave Comments