I was always very scared of the microphone until I found myself musically - GOSpel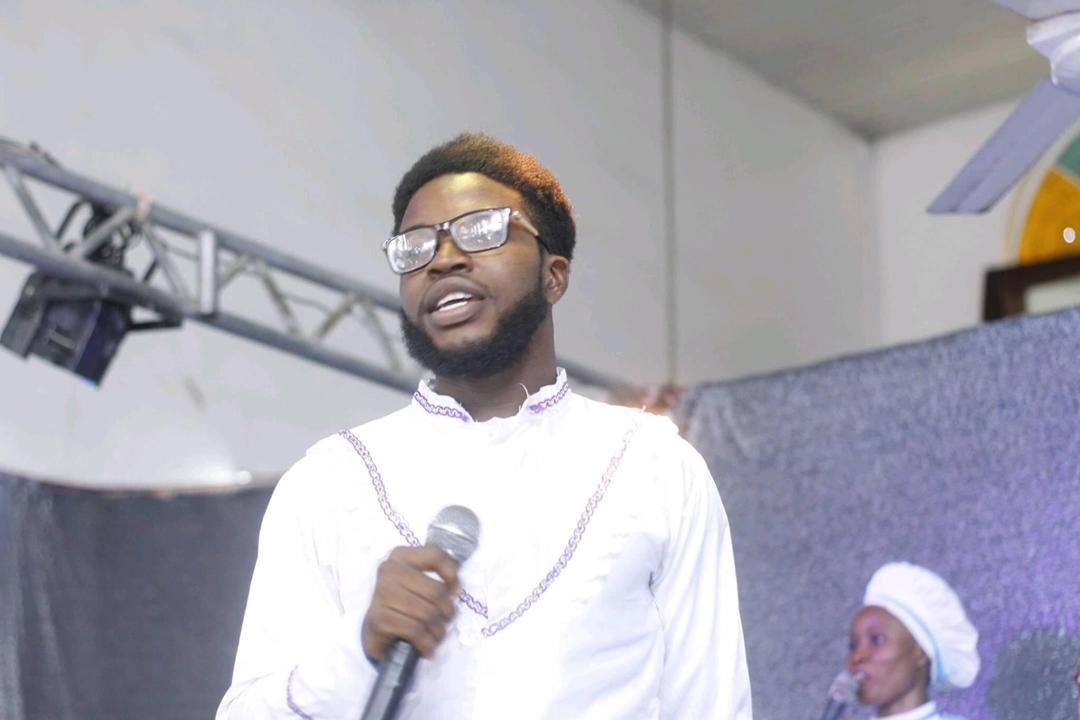 Seraph Stories' series, Seraph Minstrel is dedicated to introducing, showcasing, and sharing stories of C&S gospel artistes all over the globe. In this edition, George Oluwafemi Sunday shares his musical journey and prospect with our correspondent, Gideon Akog.
So can we meet you, sir?
My name is George Oluwafemi Sunday, With stage name GOSpel, I'm from Delta State, I was born on the 21st of March 
 Tell us the story behind your name, 'Gospel'?
It's actually GOSpel sir, not the gospel. It's a combination of the kind of music am called to do, and my name, My name is George Oluwafemi Sunday (GOS) and gospel music is what I do so the first letters of my name are the GOS... that births GOSpel
What is the mission of your music and your source of inspiration in terms of your composition and mínistration?
The mission of my music is to spread the gospel of Christ, tell people of His Second Coming and at the same time comfort them during the course of their Christian journey, My source of inspiration is God. There are a lot of difficult situations, tests, and trials that we all face as young Christians trying to hold up our faith. When I see what a lot of people go through, just because they don't want to compromise their faith, am always inspired, to encourage them.
Basically, for my stage performance, am inspired when I see youths gather because of their love for Christ and not just for the fun of gathering, All I try to do is keep reminding them through songs and hymns that there is a God that never fails and answers prayers even in the most seemingly impossible situations.
Tell us about your musical career, how you got started, and the journey so far?
 When I was very much younger, I was always VERY scared of the microphone. A lot of people who listen when I sing always tell me to join the choir, but I didn't take it seriously, I felt I didn't have what it takes. As the years went by, after many musical activities with my friends in secondary school, I began to get more confident and finally joined the choir fully when I finished my secondary education. Actually, since then, I began to find myself musically, but the continuous involvement in musical activities coupled with the determination to be better by the day caused me to make notable progress; thanks to my music directors and mentors in the choir, they still mentor me though and am forever grateful. 
Now that I have found my voice, I am just trying to get better at what I do, I started the Brand GOSpel officially in March 2017 and since then, God has been faithful, With countless ministrations and invites to major programs through the years. I was inspired to release a track titled FEAR NOT last year November produced by Kent Edunjobi in line with my music mission and God has used it to blessed a lot of people. Another precious sound is on the way and I can't wait for the world to hear it and Worship the Almighty God
As a gospel artiste, who do you look forward to collaborating with?
 In Nigeria Right now, I would love to really work with Kenny Kore; he inspires me a lot with his vast knowledge of the word of God. I would also love to work with Nathaniel Bassey and Tim Godfrey, for international acts I love to work with Tye Tribbett and Travis Greene, Someone I also have a deep respect for and would definitely love to collaborate with is Dunsin Oyekan, In the C&S fold, I would love to work with Tolu Akande.
 What inspired the single  "Fear Not"?
The lyrics of "Fear Not" are really deep. It was birthed from a place of pain , passion and complete trust in God that He can do all things even in the midst of whatever we are going through. You know part of my music mission is to comfort people even when they face tribulations while trying to hold on to their faith, and so FEAR NOT gives CALM , in the midst of the storm. Fear Not Is a Sound of Joy.
Did your church(C&S) have any impact on you fulfilling this height you've attained?
Definitely yes, and a big one at that, The church gave me the platform; I am nowhere yet, and so the church is giving me the platform and support that I need. Imagine if I was not a Seraph; a proud one at that, this interview won't have been possible in the first place.
Tell us your plan for C&S church?
God's plan is the greatest, and His plan is that we reign with Him forever in the heavens! Having said that, we are the light of the world, and my plan is to shine that light and radiate it to all parts of the entire C&S church that needs to be lighted up! I want to be a light that shines and gives light — it's a prayer. The light that shineth in darkness.
Where do you see yourself in five years? 
I see myself where God Really wants me to be, and it's going to be greater than I can ever imagine! Trust me. 
What is your advice for teenagers who aspire to be like you?
My advice is that they should be themselves and always put God first.
Leave Comments