I Sing In The Spirit Because I Have The Revelation Of Whom I'm Singing To - Israel Classic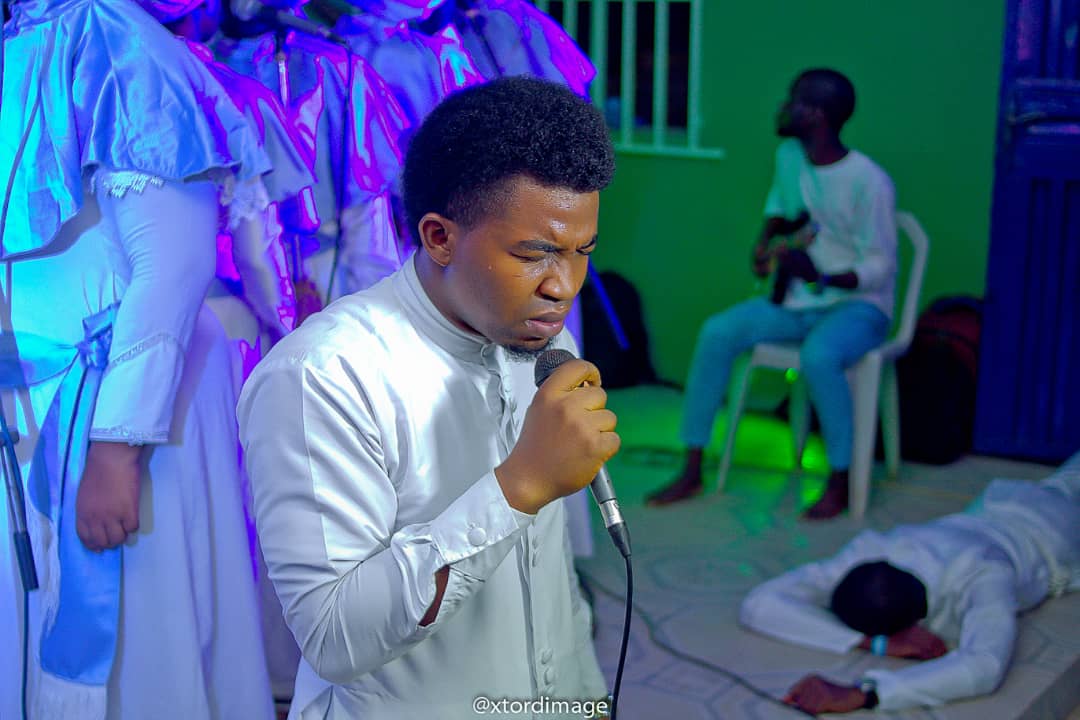 ODUFOWOKAN DAMILOLA ISRAEL popularly known as ISRAEL CLASSIC is the  convener of the  Dynamic Worshipppers Ministry who recently held an event tagged Night of Hymns and Sacred Songs and was part of the six gospel artistes of grand finale at the mini concert. In an interview session with our correspondent Gideon Akog, He shared his creative process and musical career prospects. 
SS: Can we meet you sir?
Israel Classic: I am ODUFOWOKAN DAMILOLA ISRAEL, a native of Ogun state. I was born on the 21st of May. My brand name is ISRAEL CLASSIC, Israel Classic is a music minstrel, a devoted Christian, a profound worshipper, a songwriter and a producer.
SS: How did you come about the name Israel classic?
Israel Classic: I was at secondary school when I started falling in love with R&B genre of music and Classical. My friends began to notice my love for Classical and Soul music and they started calling me CLASSICAL. Hence, when I got to the higher institution, I began to use the name ISRAEL CLASSIC.
SS: Did you grow up loving music and If you weren't into music what will you be doing?
Israel Classic: Yes I grew up loving music and if I wasn't into music I will do music.
SS: Did you by any chance study music in the university?
Israel Classic: I did not, but I moved with a lot of musicologists
SS: So how did you start your musical career?
Israel Classic: Well, I started my musical career while I was in secondary school.  I have siblings who sing and my parents are lovers of music. I found myself singing from primary school but I got established when I got to secondary school, then I started with secular music. I later switched to gospel by the instructions of the Holy Spirit when I got into higher institution and that was how God started His wonders through me.
SS: What is your creative process like?
Israel Classic: Sounds and songs are given by the Holy Spirit if only we can connect to the activities. However, I don't rack or storm my brain to write songs, the lyrics will just come most times in the place of PRAYER or FELLOWSHIP and I will recognize this is a new sound. Hence, I will leave the chorus and believe the giver (HOLY SPIRIT) for the verses. 
SS: Have you ever dealt with performance anxiety?
Israel Classic: Not really. Though this is because I've been used to facing crowds from my childhood. Although I felt a little anxiety when I started at school I got over it after a short while.
SS: What is your greatest professional achievement?
Israel Classic: My greatest professional achievement was when I led my music team in secondary school to attain the first position in a music inter-school competition which I was the music director. Secondly, I was honoured to feature in some songs with few ministers like ADUKE GOLD, LOLA DIAMOND and so on.
SS: As a gospel artist, Who would you like to collaborate with?
Israel Classic: I'd love to collaborate with PASTOR NATHANIEL BASSEY.
SS: I observed that you sing in the spirit, How did you learn to do that?
Israel Classic: John 4:24 - "God is a Spirit, and those that worship Him must worship Him in truth and in Spirit". It's so simple sir  because my worship is not to, or for a man, it is for God. I take God as my number one audience and He in turn from the Holy Spirit will minister to His people. Worship is a serious business from the THRONE of GOD; I give myself to constant fellowship with the Holy Spirit, I invest my time more in the secret place where I download immortal materials. I sing in the spirit because I have the REVELATION of whom I'm singing to.The revelation birth manifestation.
SS: How do you feel being a part of the winners of the Mini-concert and how will you utilize it?
Israel Classic: I felt so honoured and partially fulfilled. I have been praying to God for a greater platform so I can extend the true gospel via music in our denomination. I go to other denominations to minister and testimonies always overflow, then I began to pray to God for an extension to my own world and I bless God for manifestations and the fulfilment. I pray to God to help us maximize/utilize it beyond human comprehension. It's all about Jesus and Jesus alone.
I will wait on God for instructions and HIS mind for everyone in CHERUBIM and SERAPHIM in general, I just need a major encounter to fly them. I believe what God will do through me.

SS: What is your advice for teenagers who aspire to be like you?
Israel Classic:  My sincere advice for all teenagers and youth out there is to give it all to Jesus, stay focus on their calling if at all they've discovered it. Give a quality relationship with the Holy Spirit, stay tuned to the sounds of heaven. 
More so, I will advise everyone to make themselves relevant, never settle for mediocrity or less and to be optimistic and believe in themselves.
SS: What is your plan for C&S with this great privilege given to you? 
Israel Classic: My Plans! My plans are exotic though, but I'd share little. Part of my plan is to create a sense of Christ in everyone. Making myself available so giants can be raised in Cherubim & Seraphim and we can have a profound, seasoned worshippers. One of my plans is to create or correct how we sing church music and to drive the multitude to the true way of music.
SS: What do you have for your fans concerning the Mega Praise Concert?
Israel Classic: Well, I want my fans and everyone that will be present that day to come expectant because God is set to do the unusual in our lives that very day. I have a life-changing experience from God to everyone that will be present.  Nothing more I have than to raise the banner of JESUS and minister according to the instructions of God. I have God for them, I have a great gift for them from God. We all should be expecting a mighty move of God. The program is not and should not be a jamboree; it is a time to connect to the enclaves of heavens where we can access the supernatural possibilities. We need to come to this reality as we are preparing for this great gathering of sons.
Leave Comments