I have a vision to beautifully render hymns to bring peace to the broken hearted and calmness to troubled souls - Nuel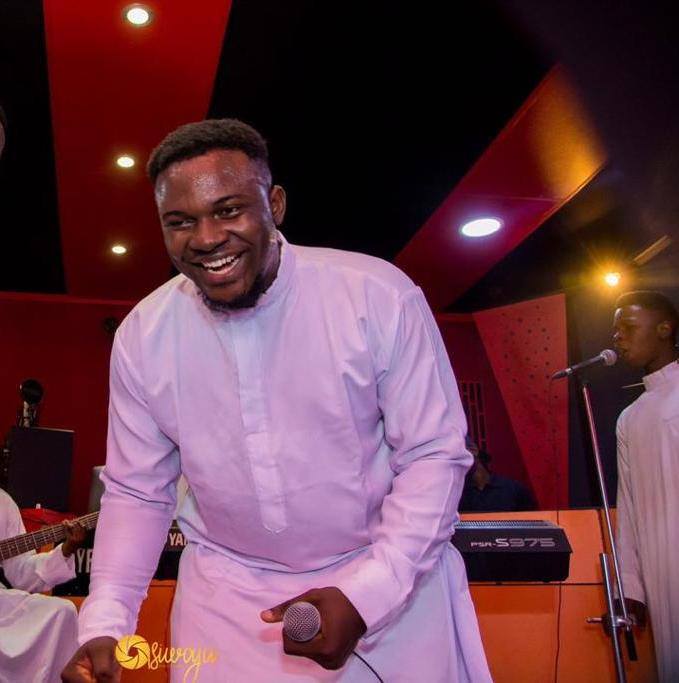 Seraph Minstrel is a newly unveiled category of Seraph Stories dedicated to introducing, showcasing, and sharing stories of C&S gospel artiste all over the globe. In this edition with Adeyeye Oluwafemi Emmanuel, popularly known as Nuel.  A worshipper, lover of God, Brand strategist, and a Business developer from Osun state.
Tell us briefly about your musical career, how you got started, and the journey so far?
I started as a band prefect in primary school, and then graduated to becoming a choir boy, an assistant choirmaster, a  Choirmaster, Music director, and then finally becoming a gospel musician professionally by June 2018. It has been a journey of grace and I am grateful to God for His strength.
 How did you get about the name Nuel?
 The name "NUEL" was coined from my name EMMANUEL.
 Recently I watched a video of you & Adedayo online worship, it was a powerful one.
 I have an online worship platform which I started in 2018 to expose my talents and gifts to the world. Adedayo also uses her social media platforms to put her talents and gifts to the world. It was indeed an honor to receive a call from the organizers of an event from Dallas, USA to join other worshippers virtually for their church anniversary. This affirms the importance of the fact that as youths and ministers we should not relent in putting our crafts out there to bless souls and touch lives. We never know who is watching and what opportunities it might bring.
 How would you describe your sound?
I have a unique sound that is inspirational and soul lifting. As a growing Seraph, I believe my sound is one youth can connect to, either as people with musical acumen or those aspiring to grow as worshippers.
 Also, I noticed you sing more hymns. What is your inspiration towards hymns?
Well, I see hymns as a general language in Christiandom which are powerful, and soul lifting. Most especially it's lyrics. Hymns can take you from one level to a greater level of worship. We are blessed as seraphs to have such beautiful and complete hymns that one cannot but add or include in worship.
 I have listened to your song Peace a couple of times, I must say it's soul-lifting. What was the inspiration behind it?
Firstly, I give glory to God for the success of the PEACE Track. Truth be told, HE was the main inspiration. Also, I have always had a vision to beautifully render hymns in such a way that would bring peace to broken hearts, calmness to troubled souls, and freedom to the oppressed and depressed. I thank God that the track so far hasn't fallen short of its purpose.
 As a gospel artist, who would you like to collaborate with?
That's quite a tricky one. Although, I just worked with my brothers: Fere Jesu, Israel Classic, Kokobi and Tara on a project titled AMI IYE, there are still a countless number of gifted ministers that I would love to work with, however, am most looking forward to collaborating with HILLSONG UNITED, MICHAEL W SMITH & TIM GODFREY.
What is your source of inspiration in terms of your composition and stage performance?
 Act 1 vs 8, Nuel By himself alone can't do it, it is only by the help of the Holy Spirit that I can minister and worship.
 What is your greatest professional achievement?
 Glory be to God for His grace so far. The PEACE TRACK would take this one. I say this because I measure achievement not on monetary or societal impact but the quality and number of lives touched and testimonies recorded. Till date we are still receiving testimonies and feedback on the PEACE TRACK which makes even challenging days worth it. So yes, The Peace Track is a great achievement because it was my first single.
Did your church (C&S) have any impact on helping you fulfill this height?
Of course, there is no smoke without fire. I started from the church choir and the Peace track as you've listened has several C&S hymns. So, the C&S fold had a great impact on not just the Peace Track but my musical journey as a whole.
 Have you ever dealt with performance anxiety? And where do you see yourself in five years?
Oluwafemi Adeyeye: It is normal to be anxious at certain points but regardless of the size of the stage and opportunities at stake I always remind myself of the driver of the ministry which is the person of the Holy Spirit (C&S Hymn Jesu ni Balogun oko ). I know with him I am too loaded to fail, so I just put myself together and do what I love to do. In 5 years, I want to impact more lives than I already have.  Also, in 5 years when you think Nuel, I want people to think Hymns.   THINK NUEL, THINK HYMNS.
  Advice for teenagers who aspire to be like you? 
Take a step at a time.
Avoid unhealthy competition and believe in yourself.
Put yourself out there and showcase yourself to the world using social media platforms.
Invest in personal growth. 
PRAY PRAY PRAY 
ROMANS 9 vs 16 So, then it is not of him that willeth, nor of him that runneth, but of God that sheweth mercy. Proverb 3 vs 5-6 And then trust in the Lord with all thine heart, and lean not unto thine own understanding. In all thy ways acknowledge him, and He shall direct thy paths.
Leave Comments