C&S Unification Lagos State Chapter Elects New Executives; led by Adio.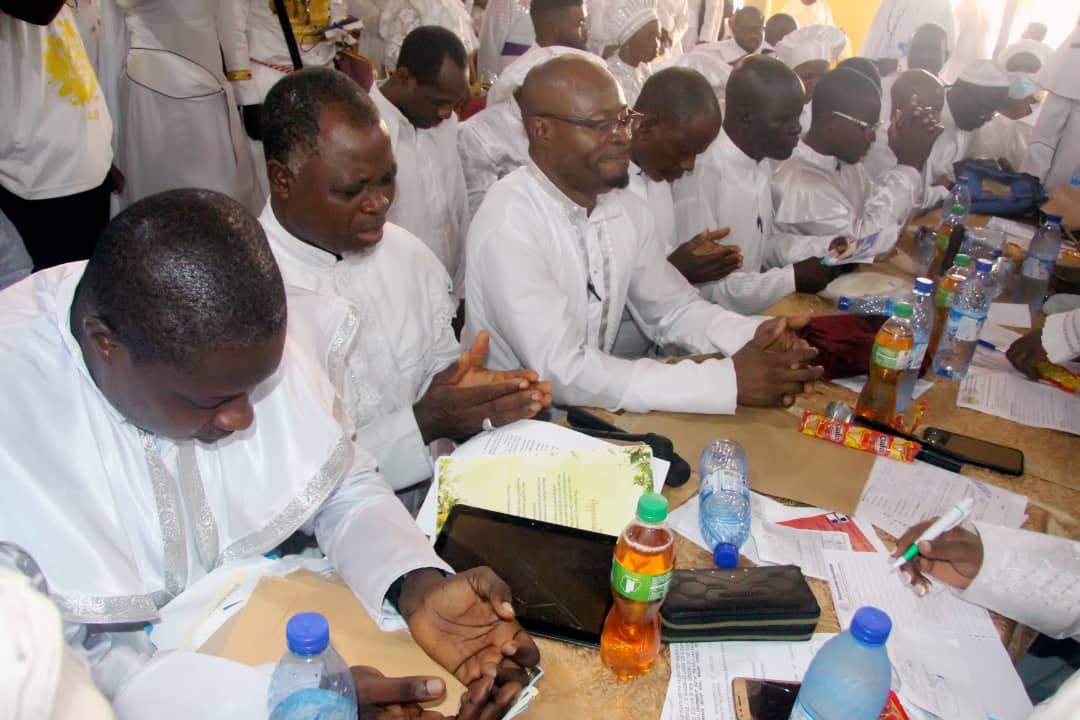 The Lagos State Chapter of the Cherubim and Seraphim Unification Church of Nigeria has elected a new steering committee that will direct the affairs of the chapter for the next three years. 
The committee is to be led by the new chairman of the state, Special Apostle Segun Adio.
The election was conducted by the National Executive Council of C&S Unification Church of Nigeria in conjunction with the electoral committee led by General S.B Omopariola
 on Monday, Dec 27th, 2021 at the Holy Church of C&S Mt Sinai, Ebute-Metta. 
The election, preceded by the annual general meeting, Accreditation of delegates of Constituent churches and local division started at exactly 12:30 pm, with 367 members accredited for the election.
The election proper started at 1:47 pm as the Secretary of the Electoral Committee, Gen. Isaac Otepola, read the election guidelines. He stated that every candidate must be a bonafide member of the C&S church in the Lagos state chapter and must have 75% attendance at the general meeting.
Gen.Otepola also explained that before the day of the election, all interested contestants obtained a form, and screening processes were carried out.
At the end of the election, the former vice-chairman, Special Apostle Segun Adio emerged as the chairman of the chapter, and the former Secretary, Evangelist Dr. Rotimi Odugbesan emerge as the Vice-chairman of the chapter. 
Other members of the executive are stated below.
His Eminence E.O Owomoyela, the chairman national executive council congratulated the newly elected executive. He said they are not new in the system, leadership is about service, they should continue the work of their predecessors, always serve the people, and put God first.
The former chairman of the state, Snr Supt. Apostle J.O Adagba in a brief interview with the press said "as the NEC chairman stated they are not new and the majority of them have paid their dues and have worked closely with me". 
"I am placing them on the pedestal of the word of God which can help them succeed, and I implore them to work in unity and love", he added.
The newly elected chairman in a brief interview with the press said he was very elated for the fulfillment of God's promise in his life. As we all know the former chairman, Elder Adagba brought the chapter from almost obscurity to where we are today.  it is my prayer that will surpass whatever has been done and we would try our best to do more, he said.
The event ended with prayers for the new executives and congratulatory moments.
Below is the List of the new executives:
♟️ Chairman - Special Apostle (Dr.) Segun Adio J.Pil-  C & S Church of God Oke Anu, Ojokoro
♟️ Vice Chairman - Evang. (Dr.) Rotimi Odugbesan J.Pil- C & S Oke Igbala Waasimi II, Somolu
♟️ General Secretary -  Apostle (Dr.) Femi Akinpelu J.Pil- Irawo Ogo Jesu C & S Church, Gbagada
♟️ Treasurer - Snr. Apostle Isaac Abatan - Mount of God C & S, Ajegunle
♟️  Financial Secretary - Special Apostle Adeola Ige, St. James C & S Church, About, Iyana Ipaja
♟️  Assistant General Secretary 1 - Sp. Ap Pro Olayinka Olawale - C & S Ife Ólórun Redo Oke Igbala, Egbe
♟️  Assistant  General Secretary 1I - Evangelist Oluwasegun Adagba - Ejigbo Local Division, Ejigbo
♟️ Assistant Financial Secretary - Snr. Apostle Gbenga Amodu - C & S (Oke Iye) Society, Ebute Metta
♟️  Internal Auditor - Supt. Ap. Samuel Oloni - C & S Obele Kolade, Lawanson
♟️ Legal Adviser - M/I/I  / Prophetess Barrister (Dr.) Mololuwa Adebiyi J.Pil - Love of Christ Generation Church, Victoria Island
♟️ Publicity Secretary - Lady Evangelist Susan Adeniyi - Ifelodun C & S, Adeniji
♟️ Social Secretary -  Lady Evangelist Kemi Mustapha- Shomolu/Bariga/Oworo Local Division, Somolu
♟️ Chief Welfare Officer - Supt. Ogunbanwo - Ògó Òlûwá C & S, Mushin
♟️ Welfare Officer 1 -  Apostle Aaron Oseni - C & S Glory Chapel, Badore-Ajah
♟️ Welfare Officer 1I - Snr. Prophetess Ogunbekun - Prophet/Prophetesses, Dopemu
♟️ Chief Whip - Snr. Apt. Mother Aderohumubo Balogun - Holy Trinity Church of Christ, Isolo
Leave Comments