Covid-19 Outbreak - Federal Government Gets Thumbs-Up From C&S Movement Church Head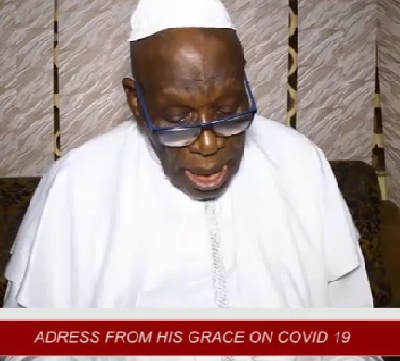 The Spiritual father and Chairman, Cherubim & Seraphim Movement Church (CSMC), AYO NI O, Most Rev Samuel A. Abidoye has urged Nigerians to keep obeying government directives on the lockdown to curb the further spread of the Coronavirus pandemic in the country.
He stated that the CSMC has been and will continue to support government campaigns, efforts, policies, and initiatives aimed at curbing the further spread of the virus.
The Spiritual father appealed to all Nigerians to extend hands of fellowship and love by sharing with their neighbours especially the vulnerable during this global pandemic.
He enjoined Nigerians to be prayerful to overcome the ravaging Coronavirus and other diseases affecting our country.
According to a press release signed by the Spiritual father, he paid tributes to the health professionals and other dedicated front liners in the management of the pandemic. He further commiserates with families who have lost loved ones in this battle against COVID-19.
He commended those in leadership roles for the firm and focused approach which has helped in managing the spread despite the magnitude of the disease in other countries.
The Spiritual father stated that the CSMC had earlier given financial and other palliative support to the communities surrounding the church headquarters. The Church has also given directives to all its Districts and Branches worldwide to reach out to their host communities and the vulnerable in their churches in line with biblical teaching to cushion the effect of the lockdown.
He concluded that the church will continue to pray for the government at all levels, most especially at this period of global pandemic.

Spiritual father and Chairman
Cherubim & Seraphim Movement Church (CSMC) AYO NI O,
Most Rev Samuel A. Abidoye
Leave Comments