The Sound Of My Trumpet Sounds Mighty As The Voice Of God - Fere Jesu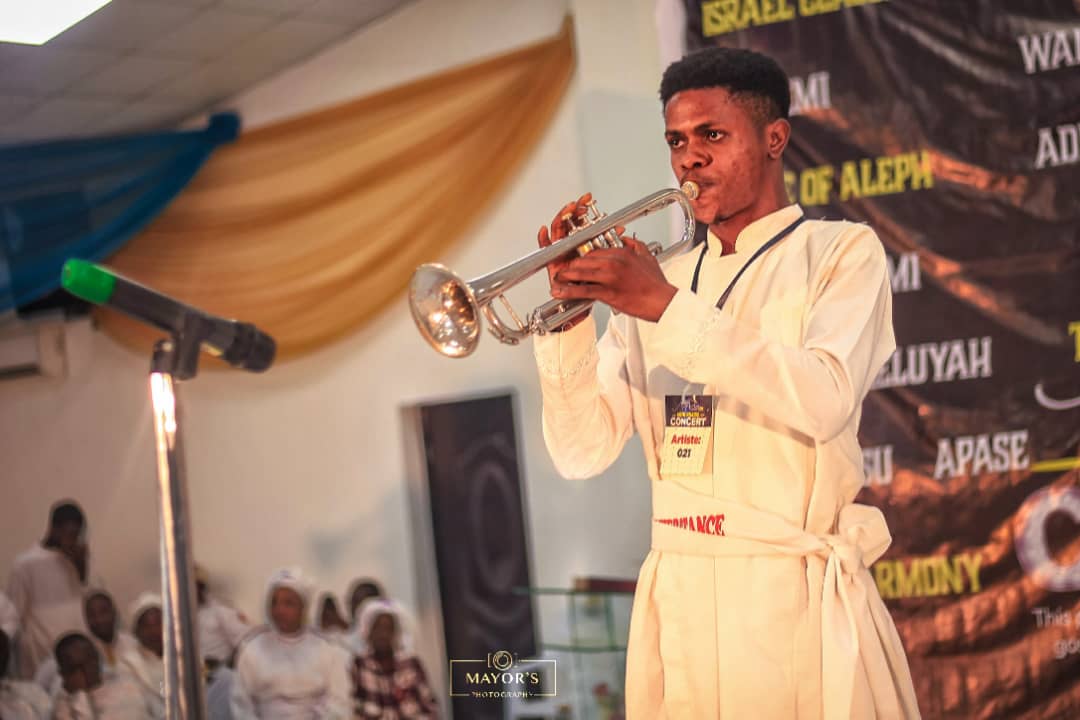 Adekale Babatunde Emmanuel popularly known as FERE JESU, the gospel minister with his trumpet who was part of the six gospel artistes of grand finale at the mini concert, to feature at the Seraph Youth Mega Praise 2.0 had a great time with our correspondent Gideon Akog where he shared his musical and success journey in the first edition of "SERAPH MINSTREL." Seraph Minstrel is a new unveiled category of Seraph Stories dedicated to introducing, showcasing and sharing stories of C&S gospel artiste all over the globe.
SS: Can we meet you sir?
Fere Jesu: I'm Adekale Babatunde Emmanuel by name aka Fere Jesu. I am from Ogun State, Ijebu Waterside, I was born on September 12th.
SS: How did you come about the name Fere Jesu?
Fere Jesu: I grew in leaps and bounds following a revelation of the distinct name, Fere Jesu, after my ministration with Boiz Olorun at Eruwa, Ibadan in 2013
SS: How did you start your musical career?
Fere Jesu: I fell in love with music when I first played a recorder in Sunday school at church with Mr Okunade Olatunbosun my tutor. Gradually, I started playing in the brigade band also.
SS: Did you by any chance study music in the university and what university?
Fere Jesu: No, I studied mass communication at the Polytechnic of Ibadan.
SS: How would you describe your sound?
Fere Jesu: the bible says in the book of revelation 4:1 that, the voice of the Lord is compared to the sound of a trumpet. I keyed into this realm since I came across the passage which has made my sound, sound mighty like the voice of the Lord.
SS: What is your source of inspiration in life?
Fere Jesu: My mum has always been my source of inspiration; she'll tell me that I can't give up now. My mum will go extra miles for me just because she wants to see me succeed in life. So every time I get stuck or down, the thought of my mum always spurs me to do more.
SS: Have you ever dealt with performance anxiety?
Fere Jesu: Yes, I could remember my first experience on stage while I was still playing Recorder, it was as if I should dig a hole and enter it as I trembled on stage. But it is history now. Even sometimes on the stage, it still comes, but I just pray and get over it.
SS: How did you get the opportunity to perform at the just concluded mini praise concert?
Fere Jesu: The only thing I know is I received a call from Mr Olaitan on a Monday morning that I will be ministering at the concert and that I should send my videos.
SS: How do you feel being part of the winners and how will you utilize it?
Fere Jesu: I feel great, it's a dream come true, and it is a platform to get the gospel of Christ to a larger audience.
SS: What impact will this have on your personal life & musical career?
Fere Jesu: It will help me grow more and learn to be a better gospel minister that knows what God is saying per season.
SS: Did your church(C&S) have any impact on you getting to this height?
Fere Jesu: Yeah, if I was not in my church choir, I wouldn't have been able to progress with the plans God have for me. Being in the church choir helped to bring me up for the task God gave to me
SS: What is your plan for C&S with this great privilege given to you?
Fere Jesu: My plan is to promote better, inspiring, soul-winning and reviving music in the fold.
SS: As a gospel artist, who would you like to collaborate with?
Fere Jesu: Pastor Nathaniel Bassey and Shola Allyson, this has been the people I've been looking up to for years now.
SS: Where do you see yourself in five years?
Fere Jesu: In the next five years, people all over the world will see what Seraph has produced because our goal is to preach the gospel of Christ till the end of the world.
SS: What is your advice for teenagers who aspire to be like you?
Fere Jesu: Never to give up, no one understands their vision as they do.
SS: What do you have to say to your fans out there?
Fere Jesu:  Many thanks to all my fans out there. All your support and prayer keeps me going!
Leave Comments