Music to me isn't a career, rather a medium to evangelize - Bukola Adekunle Bethel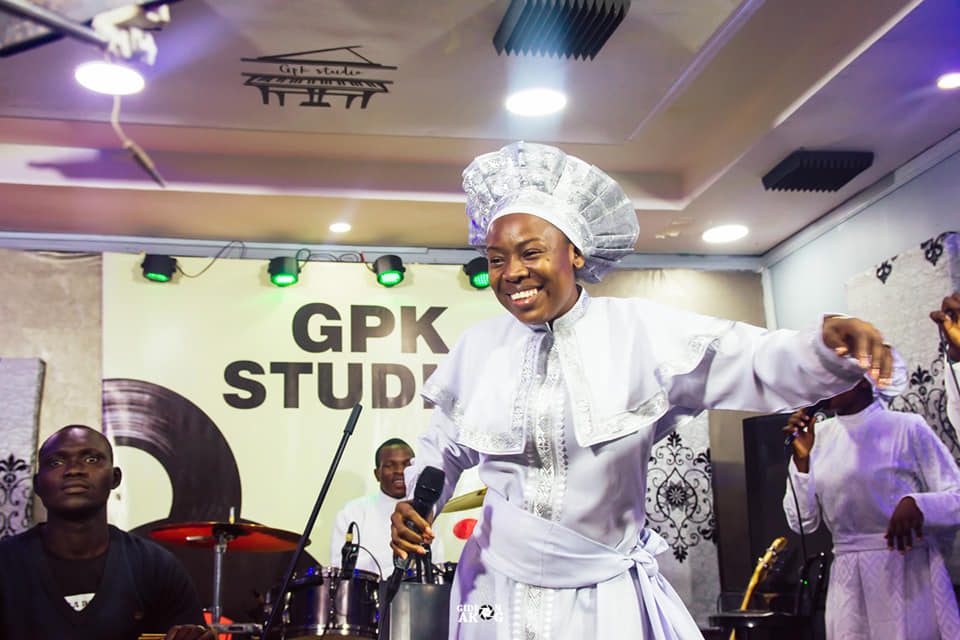 Seraph Minstrel is a newly unveiled category of Seraph Stories dedicated to introducing, showcasing, and sharing stories of C&S gospel artistes all over the globe. In this edition, we have with us Bukola Badiru Adekunle, popularly known as BETHEL. 
Tell us briefly about your musical career, how you got started, and the journey so far?
 I started from church when I was 10years old, I couldn't write an application to join my church choir, I had my first ministration as a girl during my church choir concert. ''ISUN KAN WA TO KUN F'EJE'', was the song I sang then. Ever since then I lead my church choir to several concerts. This also led to my appointment as the deputy Choir director of my church Chapel of Joy. My first outing with Bethel Crew was at HMCL AGEGE for Carol Extravaganza in the year 2015. Ever since then, we have been waxing stronger in the Lord. Music to me isn't a career, rather a medium to evangelize.
How did you get about the name Bethel?
One faithful night after dinner, I was directed into the scriptures by the Holy Spirit to Genesis 28 vs10-19. There I read about Jacob's dream seeing angels ascending and descending. His experience made him name that place Bethel saying, "God is indeed in this Place, and I didn't know it." That very moment I received my stage name BETHEL.
Your performance at the last concluded Mega Praise event was a blast. You were also part of those that won the mini praise concert, how has that affected your music ministry so far?
Hmm, with the help of God, my music director, my crew members we were able to achieve the glorious feat. All to the Glory of God, being part of the six finalists and the only female standing amongst five men at the mini praise concert was indeed beyond my expectations. This achievement has encouraged me to press on in the ministry. To me, it was an added assignment and not much of an achievement. To whom much is given, much is expected.
Tell us about your monthly Seraphic Praise?
During the lockdown, I received a revelation to hold a programme every Sunday morning by 9 am. The programmed tagged DEW OF BETHEL. I did this for some weeks in August which gave birth to SERAPHIC PRAISE. This would hold once a month instead of every Sunday morning since we all have resumed back to Church. 
As a gospel artist, who would you like to collaborate with?
I love to collaborate with Dunsin Oyekan, Psalmos, Sola Allyson, Dare Fashola to mention a few.
What is your source of inspiration in terms of your composition and stage performance?
Holy Ghost is my inspiration. I put so much investment in listening to Holy spirit inspired songs, our hymns, and many more.
Did your church (C&S) have any impact on you fulfilling this height?
Yes, my Church (ACCA) supported me in so many ways, spiritually and physically. They were always there for me.
Tell us your plan for the C&S church?
I am a vessel unto honor in this fold. My plan is to continually use my God-given gift to propagate the gospel. Most importantly to remain a good ambassador of the fold everywhere I go and an exemplary role model.
Where do you see yourself in five years?
I see myself doing better than I am doing today. My today is better than my yesterday, I trust God that my tomorrow will be better off than today. God willing, Bukola Adekunle Bethel will attain greater heights musically (preaching the gospel through music), and in all ramifications Amen.
What is your advice for teenagers who aspire to be like you?
Advice for a teenager that wants to be like me is to know God first, trust Him, walk with Him, and allow God to order your steps. It may seem as if the pace is slow but trust me, you will find yourself doing well in no time.
Leave Comments